Creative Baby i-Mat
Disclosure: I received a Creative Baby i-Mat for review purposes. All opinions are 100% my own.
When I first heard about the Creative Baby i-Mat I was intrigued.  Who doesn't like educational toys for their kids?  It sounded like something my 2 youngest children, ages 23 months and 4 years, would enjoy.  I knew right away that I wanted to get one for my kids.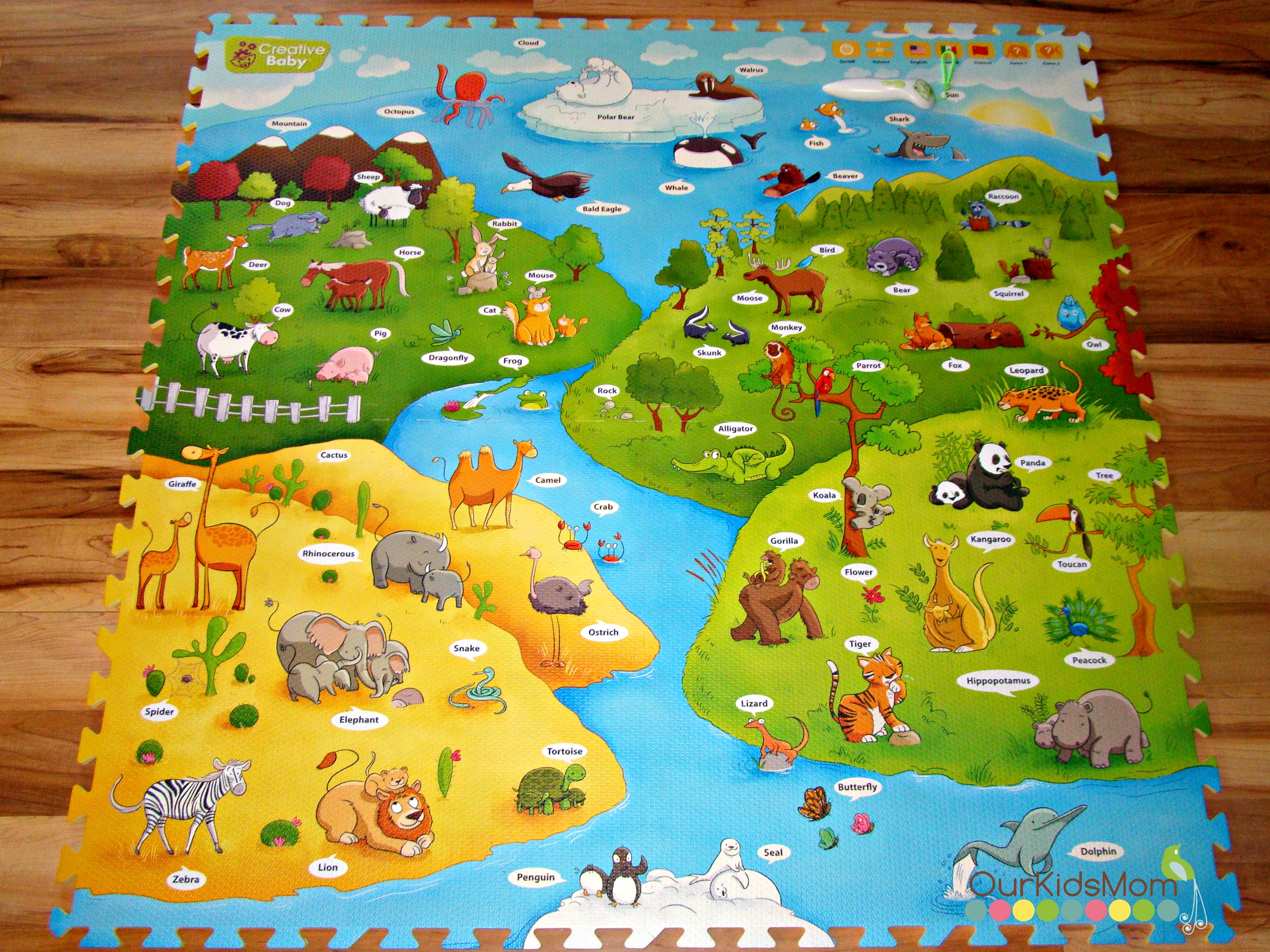 In anticipation of it's arrived I showed my kids the video from the Creative Baby website.  They were very excited to try it.  When the package finally arrived, they couldn't wait to try it out.  
The mat is 4 squares that puzzle together to form the play surface.  By the time I had the batteries (not included) installed, they had the mat assembled and were waiting to get started.  When put together the mat is 47.25" x 47.25" and 0.4" thick.  It is a really nice large area for the kids to play on and even on a wood floor is thick enough to be comfortable for long periods of time.  The mat and animals on it are divided into different areas.  Farm, desert, jungle, forest, ice and water.  I really liked how they did that instead of just randomly placing animals on the mat.

My 4 year old  had no trouble figuring out how to turn the pen on and start finding out what it would do.  I have to say, I highly underestimated this toy.  The i-Mat provides so many ways for interaction between my kids and the mat and as well as with each other. 
To my surprise, even my 8 year old has enjoyed playing with his sisters on the mat.  He really enjoys learning the names of the animals in different languages and both him and my 4 year old love to quiz their youngest sister.  They like to ask her where specific animals are or what sound they make.  It amazes me how fast she is learning the answers.  It is nice to see my children be able to use this by themselves and with each other and have fun both ways.
My youngest (23 months) loves all the animals.  She gets so excited when she touches the pen to an animal and it says the animal name and then either makes the animal noise or plays a little song.  There are dozens of cute animals to choose from.
Here is a short glimpse of my 23 month old playing with the i-Mat with a little guidance from me. 
The i-Mat interacts with the kids in 3 different languages.  English, Spanish, and Chinese.  It also has 2 different game levels.  The first level asks the child to find a certain animal.  It gives them 3 chances and then moves on to the next one.  I really like that it will move on before they get discouraged or frustrated.  It keeps the game fun.  It is perfect for my 23 month old. 
The second game asks questions about an animal and the kids need to pick the animal that the question is about.  For example, "Can you find the animals that are green?" or "Can you find the animal with a long nose?" or "Can you find the animal that says 'Woof Woof'?"  My 4 year old has really enjoyed this game.  I love that I know my youngest is not going to outgrow this for a long time.
Above is a short video of my 4 year old interacting with the i-Mat.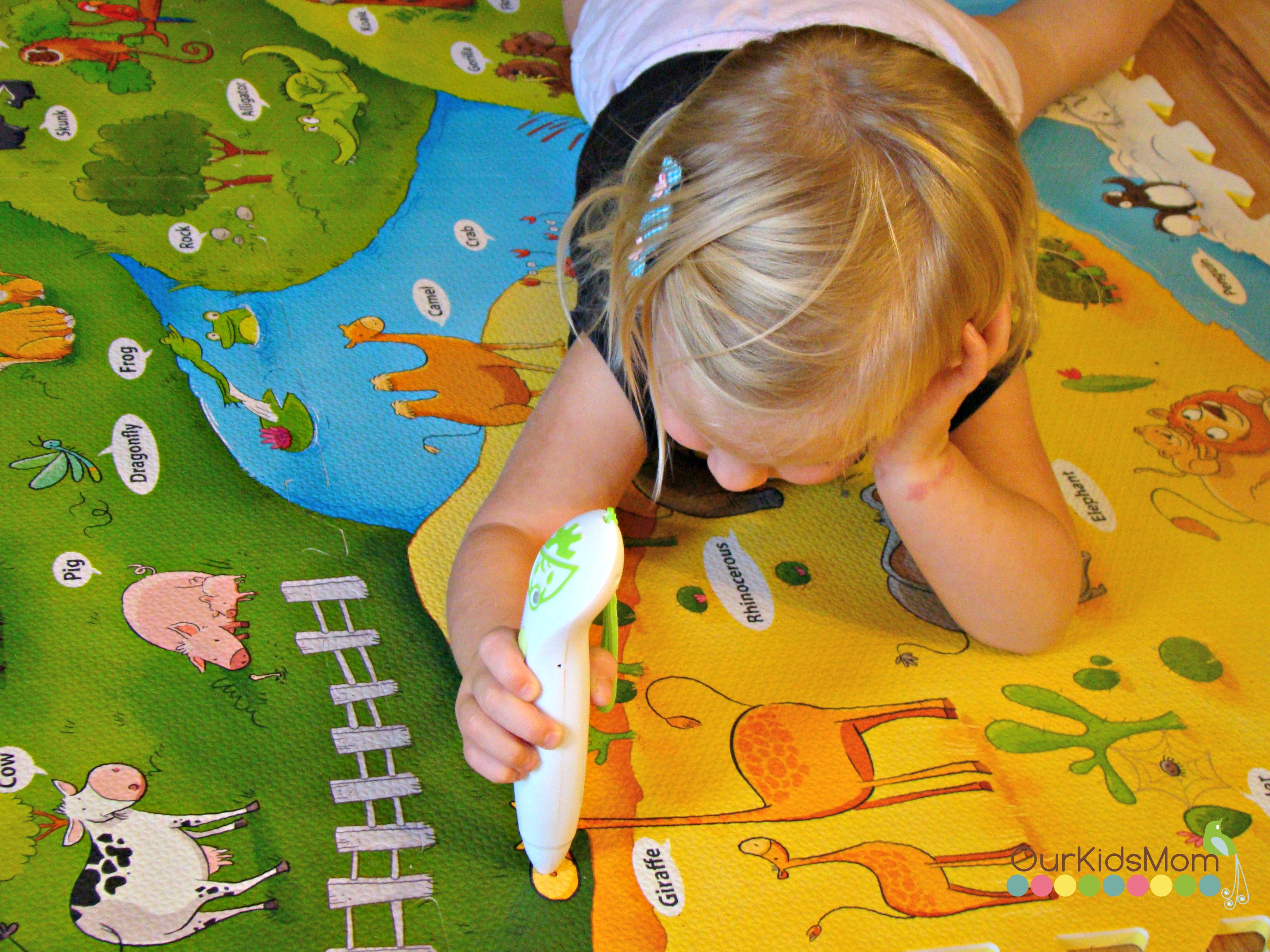 The i-Mat would make a great gift for any toddler.  It also comes with a USB port which is for future expansion capability.  I am hoping that means they will be coming out with different themed mats.  The current one is called My Animal World.  
Connect with Creative Baby Inc.:
BUY IT:
You can pre-order now at www.creativebabyinc.com for $79.99 and also get free shipping.
WIN IT:
ONE OurKidsMom reader is going to win a Creative Baby i-Mat and pen!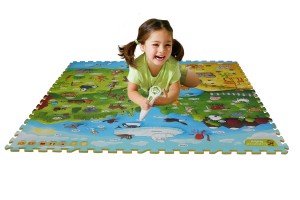 This giveaway ended at 11:59 PM EST on October 4, 2013.
      Disclosure of Material Connection: I received one or more of the products or services mentioned above for free in the hope that I would mention it on my blog. I only recommend products or services I use personally and believe will be good for my readers. I am disclosing this in accordance with the Federal Trade Commission's 16 CFR, Part 255: "Guides Concerning the Use of Endorsements and Testimonials in Advertising." The opinions expressed in this post are entirely my own. Your experience with the product may differ from mine. The sponsor is responsible for prize fulfillment and will be shipping the winner(s) their prize(s). For more information read my disclosure policy.