With it being super cold outside lately our thoughts have been turning to warm soups. Here is one that is repeatedly requested around here and is super easy/quick to make!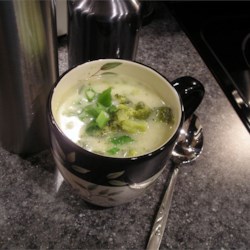 Serves 6
  Ingredients
  2 tablespoons butter
  1 onion, chopped
  1 stalk celery, chopped
  3 cups broth (we used vegetable)
  8 cups broccoli florets
  3 tablespoons butter (can be avoided)
  3 tablespoons all-purpose flour (can be avoided)
  2 cups milk (we use almond milk)
  ground black pepper to taste
  Directions
  Melt 2 tablespoons butter in medium sized stock pot, and saute onion and celery until tender. Add broccoli and broth, cover and simmer for 10 minutes.
The original recipe called for putting the soup in a blender and making a puree. I prefer chunks of broccoli in my soup, so I take a potato masher and mash the soup in the cooking pot to a desired consistancy.
This next step has been used and not used without much noticeable change to the taste of the soup. We use almond milk and it tends to not thicken well and we'd rather avoid the flour, so the recipe would end after the "mashing". IF you prefer to try to thicken your soup… In small saucepan, over medium-heat melt 3 tablespoons butter, stir in flour and add milk. Stir until thick and bubbly, and add to soup. Season with pepper and serve.
Nutritional Information
Amount Per Serving (with flour being used) Calories: 207 | Total Fat: 12.4g | Cholesterol: 32mg
This recipe was adapted from AllRecipes.com