Sample received for review. All opinions are my own.
What married couple hasn't had the conversation first thing in the morning about who was the cover hog that night?
I know Ryan and I have had that conversation many many many times, and usually I'm the guilty one. When I was asked about reviewing a Covermade duvet and comforter, I was very interested.
Taking a look on their web site had me very intrigued and interested.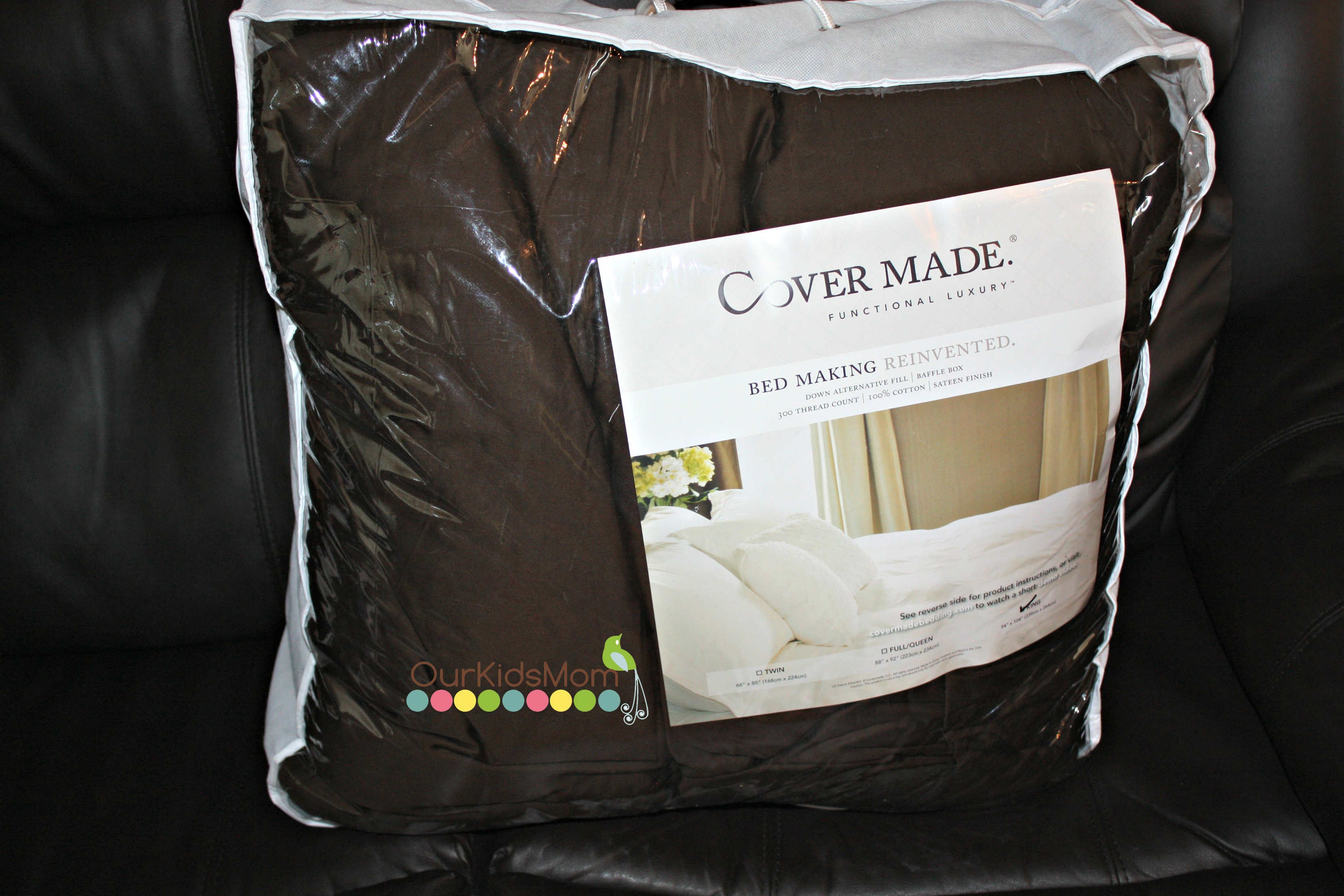 I was sent the Covermade down alternative comforter Duvet Cover and 2 Shams in Mocha brown in a king for our bed. Taking it out of the bag I was excited to get it on my bed and try it out that night.


Putting it on the bed was simple. First you place the comforter on the bed like any other comforter. Then you have an elastic piece at the bottom of the comforter that you can adjust with the velcro for the tightness you would like. The elastic goes around your mattress and sets between the mattress and the box spring holding your comforter in place.
The elastic is so simple and so genius. At night the covers never shift nor is anyone able to steel your covers anymore. Making the bed in the morning is a breeze thanks to the elastic holding your comforter in place. You just have to top of the covers to pull back and your done.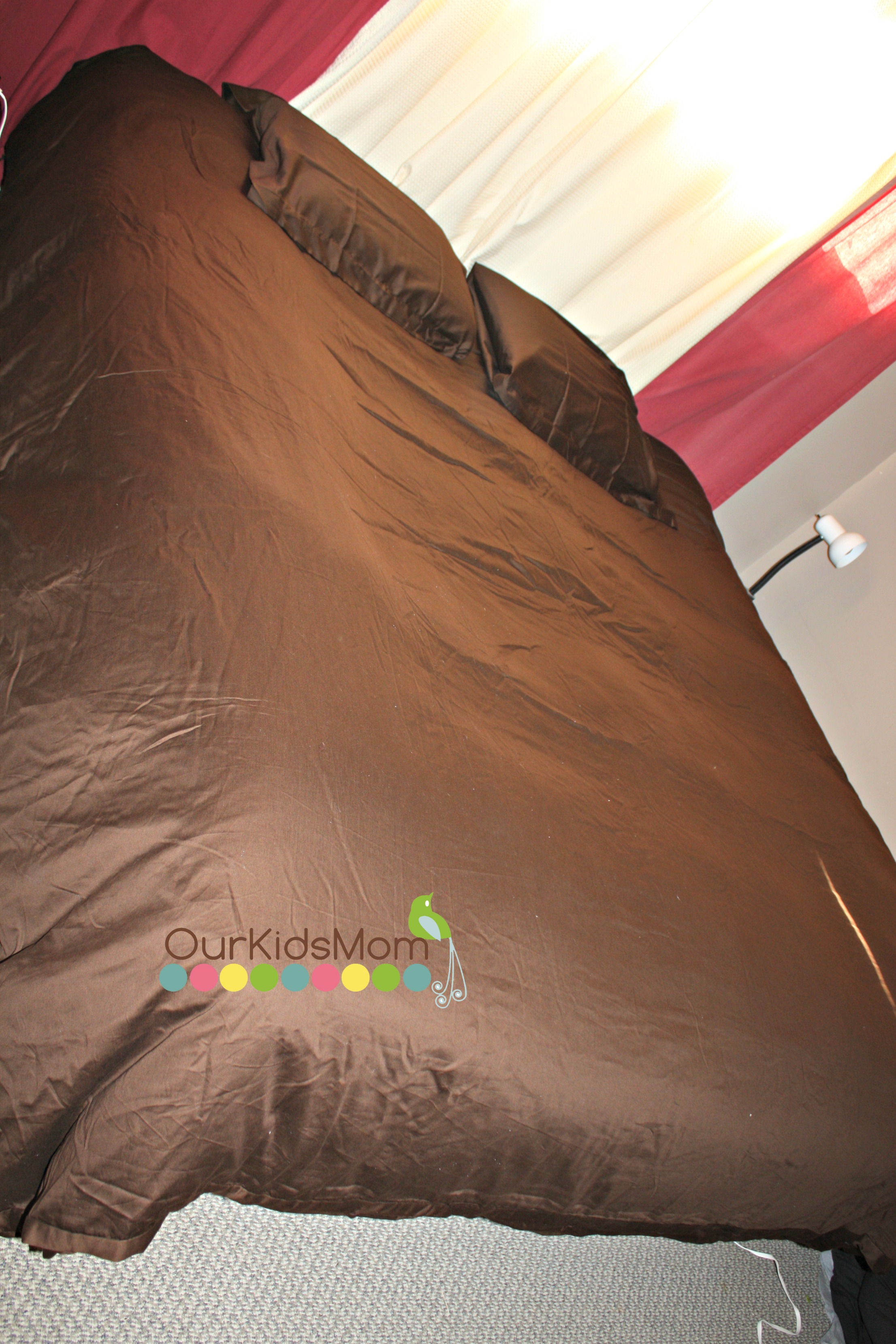 Now I was a little scared of how hot the comforter would be. If you know anything about Saskatchewan Canada you know that our summers get HOT. We have no air conditioning in our house and some nights get as warm as 83ºF. The last thing I want is a blanket that is going to make me hotter.
Well, the results are in and I am pleased to say that as thick and warm as it looks, it's actually very light and fluffy, and soft… oh so soft. Made with down alternative the comforter remains airy and light. The duvet cover is made with 100% Egyptian cotton with a 300 thread count.
** Just a side note, our bedding did come with 2 king sized shams but we do not have king size pillows so the shams are tucked in on this picture.


The Duvet cover has hidden corner holes that gives you access to the comforter and to the corner ties that keep your comforter from shifting while inside the duvet cover. Having buttons holding the duvet cover closed allows for easy removal for machine washing.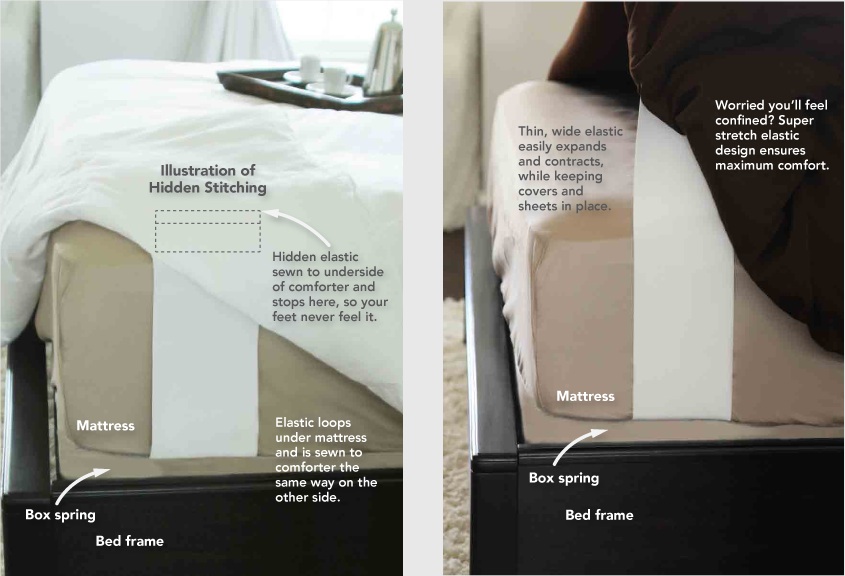 At first I thought that having that elastic down by your feet would almost pin your feet down and keep your restricted from movement. I can happily say that it doesn't,  you actually hardly even notice it down there. The elastic is super thin and stretchy allowing you to be able to still toss and turn.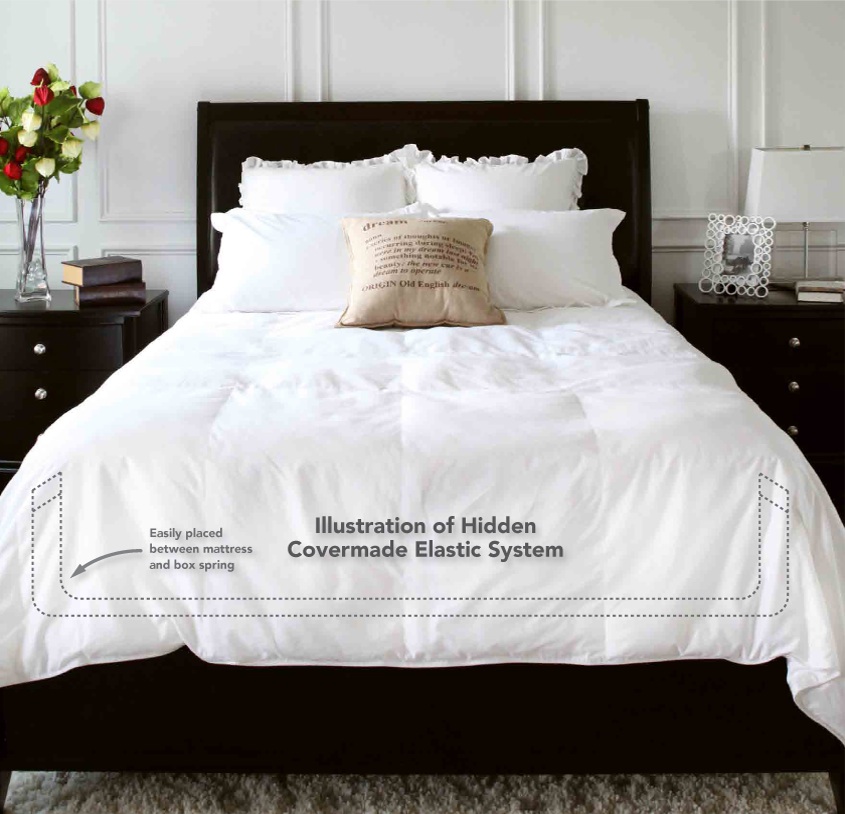 I have thoroughly enjoyed sleeping at night with the amazing Covermade bedding. It's made a dreaded chore in the morning more enjoyable and simpler. I can not longer be accused of cover stealing.
Now if only someone can come up with a bed hogging solution, then I can stop getting in trouble in the mornings.
Covermade bedding makes me feel like I'm sleeping in a bed fit for royalty.
The Covermade bedding comes in an alternative down fill and also a natural down fill. They come in 9 solid colors and come in a twin, full/queen, and king size.
I strongly advise heading over to www.covermadebedding.com and find the size and color to best fit your room.