Once upon a time, I was a mommy with two older children that I could leave at home for an afternoon…. and I would bargain hunt. Ohhh, I would sift through every clearance rack… drag around a huge coupon binder… spend countless hours hunting, cutting, sorting and matching my coupons to sales. It was fabulous. The high from saving so much money and getting things for free (or almost free) is hard to explain.
Fast forward to now… I still have two older children but now I also have a 5 and 3 year old at home. The coupon binder is still hanging by the front door but it is full of 3 year old coupons. I just don't have the time, energy or gumption to do it anymore.
That's where Coupon Chief comes in. Why? Because now I have to find my bargains in my spare minutes surfing on the internet. Let me tell you… sometimes I can get a much better deal sitting in my nice comfy chair snuggled in a warm fuzzy blanket surfing the internet than I did at the brick and mortar stores.
One of my favorite places to shop online (and grab great deals) is Kohls. More times than not, there is at least a 15% off code… a lot of times there is a 30% off and a free shipping code. Some places, like Kohls, allow you to stack two coupons for added savings.
Coupon Chief does the hunting for you and puts it all in one spot for your convenience.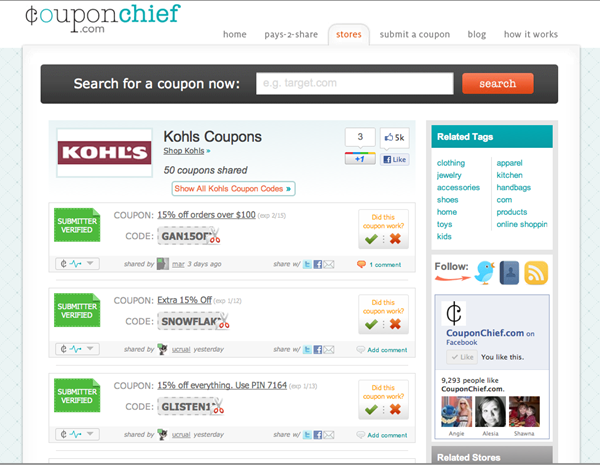 See how simple that is? Just type in the store you are shopping at in the search box and Coupon Chief does the rest for you. I also love that it shows when the coupon was shared (so you have an idea how old it is) and if it is working for other people (they can leave comments to help you out).
I've got them bookmarked for the next time I shop at Fashion Bug (there's a 25% off coupon on there right now!), Payless (there's a 20% off coupon there now), or The Children's Place (there's a 15% & 20% off coupon on there right now).
Connect with Coupon Chief:
This post was brought to you by CouponChief.com