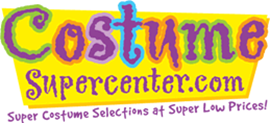 The school bells are ringing, which means Halloween is right around the corner! Can you believe it?! I've already noticed a sudden shift in the weather around here… fall is creeping in! Why not be prepared instead of scrambling like you did last year, right?
Emma & Ethan love to dress up year 'round. When it comes to Halloween, they prefer to have a "fresh" (aka new to them) costume to add a little excitement to the day. I don't blame them, but I don't want to pay a fortune for kids costumes, kwim?
This year we were on the hunt for Scooby Doo costumes. I have a special little girl in mind and she adores the show and pretend plays Daphne & Velma with Emma quite often. I was quite thrilled to see that Costume Supercenter offered Daphne costumes for kids! Emma and I agreed that this was the costume for her friend and we eagerly awaited it's arrival.
Emma agreed to be the model for this particular costume so that she could later surprise her friend with it. We ordered a size small and it fit exactly as stated on the size chart. The dress is a soft crushed velvet (yeah for non-scratchy costumes!) and the boots (shoe covers) are a hoot! I didn't force the wig on Emma because we didn't want to tangle it, but as you can see the set was near the item pictured.
The colors are a tiny bit off, but not enough to upset our Scooby Doo fan. We can't wait to see her reaction!!
BUY IT:
You can purchase the child's Daphne costume for $24.99
For a LIMITED TIME use code 15OFF30 to receive 15% off costumes $30 or more! (sale ends Sunday 8/21)
Connect with Costume Supercenter:
[tweetbox width=500 height=50 label=Retweet! content ="Costume Supercenter Your Stop for affordable Halloween Costumes! Scooby Doo Daphne Review @ourkidsmom %u"]
I received product for the purposes of review only. All opinions are 100% my own and have not been influenced in any way.