Costume Discounters | Disney Jasmine Girls Costume
Costume provided courtesy of Costume Discounters. All opinions 100% my own.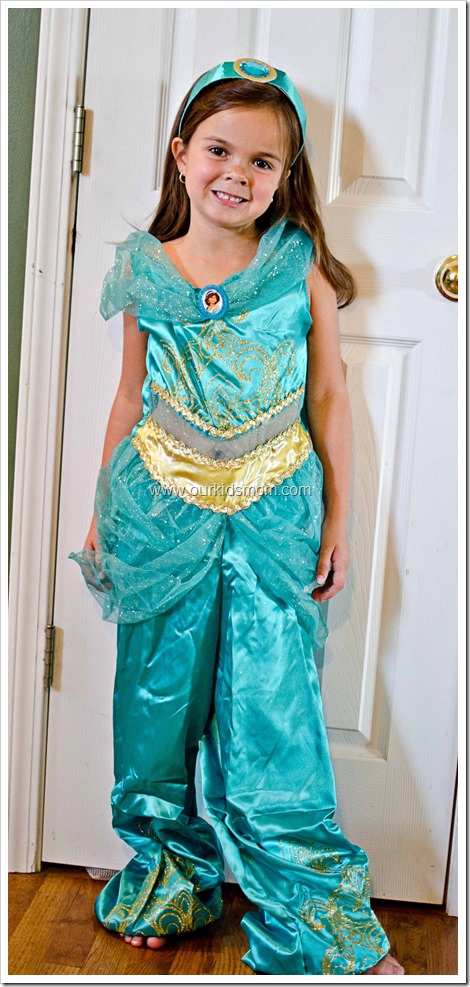 I am not a stranger to purchasing costumes for my "princess" Emma. Both her and Ethan have been into dress up since they could walk. With Halloween coming up I was hoping that they would both be happy with wearing a costume from their dress up bin. Ethan was happy to oblige… Emma not so much.
She was bored with her selection.
Costume Discounters to my rescue!
I was a little worried about indecision. You see, Costume Discounters has an amazing selection. They carry everything from Disney and Poodle skirts to tv & movie and historic type costumes. 
Apparently it really wasn't a hard decision for her to make. She knew it had to be a Disney princess. She's already been Cinderella and had decided that since she had brown hair she needed to aim for a dark haired maiden. As soon as she saw Jasmine she knew that costume was it!
The shipping was out of this world quick and I was immediately impressed with the quality costume compared to the asking price on the website. I've seen costumes like this for a whole lot more in physical stores recently. This particular costume is made by Disguise, which is a decent quality brand (at a decent price!).
So my Emma will be Jasmine with her long brown hair and glittery costume (and a huge smile upon her face). We are actually going to take this with us on our Disney Cruise this winer because I've heard that many of the little girls there dress up.
We can't wait!