Connecting Through Shared Hobbies | HP Envy 23 Touchsmart | #HPFamilyTime
I wrote this review while participating in a program on behalf of HP and received an HP desktop PC and other products as part of my participation.

A few weeks ago I introduced you to the newest member of our family, the HP Envy 23 Touchsmart computer. We've been playing around with it for several weeks now and it's been a blast learning all the ins and outs. The kids have been playing games, I have been editing photos, connecting with family via Skype and digging for healthy recipes… all with the help of Windows 8 apps.
Recently I had been reflecting on how much all of my children have enjoyed watching old family videos and sifting through photos. With our switch to digital photography years ago, I am ashamed to admit that I stopped printing out photos probably five or six years ago. This makes it more difficult for the younger two to enjoy looking through pictures that they are actually in.
The photo above is a screenshot from our desktop. Emma was having quiet time on the computer and noticed the living tiles changing. I heard a small gasp and "Mom! There's pictures of us on the computer!". I have a photo tile (seen above next to the Amazon tile) that changes to display various pictures in the files.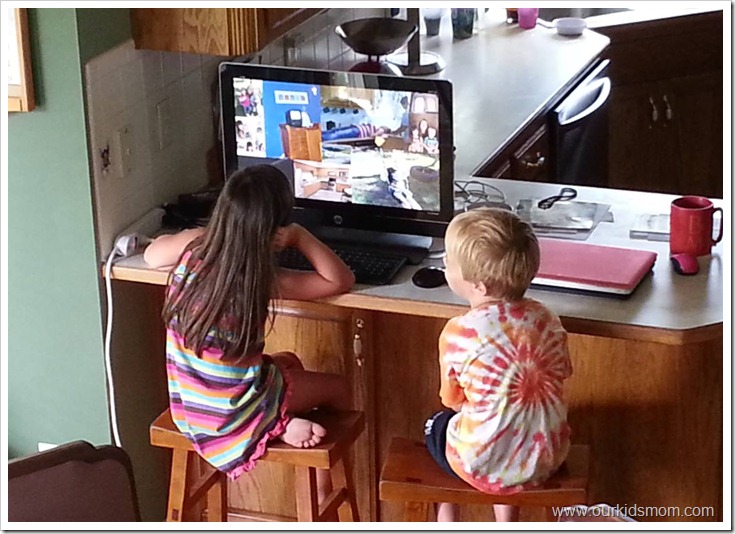 I was busy upstairs when she found it, but I gave her permission to click on it and poke around. While hiding behind a door, I was able to snap a few photos with my phone of Emma and Ethan enjoying the digital photo slideshow they had found. As the photos changed I could hear their chatter back and forth telling each other things they remembered from when the picture was taken and talking about the people in the photos.
Before my last two babies, I used to scrapbook like there was no tomorrow. I enjoyed the "me time" and the creative outlet, but time and finances grew short after our final additions. After seeing how much Emma and Ethan enjoyed looking through the digital photo album on Windows 8, I decided we should use the free photo book from snapfish that came with the computer to create a collaborative scrapbook in book form.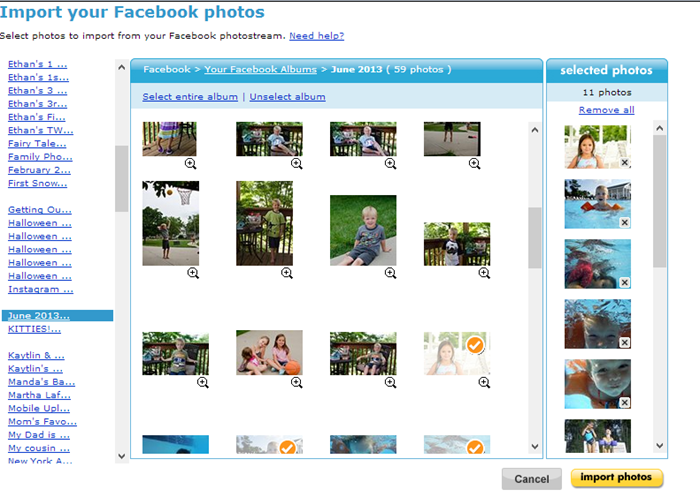 I was thrilled with how easy snapfish was to use. Because a majority of my favorite photos are on Facebook already, all I had to do was to get everyone to agree on which photos, select and upload.
With a variety of themes to choose from, I easily found one that fit my outdoor photos from last week. The kids and I had a blast picking through our favorites and putting them onto pages with captions that fit the mood. We are eagerly awaiting the arrival of our book, but spending the time together creating this book will be almost as fun as cuddling on the couch sifting through the book time and again talking about our fun day at the pool.
Connect with HP:
Check out our initial review and reactions to the HP Envy 23 Touchsmart…
Check out how the HP Envy 23 Touchsmart is helping Missy's family spend more time together.
See how Missy is helping keep her family healthy using the HP Envy 23 Touchsmart!
I wrote this review while participating in a program on behalf of HP and received an HP desktop PC and other products as part of my participation.