Coming Soon Disney Pixar Monsters University MU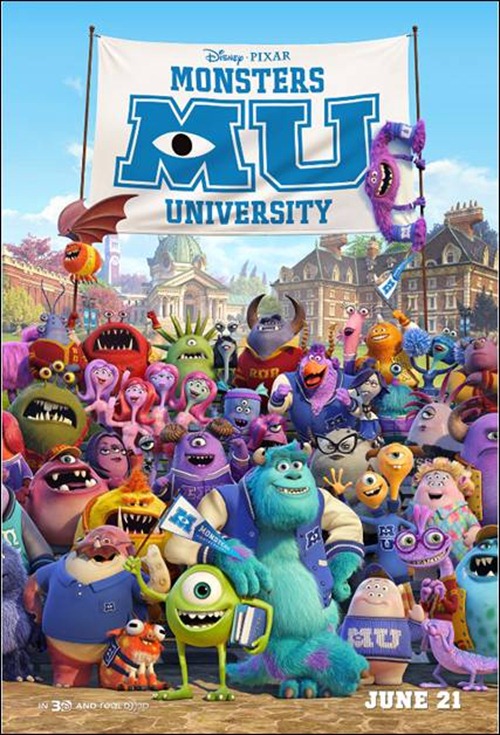 Our family of six all adore Monsters Inc. the movie. Boo is beyond adorable, Mike is hilarious and so ugly he's cute and Sully is a big fluffy guy you just want to squeeze. So when we heard that Monsters Inc. was going to be back this summer with Monsters University… our family was giddy! This new poster and the trailer have us wishing for June already.
Mike Wazowski and James P. Sullivan are an inseparable pair, but that wasn't always the case. From the moment these two mismatched monsters met they couldn't stand each other. "Monsters University" unlocks the door to how Mike and Sulley overcame their differences and became the best of friends. Screaming with laughter and fun, "Monsters University" is directed by Dan Scanlon ("Cars," "Mater and the Ghostlight," "Tracy") and produced by Kori Rae ("Up," "The Incredibles," "Monsters, Inc."). The film opens in U.S. theaters on June 21, 2013, and will be shown in Disney Digital 3D™ in select theaters.
MONSTERS UNIVERSITY releases in theaters on June 21st!
"Like" MONSTERS UNIVERSITY on Facebook: http://facebook.com/PixarMonstersUniversity
"Follow" Disney/Pixar on Twitter: http://www.twitter.com/DisneyPixar
Visit the website: http://www.Disney.com/MonstersU
Disclaimer: I was not compensated for this post. I wanted to share the excitement over a great new movie! Enjoy!