Relocating to a new home can be an exciting yet grueling process, fraught with countless tasks to handle and details to remember. Amidst the hustle and bustle, the process of packing and moving your belongings can often become an overwhelming challenge.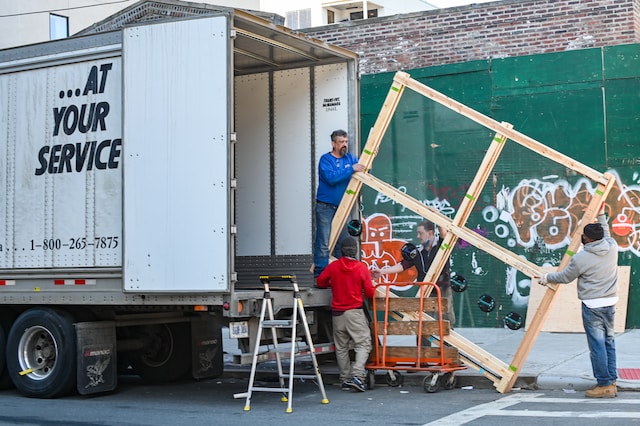 Source – Unsplash
This is where engaging professional movers can prove to be a game-changer. These experts can transform your moving experience and offer a variety of clever and efficient solutions to minimize your stress. 
With a local move now averaging $1,500 and a cross-country relocation close to $5,000, you definitely want to check out this list of how professional movers can simplify your life.
Professional Movers – Professional Services
Professional movers can take full responsibility for packing and unpacking your belongings – whether you are relocating within the same city or moving to a new place. 
Shifting this burden to someone (anyone) else is a huge relief, especially when you have limited time on your hands. Their experienced staff will carefully handle all of your items, ensuring that none of them get damaged in transit. 
They can also provide you with quality packing and wrapping materials such as bubble wrap, garbage bags, plastic covers, and cartons specifically designed to protect your items during the move.
They'll Save You Countless Hours
Professional movers have the necessary equipment and skills to help you transport your belongings efficiently. Utilizing special furniture dollies, ramps, and trucks, they can help you move your furniture and other large items in no time. 
Moreover, they employ the latest technology, such as GPS and state-of-the-art tracking systems, to ensure that your shipment is delivered exactly when it is promised.
They'll Save You Cash
Even though there are plenty of ways to save money on moving costs, a moving company can still save you a ton of money on labor costs. 
The staff will be trained and experienced in efficiently packing, loading, and unloading your belongings. 
Relying on professional movers eliminates renting or purchasing moving equipment such as trucks, dollies, and ramps, which can add up quickly over time. The pros also provide you with insurance coverage for any unexpected damages that may occur during the move.
Stress-Free Moving
Hiring professional movers removes the hassle of coordinating all the details associated with a move. 
Delegating this step helps to minimize your stress levels. It allows you to focus on other essential tasks, such as finding a new house or apartment, transferring utilities, and registering your children in school. 
An additional effort to help make your life easier – many movers also provide helpful resources such as checklists and tips to help make the move a success.
Efficient Inventory Management
Professional movers can accurately track and manage your inventory to ensure that nothing gets lost or forgotten. They have the capability to itemize each box and note its contents, helping you quickly locate an item when needed. 
A quality service will also provide a comprehensive report detailing the condition of every item before, during, and after the move. This service helps to protect both parties from any discrepancies related to the move.
Navigating Complex Moves
Professional movers are experts in navigating complex journeys and hauling challenging items. Whether it's a move to Alaska or you need companies to move your shed across town, they've got you covered.
They have the experience and resources to tackle a variety of challenging moves, such as relocating multiple items up or down stairs, across long distances, or moving large items through tight spaces. 
If needed, quality professionals can also help coordinate your move with other vendors, such as storage companies or cleaning services.
Conclusion
Professional movers provide invaluable services that simplify the moving process, making it less stressful and more efficient. 
These experts take the burden off your shoulders by offering comprehensive solutions, from professional packing and unpacking to efficient inventory management, saving you both time and money. 
Whether you're moving a few blocks away or across country lines, engaging a professional moving service can significantly ease your transition, turning an otherwise challenging task into a streamlined and manageable process.