Clean Chewy Nut Fruit & Dark Chocolate Granola Bar Recipe
One of the first food items I wanted to find a recipe for was granola bars. My kids eat them like they are going out of style, but after studying the back of the box I knew there had to be a better alternative. I could have probably purchased an organic version from the store, but if I make them from scratch I know exactly what's in them and I can customize them for my family's likes and dislikes.
With the addition of the dark chocolate chips this recipe become more of a grown up favorite than the kids. Our next batch will include dried fruit to make them a bit sweeter and appealing to the kids.
Clean Chewy Nut Fruit & Dark Chocolate Chip Granola Bar Recipe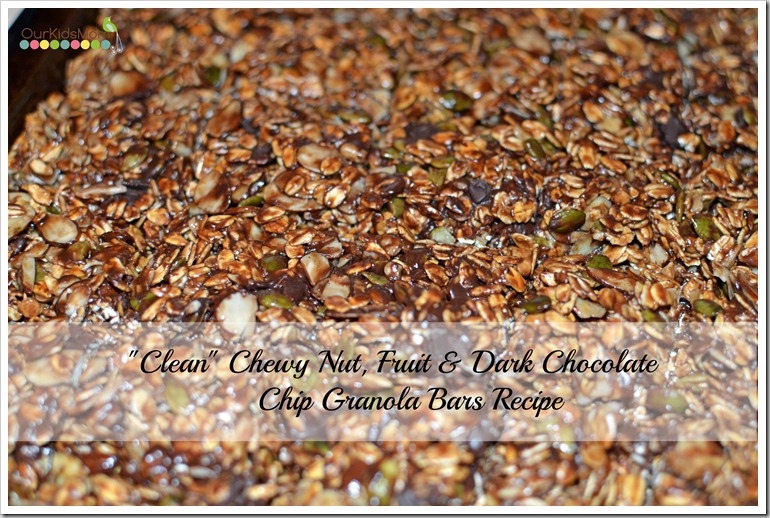 Ingredients
2 cups old fashioned oats (we used organic)
½ cup sunflower seeds (we used raw)
1 cup chopped almonds (we used raw)
½ cup peanuts (we were out so we used pumpkin seeds)
½ cup raw honey
⅓ cup of homemade/natural peanut butter
1 oz butter (we used organic)
2 tsp vanilla extract
½ tsp sea salt
1½ cups dried fruit (we didn't have any so we used ½ organic dark chocolate)
Instructions
Preheat oven to 350 degrees. Place oats on half pan in oven for 15 minutes. Place in a bowl when done and reduce oven temperature to 300 degrees.
Meanwhile, combine honey, PB, vanilla,butter, and salt in saucepan and cook on medium, stirring constantly until well-combined. Immediately pour over cooked oats. Add nuts, fruit &/or chocolate chips (chocolate will melt a tad turning the bars brown like mine): mix until well-coated.
For fruit options think out of the box. Raisins are yummy, but so are unsweetened apricots and cranberries.
Press mixture evenly into greased baking pan, and place in the oven for 25 minutes.
Remove from oven and allow to cool completely (about an hour) before cutting into 2 inch squares.
Make sure to store in AIR TIGHT containers for them to last about 2 weeks.
I'm going to be honest here and tell you that I messed up when making my bars. I was so excited to eat them that I neglected to put them back in the oven after I mixed everything together. The end result was somewhat like "no bake cookies" as Kaytlin pointed out. The nuts were still crunchy but they were a tad sticky from the honey.
If you decide to go ahead and bake your bars and they are turning out crumbly make sure your oven is calibrated correctly, as overcooking can lead to them breaking. Also, be sure to have a good rubber spatula to press down the mix completely. Additionally, do not overcook the sauce. Any of these things can lead to crumbly bars.
Enjoy!