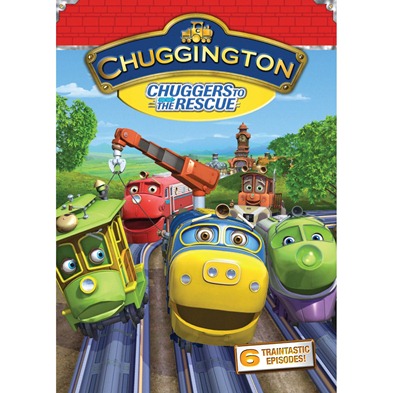 Honk your horns!  Chuggington is back in the station with an all-new DVD, Chuggington: Chuggers To The Rescue released April 5!
A worldwide television hit and an exciting destination for preschoolers, "Chuggington" follows the humorous adventures of 'traintastic' pals, Wilson, Brewster and Koko as they 'ride the rails' of life on their way to becoming productive chuggers.  Featuring a dynamic fleet of relatable and diverse characters, each engaging episode is filled with positive life lessons that encourage and promote early social skills.  The colorful and contemporary CGI-animated TV series airs daily on Playhouse Disney, Disney Channel's learning-focused programming block. 
In "Chuggers To The Rescue," everyone's favorite trainee trio is set to save the day in six horn-tooting episodes that deliver action and laughter, while teaching viewers gentle lessons about emergency preparedness and responsibility. 
Through their exciting adventures and daring escapades, complete with jetpacks and storm machines, Wilson, Brewster and Koko help one another out of jams, learn emergency rescue skills and take on new responsibilities, while they – and young trainees at home – learn about patience, accountability, following instructions and how to get the job done!  The action-packed DVD features appearances from special "Chuggington" friends, Calley, Dunbar, Zephie and Mtambo. 
The more we watch Chuggington, the more we like him. As a parent, I love that Chuggington is not as repetitive as some of the other children's programming. The characters are more vibrant and fun. This is the second DVD release for Chuggington. Like the last release, this DVD contains six 10 minute regular episodes. Emma and Ethan love the theme song, which is a good thing because it plays at the beginning and the end of each episode. Did you do the math? That is 12 times they get to hear the theme song before the end of the video!
BUY IT:
You can purchase Chuggington Chuggers to the Rescue on DVD for $10.99 (RV $16.98) from Amazon.com
WIN IT!
One OurKidsMom reader is going to win Chuggington Chuggers to the Rescue on DVD!
This giveaway ended at 11:59PM EST on May 20, 2011.
Disclosure:
This post was written me and was not edited by anyone. The opinions expressed in this post are entirely my own and have not been influenced in any way. I received a sample for review purposes only. I was not compensated for this post. Your experience with the product may differ from mine. The sponsor is responsible for prize fulfillment and will be shipping the winner(s) their prize(s). For more information please read my disclosure policy.