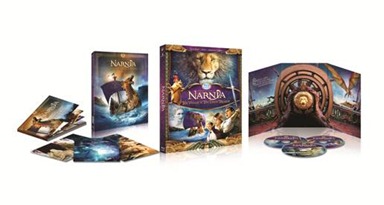 A Timeless Classic Blossoms Into A Family Film Favorite
THE CHRONICLES OF NARNIA: THE VOYAGE OF THE DAWN TREADER
Rediscover the Mythical World of NARNIA
on Blu-ray and DVD on April 8th
You are among the very first to see these new assets (which include games, art stills and activity sheets)… take a peek at http://www.narnia.com and http://www.narnia.com/games/
Summary: Return to the magic and wonder of C.S. Lewis' epic world in this third installment of the beloved The Chronicles of Narnia fantasy-adventure series when THE CHRONICLES OF NARNIA: THE VOYAGE OF THE DAWN TREADER sails into Blu-ray and DVD from Twentieth Century Fox Home Entertainment on April 8th. Imagination comes to life with stunning special effects that bring the vast oceans and sprawling landscapes to life.  The release comes just in time for Easter, making the family favorite a perfect gift for kids of all ages.
Precocious siblings Lucy (Georgie Henley, The Chronicles of Narniaseries) and Edmund Pevensie (Skandar Heynes, The Chronicles of Narnia series), along with their cousin Eustace (Will Poulter, Son of Rambow), are swallowed into a painting and transported back to Narnia. They join King Caspian (Ben Barnes, Dorian Gray) and a noble mouse named Reepicheep in a quest to rescue noble lords who had been lost fighting evil on another island. Aboard the magnificent ship The Dawn Treader, the courageous voyagers travel to mysterious islands, confront mystical creatures, and reunite with the Great Lion Aslan on a mission that tests their characters to determine the fate of Narnia itself!
Academy Award®-nominee Liam Neeson (Schindler's List) is featured as the voice of Aslan the Lion, Simon Pegg (Mission Impossible III) as the voice of Reepicheep the Mouse, and Academy Award®-winner Tilda Swinton (Michael Clayton) appears in a cameo as Jadis the White Witch.
THE CHRONICLES OF NARNIA: THE VOYAGE OF THE DAWN TREADER will be available on Blu-Ray for the suggested retail price of $39.99 U.S. / $49.99 Canada and on DVD for the suggested retail price of $29.98 U.S. / $43.48 Canada. Pre-book is February 23rd.
Disclaimer: This was not a compensated post. As a mommy ambassador for 20th Century Fox I will be bringing you sneak peaks and giveaways in the near future!