Chocolate and strawberries are synonymous with romance… the two together are a symphony of flavor.
Unfortunately, they can sometimes be incredibly expensive to buy.
I have found a quick (and delicious) way to make them that won't break the bank.
Chocolate Covered Strawberries Directions for Valentines Day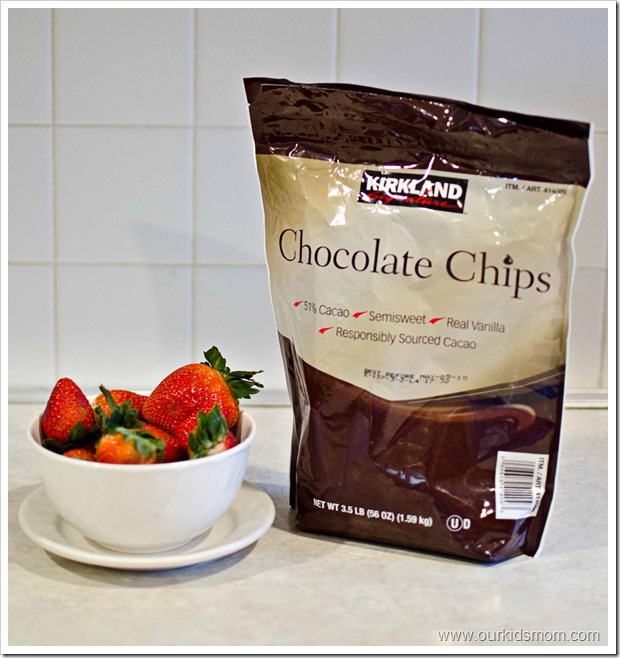 You will need:
Strawberries

Chocolate Chips (semisweet or dark, your choice)

Cupcake Papers

possibly cooking oil (peanut, canola, vegetable.. whatever you have)
TIP: Since strawberries are not "in season" right now, finding flavorful ones can be a task. My tip is to pick up the container and sniff around the holes in the bottom. If you can smell strawberries, they will probably taste wonderful. No smell basically leads to rather bland berries.
Melt the chocolate: Pour a decent amount of chocolate chips into a microwavable bowl. I tend to reach for glass bowls for even heating. Place the bowl into the microwave and heat for 2 minutes on 50% power. Take the bowl out, stir and replace back in the microwave for 30 seconds at a time at 50% power until they are completely melted after stirring. If your chocolate seems thick, add 1/4 tsp oil and mix. This should thin it out enough, but not so much that you would have a sauce.
Cover the strawberries: Take a strawberry and hold it by the leaves. Using a spoon (I use a soup sized spoon) scoop up a heaping amount of chocolate. You are going to cover the front of the strawberry starting left to right by pouring the chocolate over it. There should still be enough chocolate in the spoon to roll the back of the strawberry back and forth in to cover it. This technique took a little practice, but coats the berries more effectively than just dipping and leaves a little swirl of chocolate across the front. If you use a smaller bowl and have a deeper chocolate then just dipping should work find as well.
Cool: Place the strawberry on waxed paper and cover with sprinkles if desired. If you would rather go a little fancier you can melt some white or dark chocolate to drizzle over to create an accent.
Display: Once the chocolate has hardened I place them in cupcake papers and chill.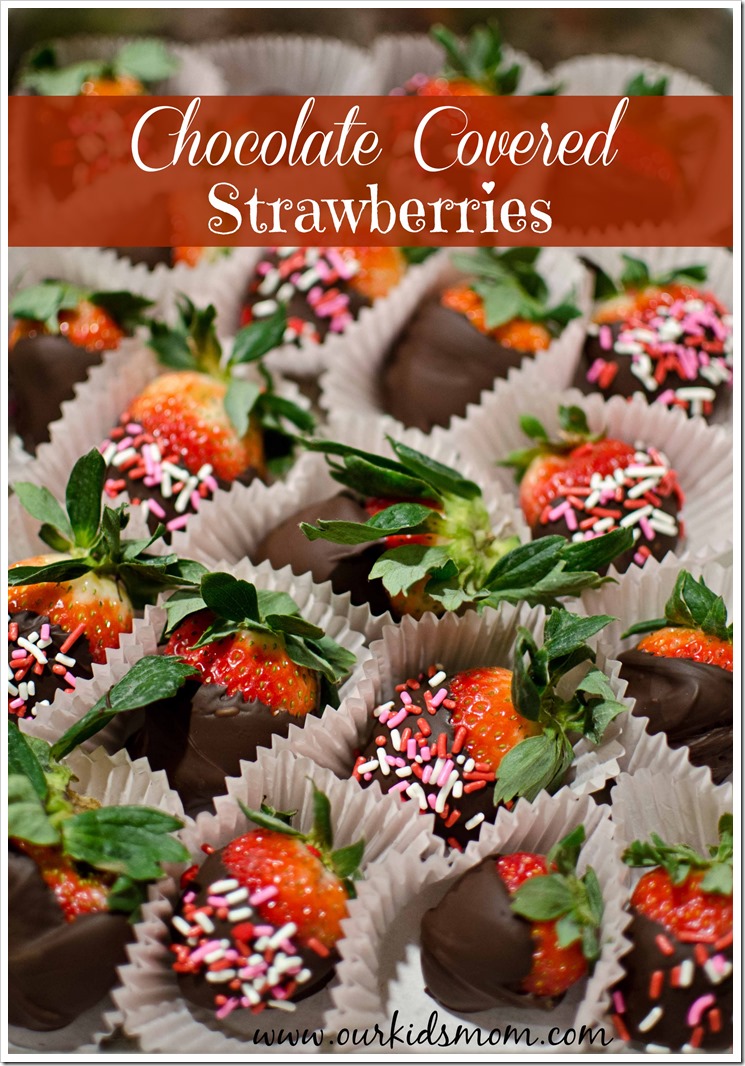 Enjoy!