Check Out Sweet Relish | $200 Visa GC #GIVEAWAY | ends
The holidays are here and as of last night I realized that the time for encoding and hiding things has begun again in our house. Emma has picked up reading quite quickly in kindergarten and she found my list of gifts that I have purchased for both herself and Ethan. Fortunately I heard her reading it and snagged it before she got to the "goods".
I'm so excited to have found out Sweet Relish is launching! What is Sweet Relish?

THE SECRET SAUCE OF SHOPPING
I equate Sweet Relish to Pinterest for shopping. It's not just for posting pretty pictures, how to's, funnies and dreams. On Sweet Relish you can organize discoveries, share what you want, and see what others like. And best of all, you can actually BUY this stuff.
Now I can gather, organize, share and check off my lists without fear of Emma or Ethan finding my lists. All of this is done through photos so if Grandma were to check the list for gift ideas she would know exactly what the item is. I love that all of the prices are listed with each item you "relish". When someone shares or sees what you "relish" they also see the price range. This makes the shopping decision so much easier. It's frustrating to search through a list, pick an item that sounds like a great idea and then find it's out of your budget.
Sweet Relish is the "secret sauce" … the missing piece from online shopping. Think of the possibilities… it's super easy to check off a birthday list, send a list of classroom needs out to parents, or sneakily surprise a friend with a gift that she really wants- all based on lists.
I installed the Chrome plugin and went shopping on Amazon for Ethan. It was super easy to add items to Ethan's relish list… I clicked the R in the upper right hand corner, picked the item, chose if I wanted it posted to Facebook, and then added a comment if wanted. Here's a screenshot from my five minutes of shopping: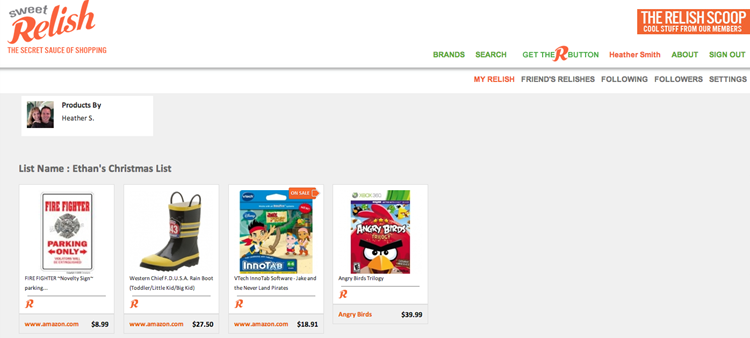 Someone checking out my "relish" list might click on one of the items. Here they can see details about the item like this: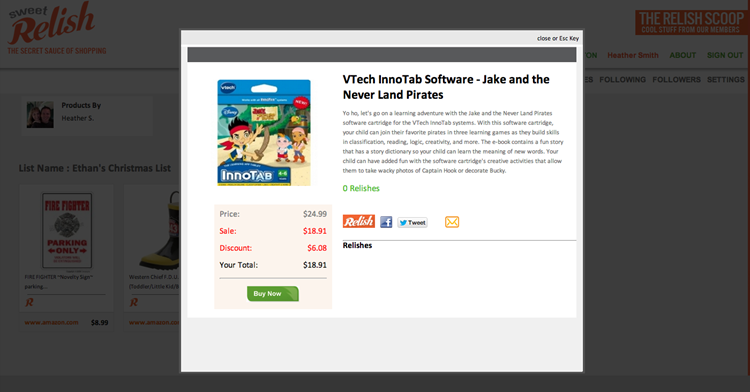 I'm seriously thinking this might get addicting! I'm off to finish Ethan's list and start on Emma's!
Sweet Relish is still launching in phases, which means some days they look better than others. I have a feeling we'll be glad we stuck around as they develop.