This post brought to you by HEALTHY ESSENTIALS®2014 program by Johnson & Johnson Consumer Companies, Inc. and The Motherhood.
It's Earth Month. A time to reflect, refocus and hopefully correct some of our "bad" behavior in regards to our actions and how they affect the Earth.
This April Johnson & Johnson has many programs in effect to help us be more aware but also make an impact even in a small way.
Even small things make a difference.
Do you recycle in the bathroom?
Johnson & Johnson wants to help remind us that even the smallest room in the house can make a difference when you recycle. As much as we recycle in the kitchen, I am one of the guilty when it comes to tossing packaging from bathroom items into the bathroom trash. I never really considered it when opening up a new toothbrush or when taking out a fresh tube of toothpaste.
Why haven't I? I guess it never really occurred to me… but now I know better.
To help us remember to recycle in the bathroom and to replace the old and expired products,
HEALTHY ESSENTIALS®
  is offering over $55 in fabulous printable coupons!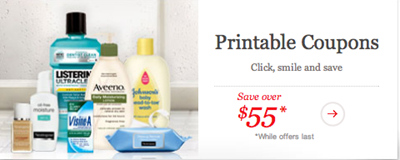 Save $1.00 on any JOHNSON'S® Baby Intense Moisture Cream

Save $1.00 on any LUBRIDERM® product (6oz or larger)

Save $1.00 on any (1) CLEAN & CLEAR® product (excludes trial and travel sizes)

Save $1.00 on any (1) NEUTROGENA® Sun product (exclude trial size)

Save $1.00 on any (1) LISTERINE® SMART RINSE Anti-cavity Mouthwash, 500 ml

Save $1.00 on any (1) REACH® Total Care Floss, or REACH® Gentle Gum Care Floss, or REACH® Dentotape® or REACH® Access® Flosser

Save $2.00 on any (3) NEOSPORIN®, BAND-AID® Brand Adhesive bandages or JOHNSON and JOHNSON RED CROSS® Brand products (excludes all trial and travel sizes, First Aid Kits, 10 ct Band-Aid Brand Adhesive Bandages, and On-the-Go First Aid Kits. Must buy (2) different brand products to qualify for this offer along with a third product)

$2.00 on any (2) BENADRYL® or Children's BENADRYL® products (excludes trial size)
$1.50 on any (1) TYLENOL® Sinus product (excludes trial size)

and more!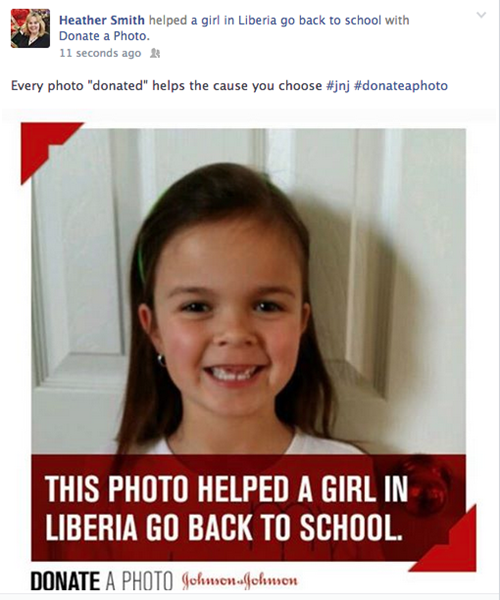 J&J has also developed the Donate A Photo app. It's really a super simple and fun way to raise awareness and help a cause you believe in.
I downloaded the app from the Google Play Store, signed in and touched "donate a photo". I first chose my cause I wanted my $1 donation (from J&J) to go to, then chose my photo and added my caption. The app then posted the picture above on my timeline! Super simple considering I share these fun everyday photos with my friends and family anyway.
This can be done on a daily basis and it's as easy as opening the app on my phone!
Lastly, we wanted to invite you to the J&J HEALTHY ESSENTIALS® Twitter party Thursday, April 17, at 1 p.m. ET (noon CT / 10 a.m. PT). Follow the hashtag #Moms4JNJConsumer to participate!
Find more details and RSVP at the Twtvite: http://twtvite.com/jnjearthday
 How do you plan to make a difference this Earth Month?