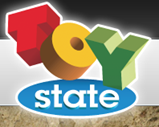 We first learned about CAT Toys last month when we reviewed the Tough Tracks Dump Truck. Both Ethan and I fell in love with the toys, both for different reasons. I fell in love with the build, durability, educational value and function… Ethan fell in love because it was a cool yellow truck!
About Toy State:
Founded in 1984, Toy State is an innovator and an industry leader in the manufacture of licensed and highly stylized lights and sound vehicles. Toy State's core portfolio includes Road Rippers® lights and sound vehicles, as well as Cat® and Cat® Preschool lights and sound construction toys. Working in-step with the world's leading automakers, and Caterpillar, the leading manufacturer of construction equipment, Toy State products provide hours of enjoyment for kids of all ages.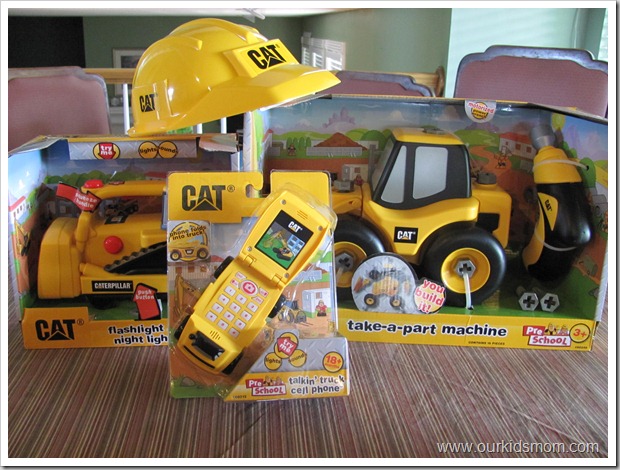 We were sent a take-a-part machine (dump truck), a talkin' truck cell phone and a flashlight night light (bull dozer).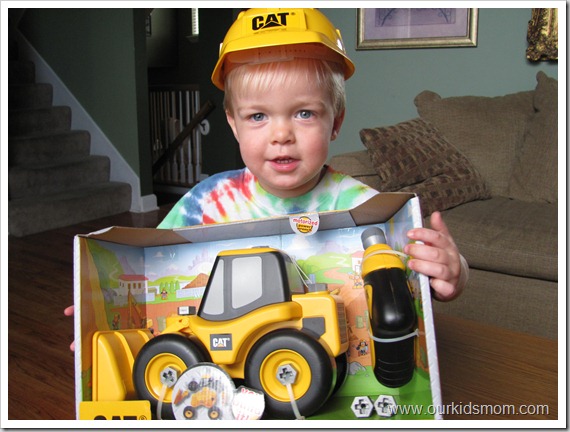 It was Ethan's lucky day!
We started with the take-a-part machine. Ethan loves to take things apart so I was hoping this toy would be a hit. I wasn't disappointed. Ethan went to work untightening all of the bolts by hand (and taking the truck apart) while Kaytlin and I looked for batteries for the motorized hand drill.
To be honest I was very surprised that he didn't need any help with the disassembly and the reassembly. He seemed to remember where all of the pieces went and got the hang of "righty tighty" while finger tightening the bolts.
This toy was an amazing hit and he plays with it a month later almost on a daily basis. The website suggests ages 3 and up… Ethan just turned 3 late July and he didn't have any problems with it.
The next toy we played with was the talkin' truck cell phone. Ethan loves cell phones and he loves trucks so I had a clue that this might be a winner.
Both of the kids were scrambling to be the first at this toy. I was very pleased that the tones and vocals were soft and not intrusive at all (moms… read this as "not annoying"). Actually, if the room has a lot of background noise it's a little difficult to understand what the phone is saying. I also thought it was clever that the wheels actually roll.
Emma & Ethan both agree that their favorite feature of the phone was the "camera". When you press the button the light flashes on the other side (see the closed truck photo above… the light flashes in the circular portion like on a real cell phone) and makes a shutter noise like a digital camera.
(The photo below is of Emma taking a picture.)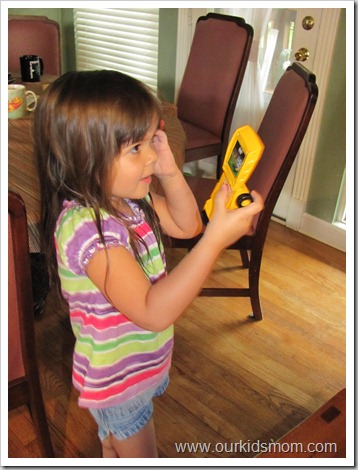 Last but not least is the Flashlight & Night Light bull dozer (also comes in dump truck form).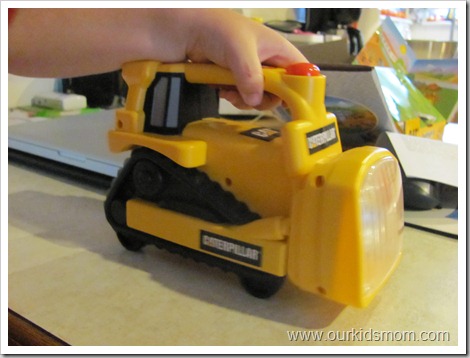 Ethan is not the type of kiddo that focuses and falls right to sleep when tucked in. He likes to play with toys and has a little night light he tinkers with while relaxing in the dark. I knew he would get a kick out of a truck flashlight. What I didn't realize was, this cute little truck turns into a night light. I know it's part of the name, but really… I thought it referred to the flashlight part!
The night light feature happens after the headlight turns off. It has an undercarriage light that glows lightly so you can see just enough to not be afraid of the dark.
Oh, I can't forget to mention the truck noises it makes while in flash light mode. When Ethan pushes the red button not only does the flash light turn on, the trucks "honk honks" (loudly… moms read that as "annoyingly"). My husband easily fixed this for me by putting some scotch tape over the speaker to muffle the sound. It is still very audible, but not nearly as annoying

.
Ethan takes this to bed with him nightly. Another hit!
My overall thoughts on CAT Pre School toys is a very favorable one! They are sturdy, functional, educational, and plain ole' FUN! They are the perfect gift for any little boy or girl that loves trucks, construction and fun!
BUY IT:
CAT Pre School Construction toys can be found at a retailer near you:
Wal-Mart * Target * K-Mart * Toys R Us
WIN IT:
ONE OurKidsMom reader is going to win a Take-a-Part Machine (either a Dump Truck, Wheel Loader and Skid Steer depending on availability)!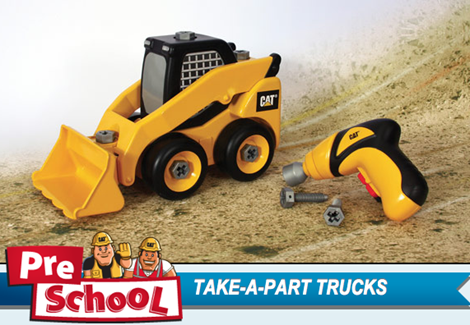 TO ENTER:
Simply follow the directions in the widget below. It's that simple.
COMMENTS DO NOT COUNT AS ENTRIES…
but they are still very much appreciated and adored :O)
If you enjoy my blog and my giveaways I would love a vote on Top Mommy Blogs. It only takes 1 click and you're done! (allowed once per 24 hours)
Rules:

You do not have to be a blogger to enter/win. An email address is required to enter. The winner will be chosen via Rafflecopter and contacted via email. A reply to the winning email is required within 48 hours before a new winner is chosen. One person entering per household please. U.S. only.

This giveaway ends at 12:01 AM EST on September 2, 2011.

Disclaimer: I received the complimentary samples through Team Mom from Toy State. All opinions are 100% my own. Your experience with the product may differ from mine.  No other compensation was received.