Carter's Giving Tuesday Event (11/29)
Check out this wonderful event happening this coming Tuesday, November 29, 2016.  For every Carter's pajama purchased online at Carters.com or in the Carter's retail store, Carter's will be donating a pair of pajamas to children in need!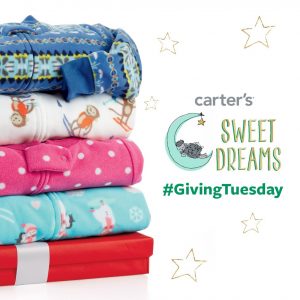 Carter's has always been one of my top go to stores to purchase my kids clothes. They have a great selection of styles and a wide range of sizes from newborn to 12 years that I can find just about anything I need. The clothes are reasonably priced and are of good quality which is important as I don't have extra money laying around to keep replacing clothing all the time.
Every year, I buy my kiddos new pajamas for Christmas eve. It's a tradition they have come to look forward to. Carter's offers over 900 styles, including 1-piece, 2-piece, 4-piece and gown options in cotton, flannel and fleece. Now that's variety! I mean how do you even choose? I usually end up buying a few pairs of pajamas for each of my kids for the winter season because there are just too many cute choices.
When I heard about their Giving Tuesday Event that's coming up I was thrilled! Not only would I be getting my kids their much anticipated pajamas for the season, but Carter's will be donating pajamas to children in need! Now even those little sweet peas will get their own jammies for the season too! Just wonderful!
I highly encourage all of you to hop online or stop in a store this coming Tuesday and grab a pair of PJs for your kiddos and help spread a little snuggly goodness to those less fortunate!