Calphalon 8-Pc Contemporary Nonstick Cookware
Sample received. All opinions are my own.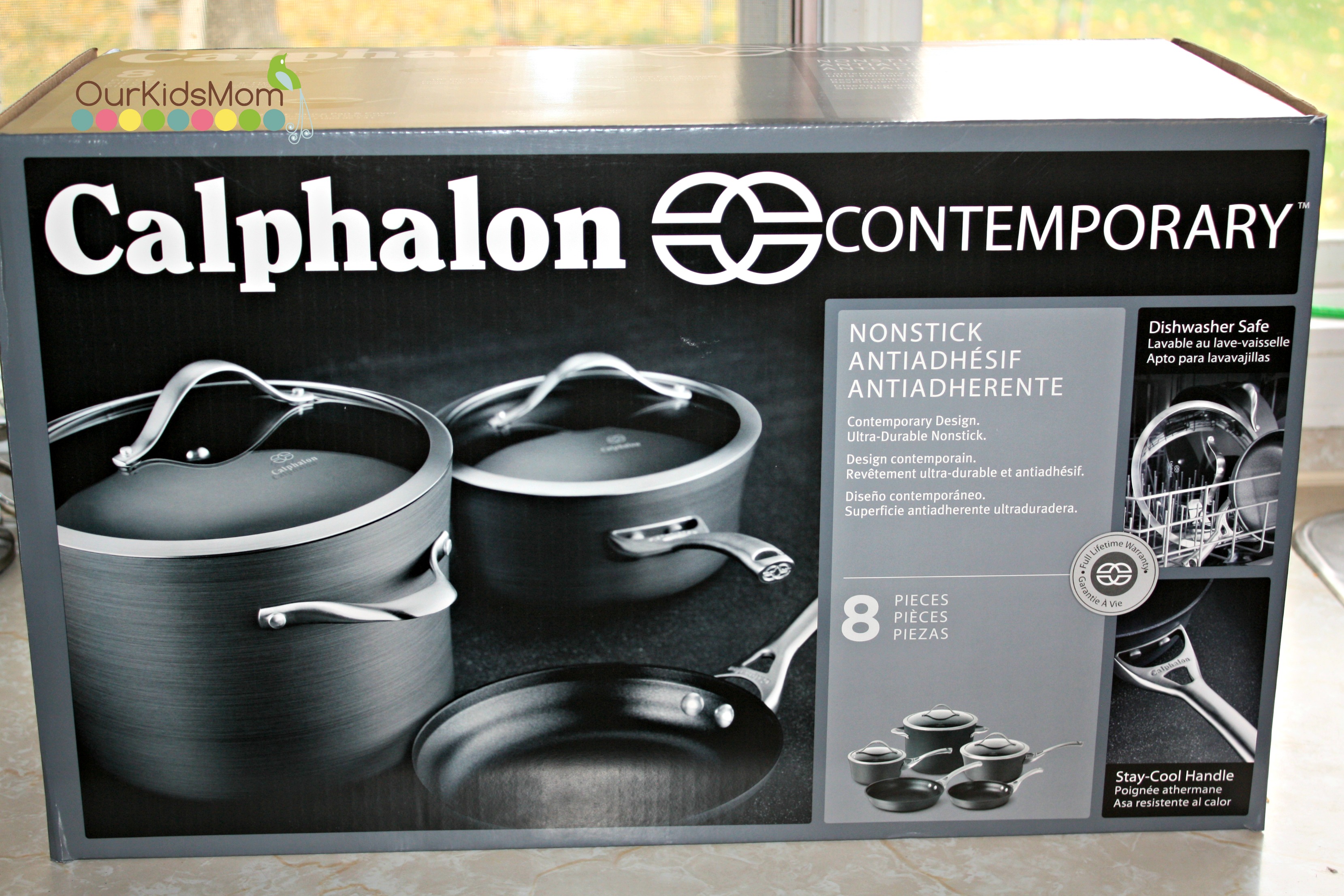 I love to cook, but when I have mixed matched pots and pans, I lose my interest in cooking.
I would always get so jealous when I would go over to someone's house and they were cooking with matching pots and pans… let alone beautiful looking ones.
So when Calphalon offered me their Contemporary Nonstick 8 piece Cookware Set, I couldn't say yes fast enough. I was so excited to be getting a quality set of matching pots and pans.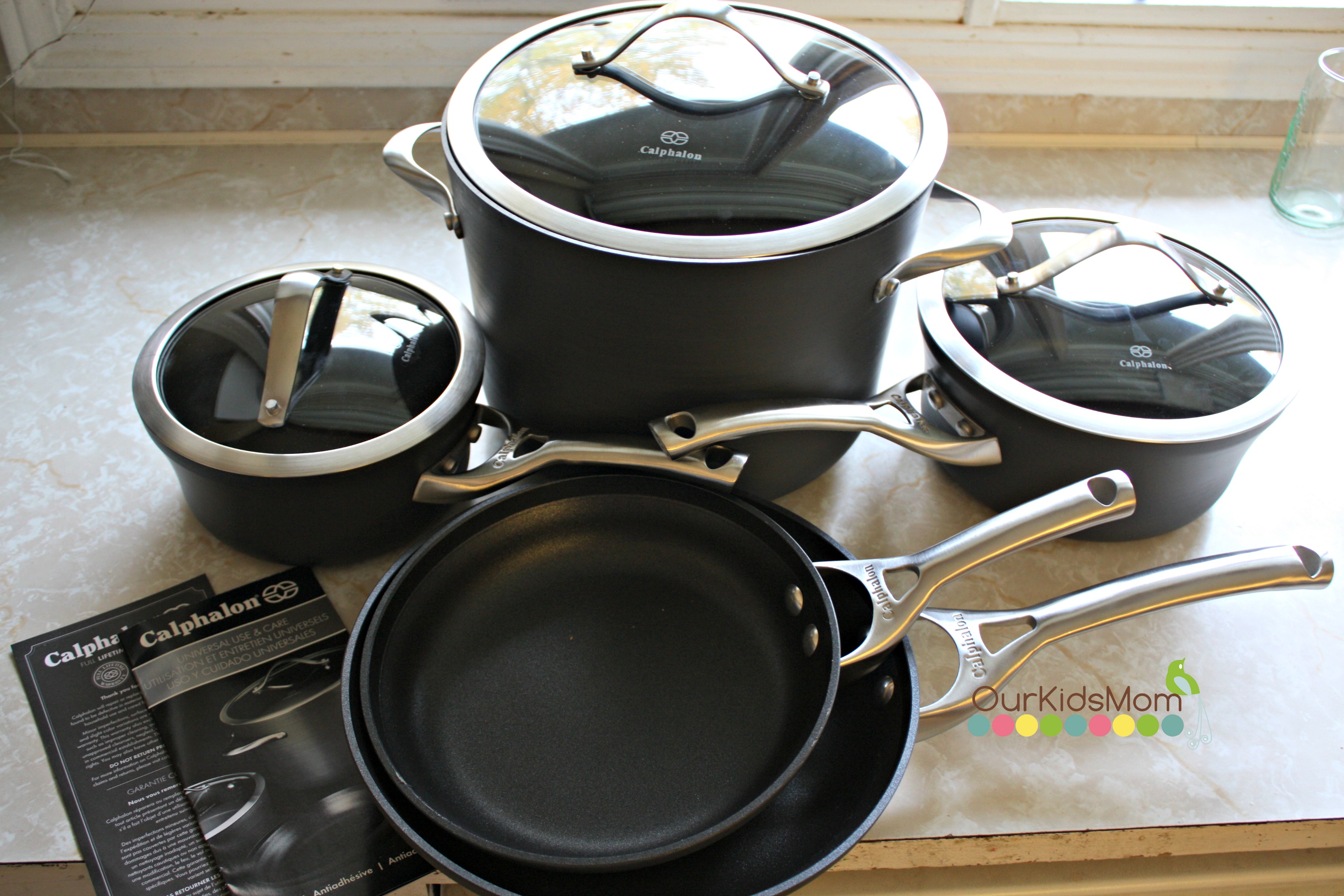 Pulling them out of the box I was in awe of how contemporary and beautiful they looked… they are absolutely stunning. It was love at first sight.
My 8 piece cookware set included a 8 inch frying pan, 10 inch frying pan, 1.5 quart sauce pan and cover, 2.5 quart sauce pan and cover, and a 8 quart stock pot and cover.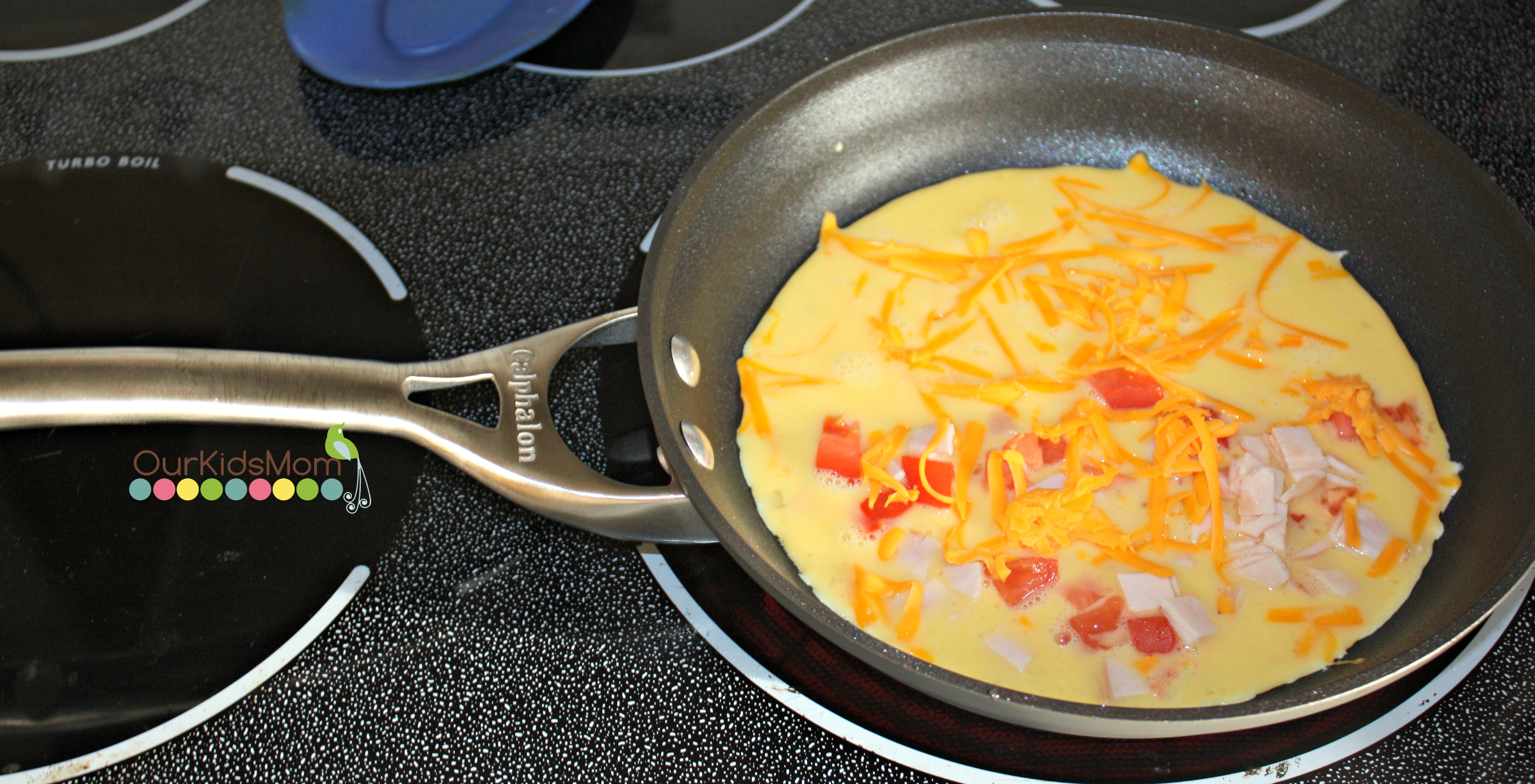 Caphalon has made their non stick pots and pans with a triple layer PFOA-free non stick… these pots and pans are made to last.
This set is not light cookware… they are a heavy-gauge, hard-anodized aluminum to ensure even heating. The first time I brought these out to try them I was going fix some omelets. I had stopped making omelets as they always stuck to my pan and made a mess. I'm sure all I had to do was a flip of the pan with this set and my omelet would have flipped on their own as there was no sticking on these pans.
Another meal I wanted to try were pork chops. We are a big barbecuing family… I rarely ever cook meat in a pan as it just never tastes as good.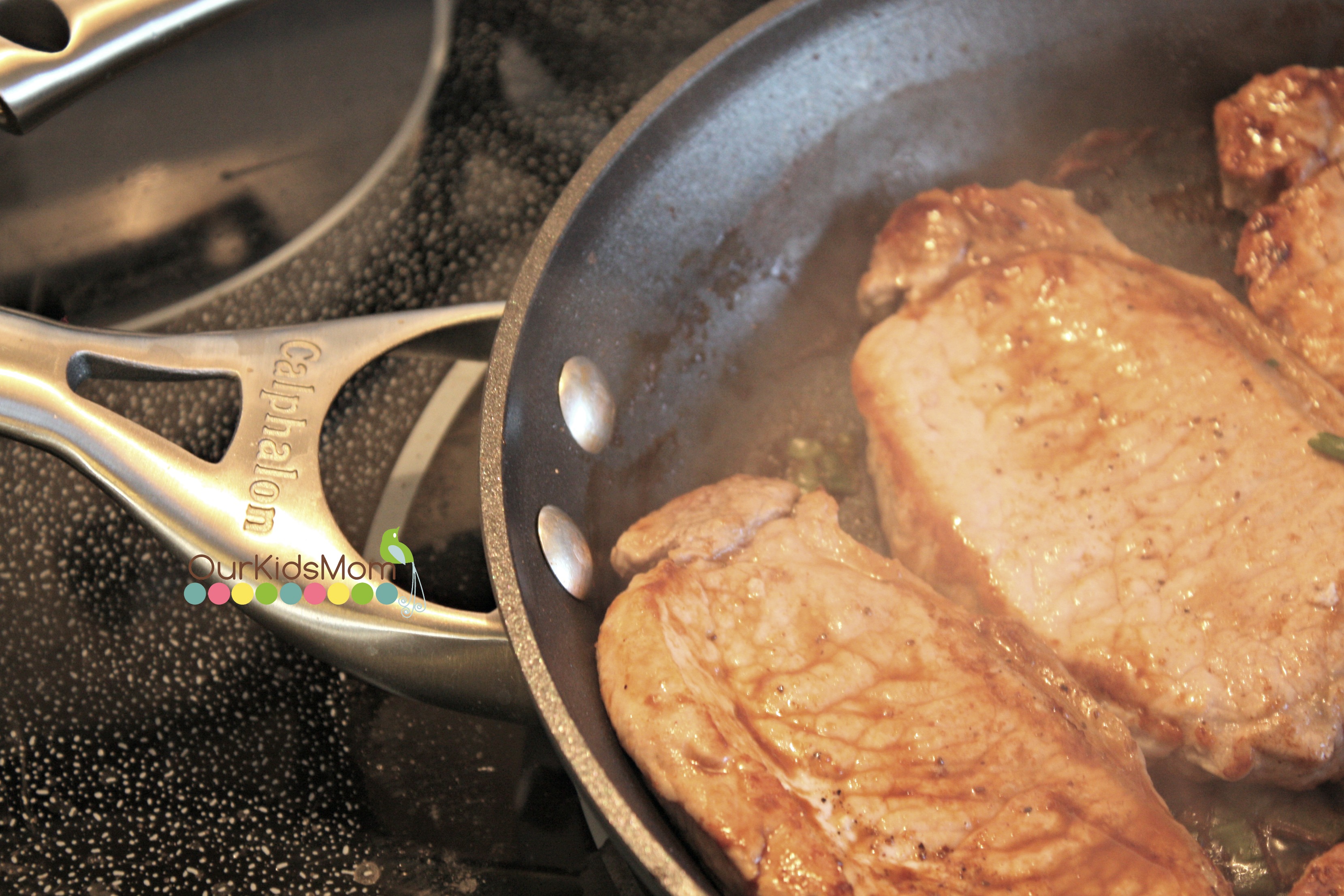 So I heated up the pan on high and once it was heated I seared the pork and turned down the heat to finish cooking.
I don't think they were even in the pan for 10 minutes and they were done. I was so happy to see that it didn't matter where the meat was in the pan, they all came out cooked the same… nice and even.
The taste of these pork chops turned out incredible. they were so moist and tasty!

I never realized how having good cookware can affect the outcome of your meal. Here I'm not as bad of a cook as I thought I was, it was just my cheap old pans that made me look so bad! That or I'm not as good as I think and Calphalon makes me look good.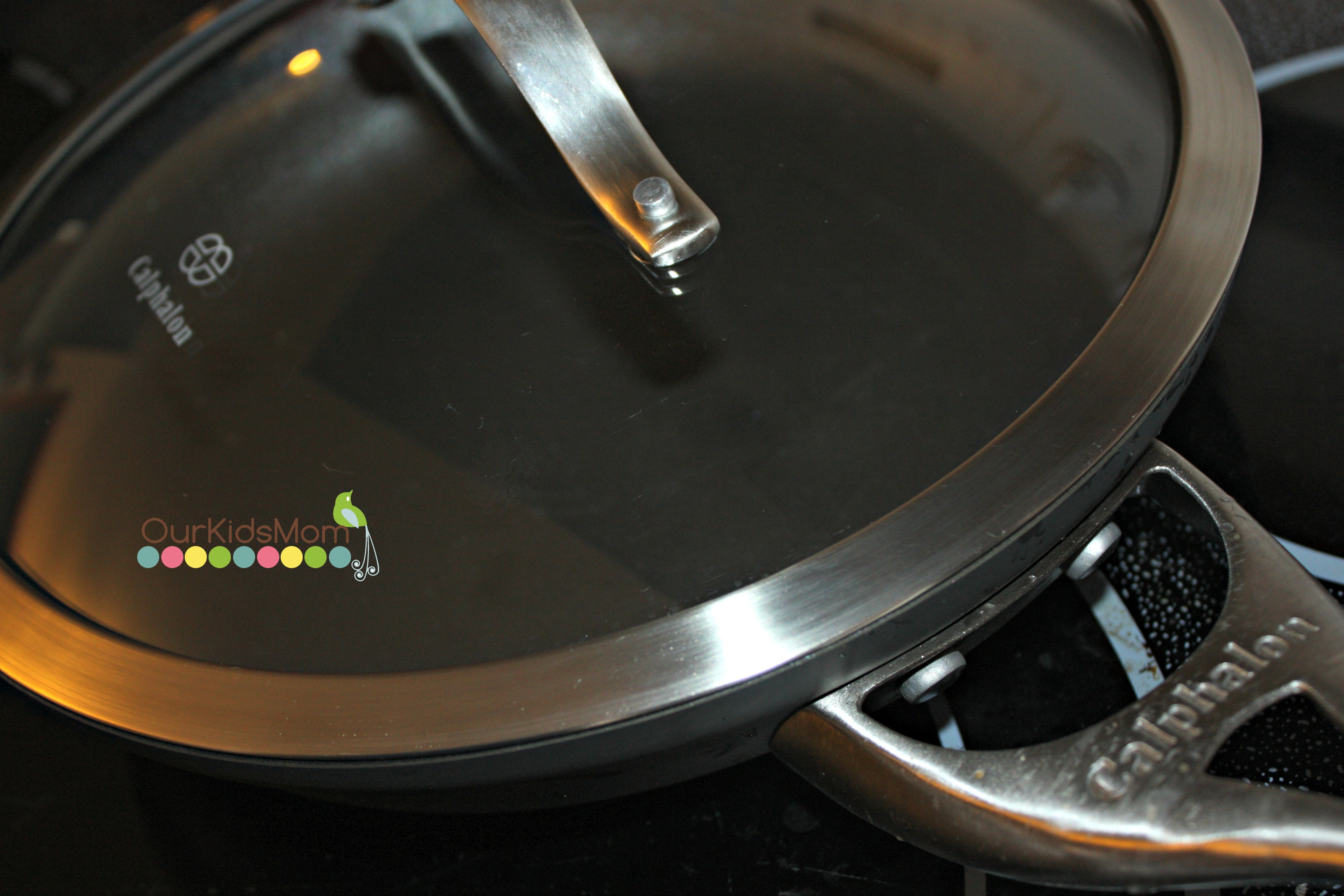 The handles are a very durable cast stainless steel loop handle. I was a little concerned that they would get a little hot when I had the lid on, but I was happy to feel that they didn't even get warm. No oven mitts needed to touch these handles.

The best part about the Caphalon Contemporary Nonstick Cookware is that they are dishwasher safe. This is perfect for us, as we tend to throw absolutely everything in the dishwasher.

The set is oven safe to 450ºF / 230ºC and they have a full lifetime warranty. To me, you know you have a good product when the company stands behind their product for life.
I am in love with my Calphalon cookware, to the point that sometimes I like to think that I'm a professional chef in the kitchen cooking up a storm.
Calphalon has brought back my love for cooking.
Head over to www.calphalon.com and bring out the chef within you.
Connect with Munchkin:
WIN IT:
ONE OurKidsMom reader is going to win a Calphalon Contemporary Nonstick 10-in. Fry Pan! RV $75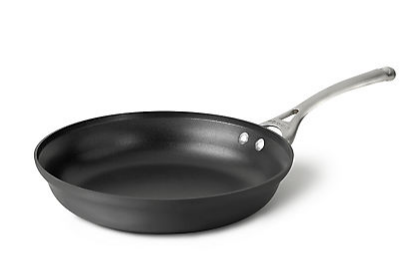 This giveaway ended at 11:59 PM EST on December 19, 2014.