Calphalon Toaster and Katana Series Knife Block Set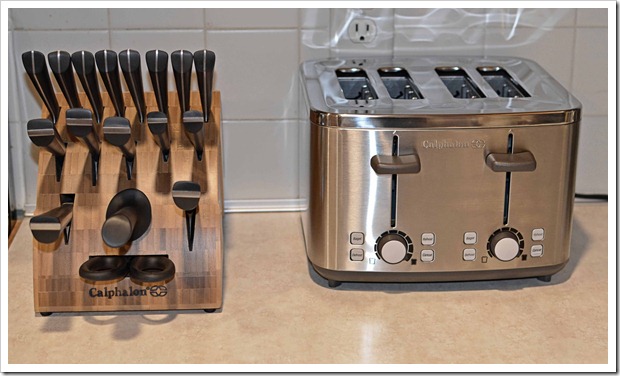 We recently ran into a small inconvenience in our household. One side of our four slice toaster decided to finally stop working. With a family of six, this can mean disaster (not literally… but a huge pain in the neck) while trying to get breakfast on the table in a quick and efficient manner. I was thrilled when Calphalon offered to send (free of charge, all opinions 100% my won) their 4 Slot Stainless Steel Toaster as well as a Katana Series 14-pc. Knife Block Set.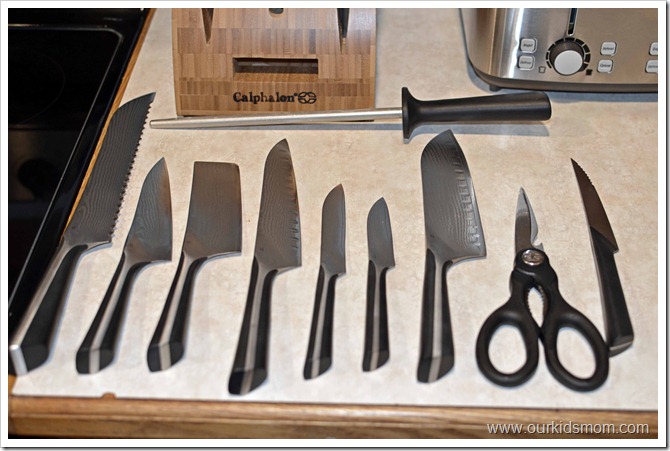 I was eager to try this knife set as I had heard fabulous things about Katana.
Katana Series' time-honored layering process not only imparts exceptional sharpness, but allows the blade to retain its edge longer for enduring high performance results.

Damascus style blade clad with 33 stainless steel layers for distinctive style, exceptional rigidity and rust resistance.

Ergonomic poly-resign handle is contoured for comfort and well balanced for control and precision.

Integrated bolster design provides a secure, comfortable grip and offers increased control.

Lifetime warranty.

Traditional blade shapes enhanced for ease of use and precision.

VG-1 Japanese steel for exceptional sharpness and ultimate edge retention.

Will not chip, crack or peel.

Winner of the 26 Housewares Design Award for innovative design in cutlery.



The knife set comes with a nice substantial wooden block for countertop storage. It has quite a bit of depth to it, but after a little re-arranging of counter appliances we found a spot that it didn't look out of place.
Set Includes:
3.5″ parer
4.5″ parer
5″ nakiri
5.5″ honesuki
7″ santoku
7″ slicer
9″ bread knife
8 steak knives
kitchen shears
9″ diamond steel
knife block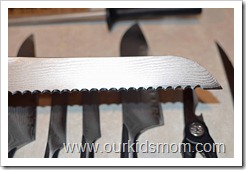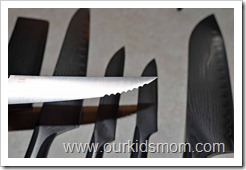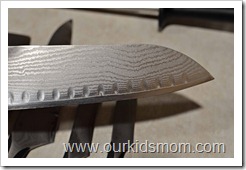 I have been extremely happy with this set. I love that it comes with a 9" diamond steel bar to hone your knives with each use. We plan to have this set for many years to come and if we keep the knives sharp and aligned as we go it should extend their lifespan.
I also adore the bread knife (first picture on the left). We bake a lot of homemade bread and our last knife would shred our loaves and smash them as it cut. Our only way to avoid complete destruction of the bread was to wait until it was completely cool and then very lightly start sawing away through the loaf. The Calphalon bread knife does a fantastic job on bread fresh from the oven. I am tempted to say that it cuts through it almost like butter.
Although most of us don't eat meat in this family, I had the opportunity to use a steak knife (middle photo) on some chicken for one of the children. I remember with an older set we had, cutting through even a tender piece of meat was a chore. The Calphalon knife made quick work of cutting up the chicken and didn't tear it to shreds.
My favorite knives out of the entire set are the parers, honesuki and the Santoku (picture on the right). We cut up fruit often for snack and chop many vegetables for soups or dishes as vegetarians. The knives are so sharp they made easy work of chopping through even dense veggies like carrots. I have always wanted to diced vegetables like chefs I see on tv, but my old knife set wasn't efficient and would just push the piles of veggies away. I am able to use the rocking motion and chop and dice vegetables to my hearts content with this set.
I am in big puffy

love with the Katana Series 14-pc. Knife Block Set. If you can swing the price tag, it will be the only set you will need for years upon years. If you add up the price of all the cheap sets you would have purchased in that time frame, the Katana set is the better deal with a lot less frustration and aggravation in the process.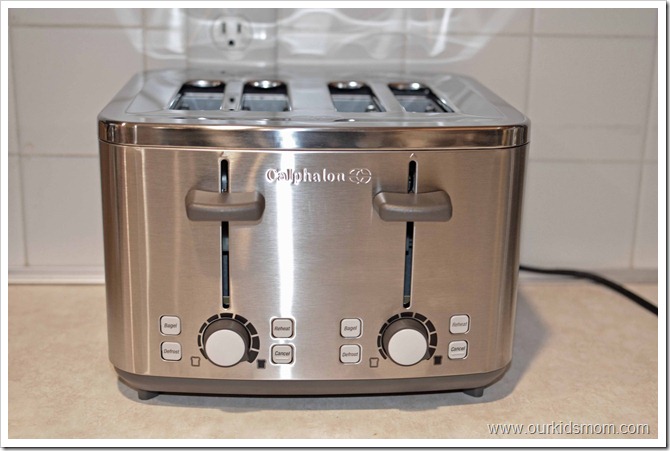 Once upon a time I used to think that "a toaster is a toaster". Then I met Calphalon's 4 slot stainless steel toaster.
The Calphalon 4 Slot Stainless Steel Toaster makes breakfast a snap. The extra-wide slots accommodate bagels, English muffins, and even thick slices of artisan breads. The Defrost setting is ideal for frozen waffles and toaster pastries. The Bagel setting toasts bagels perfectly on the inside. Opti-Heat system ensures accurate temperature control and even heat delivery. Dual controls for each set of slots for separate shade selection. Designed with a sleek, brushed stainless steel exterior, it's a great choice for your busy kitchen.

STYLE. PERFORMANCE. SIMPLICITY. Simply your life and beautify your kitchen with our Kitchen Electrics collection. Each features our exclusive OPTI-HEAT system, to deliver even, consistent heat and exceptional cooking results. And our high performance nonstick formula makes a stand-out statement in stunning bronze, while offering flawless food release and effortless clean-up.

1 year limited warranty.

Bagel, Defrost and Reheat settings.

Dual controls for separate shade selection.

Extra-lift lever for safe toast removal.

Extra-wide slots for bagels and thickly sliced bread.

Opti-Heat System for accurate temperature control and even heat delivery.

Removable crumb tray for easy cleaning.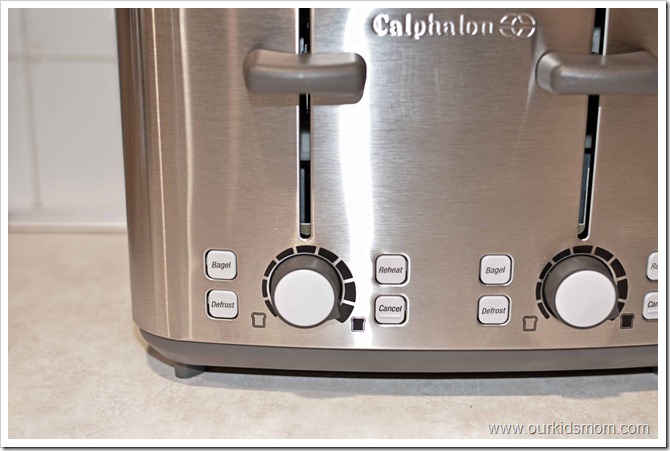 The bagel option is great when you only want one side of your bread/bagel/pastry toasted. Defrost works great when you want your bread thawed, but not toasted and the reheat button come in handy more times than I though it would! I have been known to toss in a piece of toast for myself and get caught up in taking care of the kids… and forget. I will find my cold toast waiting for me 30-60 minutes later. Reheat simply reheats your toast, but doesn't over toast it into something you can't even sink your teeth into. The dial to choose your darkness/doneness turns smoothly and is very accurate.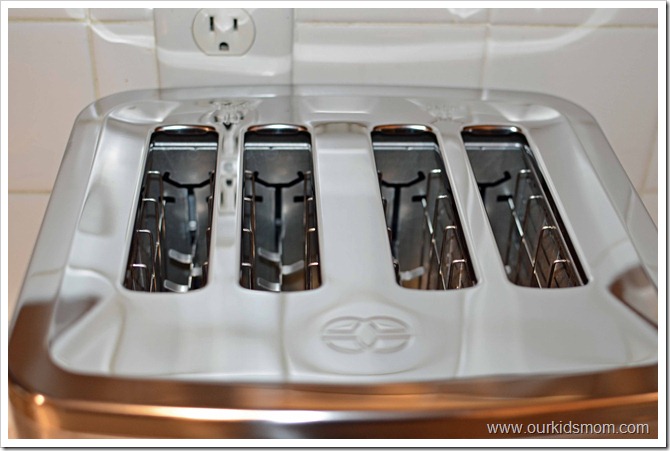 One of my favorite features of this toaster actually frustrates my non-observant son. This toaster is the quietest model I have ever used. You seriously can't hear it "pop up". My suggestion to Calphalon would be… for people like my son that aren't paying attention maybe have a "ding" option. I wouldn't want it to be a permanent feature, because I love that it's so quiet. Just a simple button like the bagel button for people that would like an audible reminder that their toast is done.
I love the sleek and modern look of this toaster on my counter. I was worried that the stainless would collect fingerprints and possibly tarnish, but it has survived many man handlings from my younger two and is shiny and fabulous looking with a quick wipe off.
Connect with Calphalon:
BUY IT:
You can purchase the Katana Knife Set and 4 Slot Stainless Steel Toaster on Calphalon's site
            Disclosure of Material Connection: I received one or more of the products or services mentioned above for free in the hope that I would mention it on my blog. I only recommend products or services I use personally and believe will be good for my readers. I am disclosing this in accordance with the Federal Trade Commission's 16 CFR, Part 255: "Guides Concerning the Use of Endorsements and Testimonials in Advertising." The opinions expressed in this post are entirely my own. Your experience with the product may differ from mine. The sponsor is responsible for prize fulfillment and will be shipping the winner(s) their prize(s). For more information read my disclosure policy.