This is our third and final month of shipments from The California Wine Club (you can view review one here and review two here). If you remember, I've mentioned several times that we are not very knowledgeable when it comes to wine, so we were excited to try a few bottles of some premium wines (normally we would stay in the $5-$10 range when buying one on our own). We've had the opportunity to try a variety of white and red wines and now have a better idea of what we prefer.
This month we received 2009 Tracy Hills, Mount Oso Chardonnay, from Tulip Hill Winery and 2009 Tracy Hills, Mount Oso Vineyard Cabepulciano, from Tulip Hill Winery.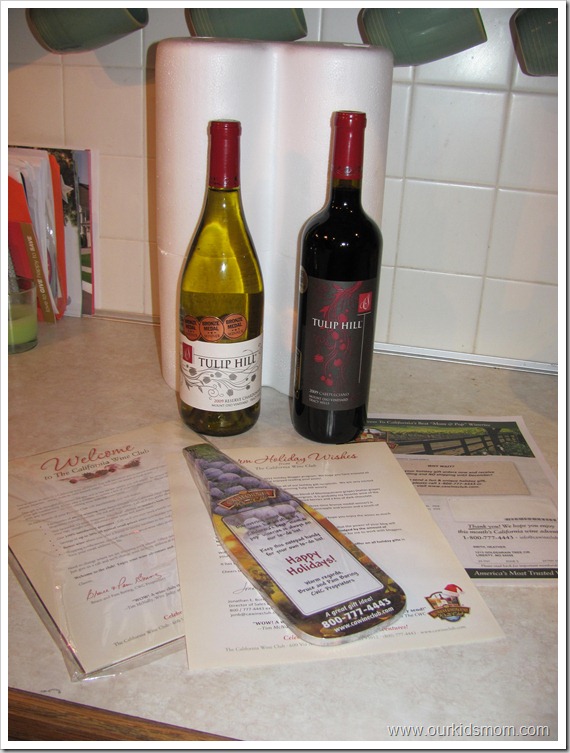 2009 Tracy Hills, Mount Oso Chardonnay, from Tulip Hill Winery has been described as :
Blended from 17 barrels of 100% MLF Chardonnay, our Reserve Chardonnay is crisp with distinctive aromas and flavors of tropical fruits and apples with a hint of spice. The undertones of butter and oak lend to a mouth feel that is rich and balanced leading to a creamy finish with a light punch of acid to extend the flavors across the palate. Enjoy with your favorite soft cheese, pasta in a light cream sauce and company.
2009 Tracy Hills, Mount Oso Vineyard Cabepulciano, from Tulip Hill Winery has been described as :
The Cabepulciano is a perfect partnering between the opulence of the Cabernet and "vino nobility" of the Montepulciano as they dance over notes of spice, black cherry and cedar. Currant and vanilla invite you to rumba through a velvet mouth feel offering up wild berries with a hint of dark chocolate. A wine of restrained elegance that surprises with a bright, juicy finish.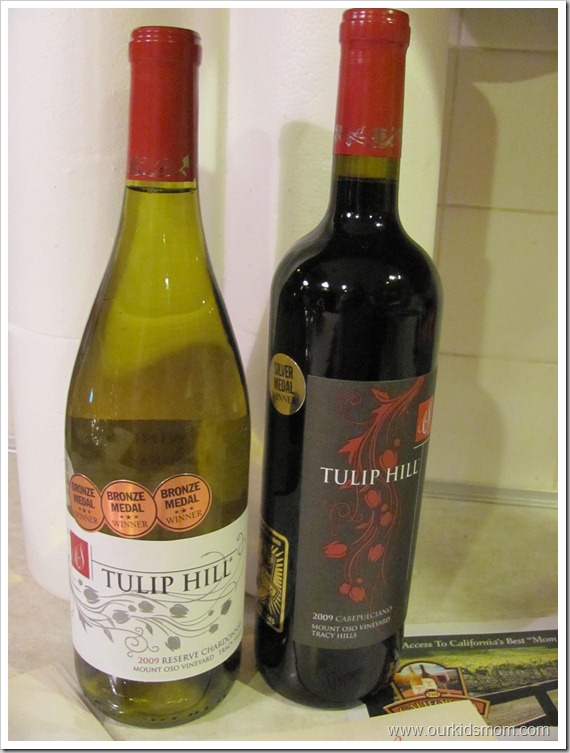 This shipment is California Wine Clubs Holiday shipment. I believe they have saved the best for last. I have never portrayed myself as a wine connoisseur and I am still not, but I have to say that I enjoyed the the 2009 Tracy Hills, Mount Oso Chardonnay from Tulip Hill Winery. I thought it has a light, crisp taste. This was my favorite white wine of the three we received. With the buttery pear and lemon undertones with a slight oak finish I didn't feel it was as dry as the others. This Chardonnay won Bronze Medals at the California State Fair, the Cloverdale Citrus Fair, and the Grand Harvest.
Next I tried the The 2009 Tracy Hills, Mount Oso Vineyard Cabepulciano, from Tulip Hill Winery. I generally do not enjoy red wines. I haven't met one that I like, but this particular wine, if given 10-15 minutes to set in the glass is pretty tolerable. This must mean that if you like red wine… it's a winner! It may be that it is a 55% Cabernet/45% Montepulciano blend. Whatever the reason, make sure you use an aerator or allow it to set on the counter for 10-15 minutes and you will be blown away. 
The California Wine Club makes the perfect affordable gift for that person on your list that is impossible to buy for. I honestly didn't think I would enjoy receiving unannounced wine on a monthly basis as much as I did. I signed us up mainly for my husband… but I enjoyed it almost as much as him!
If purchasing for Christmas, The California Wine Club will send an Ecard or can put something in the mail to announce the gift to the receiver. The last day to get a gift with overnight delivery via UPS or Fedex is December 21st.
BUY IT:
The Premier Club: A one-month membership is $49.45, a three-month membership is $144, and six-months is $285, all of which include shipping. Each premiere membership also includes a monthly edition of Uncorked, the California Wine Club newsletter, and the holiday memberships also include a $25 wine credit, and a wine-bottle shaped notepad..
*** COUPON ALERT: ***
Use code: ourkidsmom at checkout to receive 10% off every gift order you place! In addition, you can also receive a 10% off discount on your first month of membership for yourself and a free bottle of wine in your first months shipment.

Connect with California Wine Club:
[tweetbox width=500 height=50 label=Retweet! content ="California Wine Club Premier Membership: Makes a GREAT Christmas present! @cawineclub @ourkidsmom %u"]
This review was made possible by
Mom Spark Media
. All thoughts are 100% my own.