Caillou knows how to have fun!
I was so excited when we were offered a Caillou doll for review. I remember Caillou from years and years ago when Josh was little. Josh was infatuated with this little guy. Ethan was introduced to Caillou a few months back and fell in love almost instantly, too. I'm not sure what the draw is with this little guy… probably familiarity, but the kids "get" him.
Now Ethan can carry and cuddle Caillou while seeking adventures around the house (and even on the road!).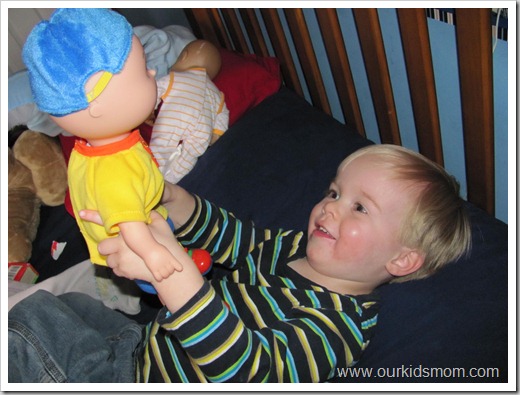 Boy has Ethan cuddled Caillou! This doll is now a "must have" at bedtime and we have actually had to have a few Caillou hunts to find Ethan's favorite lovey.
I love that Caillou has a vinyl head, arms and feet… they clean up easily when Ethan has a sticky hand from a hasty clean up after lunch.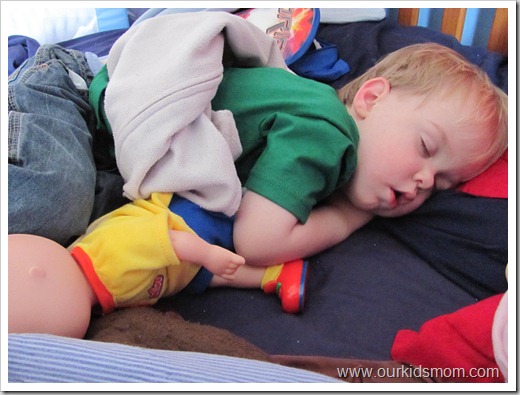 My only "problem" with Caillou was that the hat was attached straight into Caillou's vinyl head with a plastic tag. Ethan is into undressing himself and his dolls, so the hat came off the first night they had a sleep over. I had to cut the plastic piece down close to Caillou's head and push it in. That left a tiny hole in his head, but you really can't tell it was there unless you look.
The Caillou Classic 14.5 inch doll can be purchased for $29.99 at ToysRUs
***********
Ethan & Emma adore bath time. They tend to stretch their play time until the water is just too cold to stand. They were beyond excited when I told them that we had a new bath time toy to try.
The Caillou Bath Time Vehicle is a decent size, has pegs for Caillou, Rexy and the flag to snap into and the propeller attaches below (did I mention the propeller spins/works?!).
It was so much fun to see Emma & Ethan interact and to watch them as their imagination and creativity went wild. Both Caillou and Rexy separated into pieces and the kids were making wild creatures like the ones above. This toy also helps develop motor skills and coordination while popping the parts back together… bonus!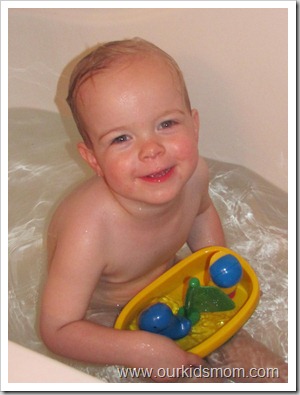 The Caillou Bath Time Vehicle can be purchased for $16.99 at ToysRUs
I received products through a campaign with Team Mom for the purposes of review only. All opinions are 100% my own.