Buying for Baby: Choosing Between Second-Hand and New Products
The precious few months before your baby arrives are often packed with last-minute tasks. From putting together the crib to purchasing the items you need, there's an endless list of decisions that must be made. It's also very easy to let your budget spiral out of control while purchasing necessities, but it doesn't always have to be this way! Buying certain items second-hand is an excellent way to curb your expenditures, with the one caveat that some items should never be purchased used. Curious about what's fine to use second-hand and what's not? Use this list to guide you along the way.
Clothing: Definite Yes
If there's one thing you'll go through quickly with an infant or toddler, it's clothing. From soft and snuggly sleepers early on to simple outfits for playtime, kids outgrow and outwear clothing so fast that it just doesn't make sense to overspend on it. Buy or source everyday necessities second-hand to save money, but don't be afraid to pick up special or adorable outfits brand new–it's all in the balance. Online consignment shops, like Swap.com, can be a great source of clothing, too; check it out now to find what you need. Also, check local thrift stores, mom groups, and moms within your circle of friends for hand-me-downs.
If you're handy with a sewing machine, you might even decide to make your own sleepers, cloth diapers, and receiving blankets!
Car Seats: An Emphatic No
Purchasing a good car seat is an absolute must. Although it can be tempting to cut down on costs by purchasing one second-hand, this should be avoided at all costs. Not only is it illegal in some states, but it can put your little one in real danger.
The problem mostly lies in damaged or expired car seats that don't show any visible signs of damage. While the shell, seat belt, buckle or headrest may appear intact if the seat has ever been in an accident–even a small one–it may have hairline tears and cracks that drastically reduce its ability to protect your child. According to Cybex Online, you should check all car seats to ensure that they adhere to testing standard ECE-R-44/03; this will be clearly labeled somewhere on the seat or shell. Additionally, you should pass on car seats more than four years old or those with unknown histories. When it comes to your car seat, there's no such thing as "it'll do."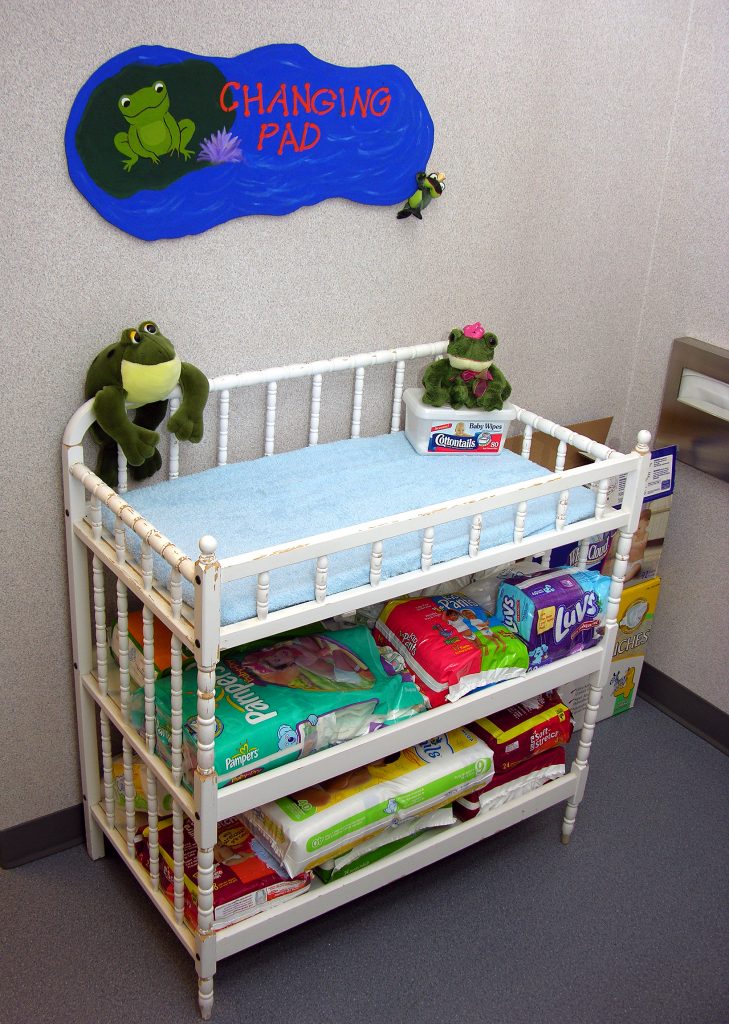 Cribs and Changing Tables: With Caution
Whether or not you buy your nursery furniture second-hand depends on your own personal budget. If you're tight on cash, there's really no need to purchase a changing table or even a crib at all–it's more than possible to make do without them for the short or long-term future. Changing tables specifically are cute, but may just be a waste of money for frugal moms; baby can always be changed on the floor over a blanket or on the bed.
If you do decide to purchase a crib, be cautious with purchasing second-hand or older furniture. Safety specifications have changed over the years, and retro or antique cribs may not be safe for baby. Check any second-hand furniture for concerns like:
* Sturdiness and/or damaged areas
* Corner posts that are over 1/16″ high
* Wide slats that are more than 2-3/8″ apart
* Any cut-out sections or loose areas around the mattress where baby might become stuck
All of these present a real safety concern. If you're not sure, or the second-hand crib has any of these problems, skip it and purchase a new one instead.