It has been one of my goals with all four of my children to teach them the importance of sharing and thinking beyond yourself by putting others first. We have given food to the local food mission, purchased toys for needy children during the holidays and donated some of our household items (and toys in the case of the children) to a local charity.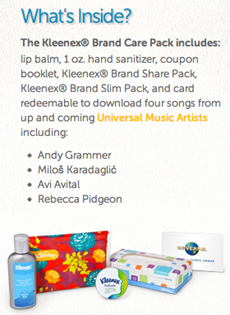 Kleenex brand, America's softest tissue, knows that moments of unexpected thoughtfulness make all the difference. Just this past weekend we had a garage sale. There were a couple of times during the sale that I gifted an item to a child that was admiring it. One child in particular left my garage with a smile so wide I thought his face might break. Making someone smile like that warms my heart and left a smile on my face the rest of the day.
Starting in September, Kleenex brand is giving us the opportunity to make the care complete with a Kleenex Brand Care Pack through their Softness Worth Sharing Initiative. To participate, simply visit your local retailer, purchase a specially marked Kleenex brand bundle pack. Then visit Kleenex.com and follow the directions to redeem your code to send a Care Pack to someone who needs a little care (while supplies last).
What a fun surprise to receive in the mail! I am already starting a list of people I would love to gift. With the runny noses and sniffles already starting in our house I am foresee several bundle packs in my future!
Connect with Kleenex:

I wrote this review while participating in an ambassador program by Mom Central Consulting on behalf of the Kleenex brand and received product samples and a promotional item to thank me for taking the time to participate.