Surround your little princess in comfort at every touch point.  The Bright Starts Comfort & Harmony™ Cradling Bouncer is designed to provide supreme comfort for baby with the latest on-trend styling for mom.
Features:

Oversized, cradling seat with Comfort Recline™ Technology that provides 2 full-body recline positions to suit baby's needs

7 calming melodies plus soothing vibrations

Plush, cushioned bolster system and head rest made of supremely soft fabrics to make baby secure and comforted

Removable toy bar pivots easily out of the way for access to baby

Removable head rest and bolster system

2 engaging plush toys

Additional Features:

Machine Washable seat pad, bolster system, and head rest

3 point Harness to keep baby secure

No tools required assembly

Non-slip feet

A portion of the proceeds from this item supports breast cancer research
A bouncy seat is a must have item for any household with a baby. There are times when carrying your baby (in your arms or in a sling) just isn't safe. Emma and Ethan loved to be perched in their bouncer while watching me cook dinner. At the time, we settled with whatever bouncer was cheapest. Oh, if only this Bright Starts Comfort & Harmony Cradling Bouncer (in Vintage Garden) was available for Emma!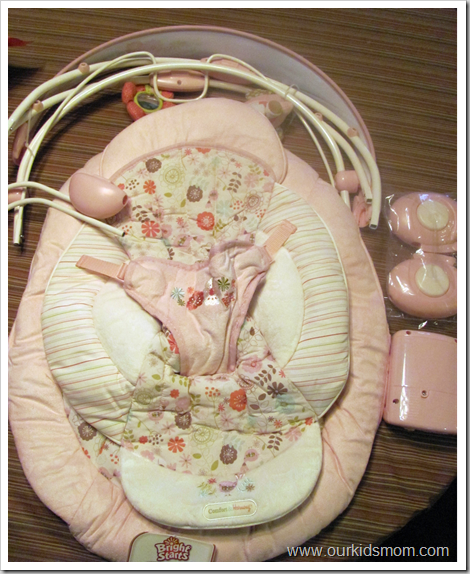 It's amazing how they can cram a big bouncy seat in a tiny box. This bouncer arrived in several pieces with detailed instructions. Because I've had experience assembling one, the process went fairly quick and I had the seat together in minutes. I think that even if you have never assembled one before, the base is a quick push and snap together assembly. The hardest part is making sure you are snapping the correct pieces together.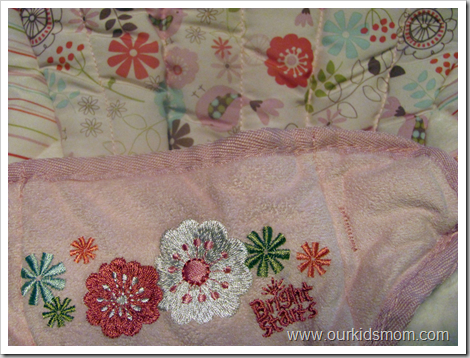 The pattern sold me immediately. The name says it all, Vintage Garden. The birds, the flowers and the pinks, greens and browns together are adorable and just my taste. The soft touch fabric is soothing and perfect for newborn sensitive skin.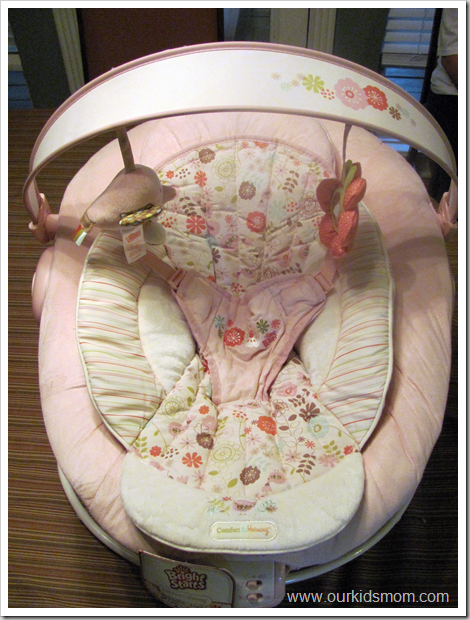 After the bouncer was assembled, my opinion didn't change… it actually was better. The seat is plush, cradling and inviting (including the head rest support), there is a cushioned bolster system with a foot rest so baby's feet don't hang off the edge uncomfortably, and the toy bar pivots allowing you to move the toys a little further away as they gain more control over their movement for a more challenging swing and batting session.

The hanging toys were beyond cute. The flower has a little mirror in the center for baby to see themselves (and coo at). My only concern with the hanging toys is that they are not removable. I can see them getting dirty and trying to spot clean them over the sink while they are still attached to the bar.
This bouncer also features a calming vibrations and soothing melody box. It plays a good variety … 7 melodies. I remember hearing the same song over and over with Emma and Ethan. Variety is good. 
A feature that you don't find in many bouncer chairs is an adjustable seat that reclines for sleeping babies or very young ones that cannot control their neck very well. I used to have to put a rolled blanket in a U shape around Emma and Ethan's head to keep them upright when they were tiny. The recline is a fabulous touch!
All of the elements to keep your baby soothed and happy are included in this seat!
* motion (vibrations)   * touch (soft touch fabric)   * comfort (cradling seat)  
* recline (full body recline position)   * sounds (soothing melodies)
BUY IT:
You can purchase the Bright Starts Comfort & Harmony Cradling Bouncer for $49.99
Connect with Bright Starts:
[tweetbox width=500 height=50 label=Retweet! content="Bright Starts Comfort and Harmony Cradling Bouncer in Vintage Garden Review @BrightStarts @ourkidsmom %u "]
Disclaimer: I received a Comfort & Harmony Cradling Bouncer for review purposes only. All opinions are 100% my own. Your experience may differ from mine.