This post brought to you by PBM Products. All opinions are 100% mine.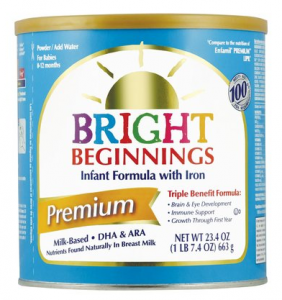 Whether to breast feed or formula feed is such a hard decision. I breast fed all of my children as long as possible. Kaytlin was on formula the longest, as she self weaned at 6 months. Back then there just weren't very many choices on the market and the internet wasn't available for my research. I just assumed big brand names were better. Did you know that there really isn't a difference between those big names and generic? Really!! There is a law suit to prove it, too!
Looking back, I should have considered generics. We were on such a tight budget that I am surprised we were able to swing big name formula. Now it's even more convenient and easy to save money on your baby's formula. Bright Beginnings formula is available in Premium, Organic, Gentle, and Soy and can be purchased at Diapers.com.
Bright Beginnings Premium Formula – 23.4 oz

Provides Triple Benefits for your baby:

Brain & Eye: Fortified with DHA & ARA, nutrients found in breast milk to support brain and eye development
Immune support: Prebiotics, like those in breast milk, to support a healthy immune system
Growth & Development: All the nutrients, vitamins, and minerals your baby needs for excellent growth and development during the first year

Bright Beginnings Premium is nutritionally equivalent to the big national brand formulas – it's just priced better to fit your family's budget. Premium nutrition, without the premium price!

For 0-12 months.
You can buy on diapers.com for $14.39
Connect with Bright Beginnings on Facebook:

This is a sponsored post on behalf of PMB product through Social Spark. All opinions are 100% my own.