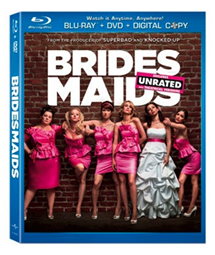 Friday night I hosted a Girls Night "In" viewing party. It's been so long since I've participated in a girls night anything that I can't remember, so I was super excited.
I sent out evites through Facebook, watched as the RSVPs, maybes and no responses came in and started planning the spread.
Friday morning Kaytlin, Emma and Ethan all piled in the van and we did our grocery run. My grocery list was focused around slumber party food… sweet, salty and yummy.
I hauled Emma and Ethan around (literally) all day without a nap (making them walk at stores) so they would go to bed early. Ethan was so exhausted he was begging me to go home
.
So home we went and the setup began. Balloons, streamers, food prep… the whole nine yards.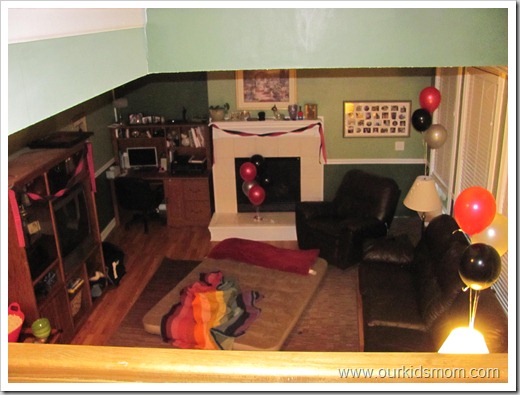 The girls and I had decided to make this a comfy affair… jammie pants and all. Sort of like a slumber party… so I brought out the inflatable bed for extra room (slumber party style!).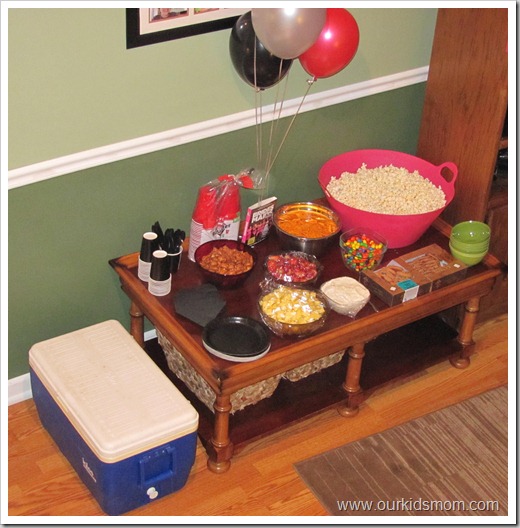 Popcorn, M&Ms, cookies, Cheez Its, peanut butter stuffed pretzels, strawberries, pineapple and fruit dip for snacks during the movie. Diet Coke was the drink of choice (zero calories made eating all the other stuff okay, right?). I also picked up a few pizzas for before the movie! (Guess I should have told the girls NOT to eat all day, huh?).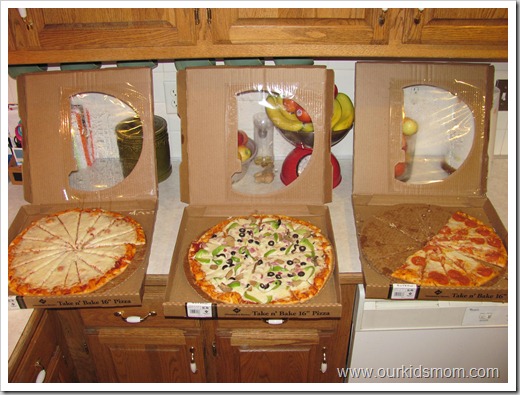 A few of the girls couldn't make it last minute, but we decided we were going to have a blast anyway.
Our bellies were finally full and it was time for the movie (guess I didn't hear them say make a silly face? lol).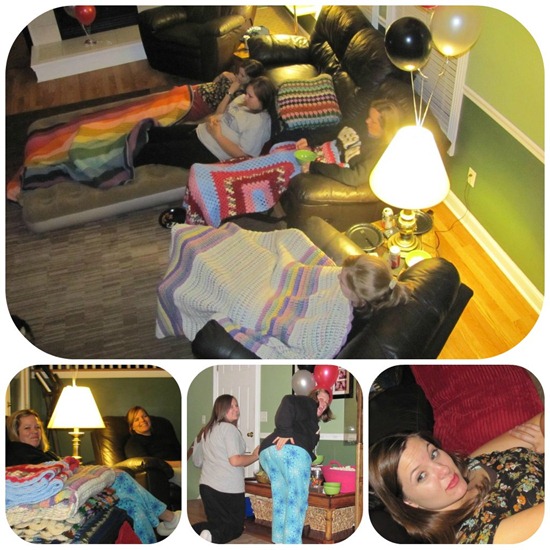 This was my third viewing (twice in the theater) of Bridesmaids (yes, it's that good), but it was the first viewing for three of us. There were more busting out laughing episodes and giggles at home than the theater (I think closed captioning helps). When it was over I asked them what they thought. There were a few comments about "if this was the theatrical version, what the heck is in the uncut?"(we did not watch the uncut version (on accident)).  The overall impression was good and everyone had fun.
Be prepared for some potty humor, some raunchy humor and plain old silliness. I need to mention that although this has been mentioned as a chick flick, my husband enjoyed it as much as the girls did. It's not romantic or gooshy… it's a feel good, humorous, raunchy good time
. Need a good laugh? Watch Bridesmaids.
Say "I Do" to the Blu-ray™ and DVD Combo Packs Featuring an Unrated Version of the Film Not Seen in Theaters Plus More than Three Hours of Laugh-Out-Loud Bonus Materials!  Also Available on DVD, Digital Copy and Digital Download