Brave is Now Available ON DEMAND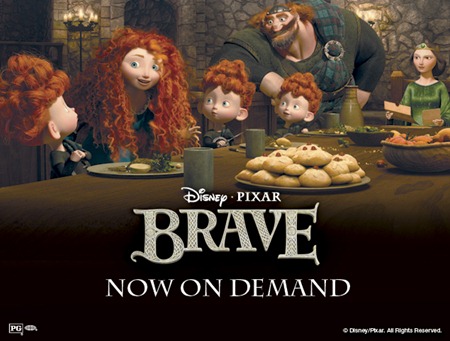 Emma, Ethan and I were excited to hear that Brave was coming out On Demand. We saw it at the theater and they have been talking about Merida ever since. I was so thrilled that Disney finally portrayed a princess as more than a beautiful, fragile and husband seeking creature.
Princess Merida is beautiful, but she is also strong willed, great at archery (sports) and has a clear direction of what she wants for her life, which does not include a husband at the moment, and she is brave enough to stand up for herself. With the theme of the movie being about Merida's relationship with her mother it is truly about family with a great moral in the end. Of course Disney knows how to add the comedy with plenty of laughs for young and old alike.
ABOUT THE FILM
Pixar Animation Studios whisks you away on an astonishing adventure to an ancient land full of mystery and tradition.  Bursting with heart, unforgettable characters and Pixar's signature humor, for the whole family.  The Film is rated PG.
 
Set in the rugged and mysterious Highlands of Scotland, Disney•Pixar's "Brave" follows the heroic journey of Merida (voice of Kelly Macdonald), a skilled archer and headstrong daughter of King Fergus (voice of Billy Connolly) and Queen Elinor (voice of Emma Thompson). Determined to change her fate, Merida defies an age-old custom sacred to the unruly and uproarious lords of the land: massive Lord MacGuffin (voice of Kevin McKidd), surly Lord Macintosh (voice of Craig Ferguson) and cantankerous Lord Dingwall (voice of Robbie Coltrane), unleashing chaos in the kingdom. When she turns to an eccentric Witch (voice of Julie Walters), she is granted an ill-fated wish and the ensuing peril forces Merida to harness all of her resources—including her mischievous triplet brothers—to undo a beastly curse and discover the meaning of true bravery.
 
Directed by Mark Andrews and Brenda Chapman and produced by Katherine Sarafian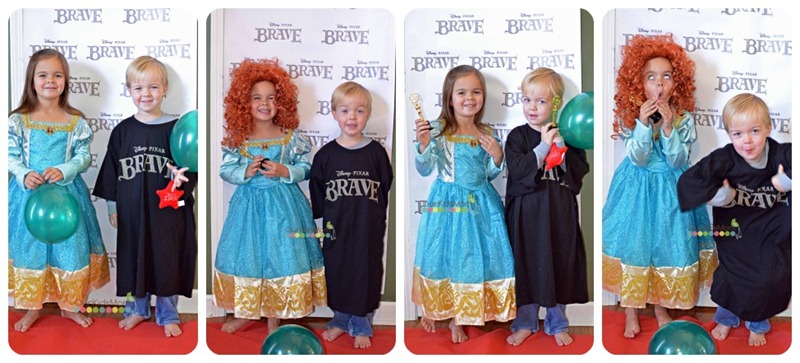 When I told the kids that we were going to have a Brave party at home they squealed with excitement. Emma insisted she had to dress up as Brave and Ethan decided he needed to wear the Brave t-shirt even though it was an adult large. We decorated the house, gathered our snacks and put up our red carpet walkway with the Brave backdrop for let the kids to pretend walking it.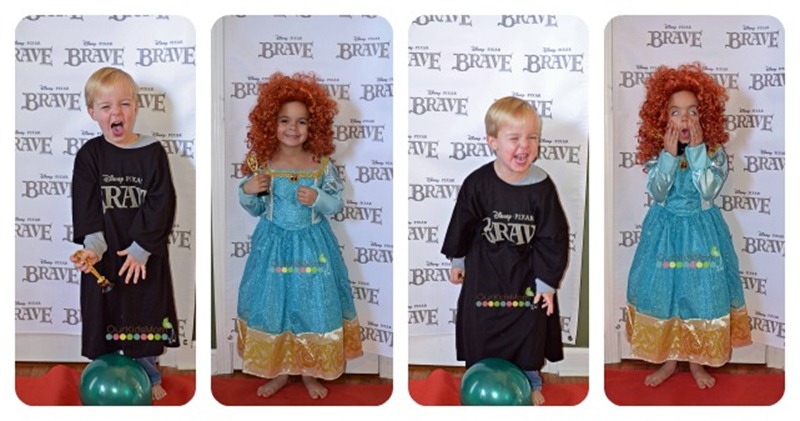 The kids loved pretending to be stars of the movie and posed for many (many) photos… then they got silly. I had to remind them that there was food and a movie waiting for them!
Brave was just as good, maybe even better, viewing it from home. The kids got comfortable and were able to spread out. If one had to potty they could slide out of the room without making a scene (like we did today at the theater) and I was able to order it the minute I wanted it instead of trekking up to the video rental box or store and then having to remember to return it.
WATCH IT:
Contact your Cable or Satellite provider to order BRAVE on demand!  And be sure to like  BRAVE on Facebook!
Connect with Brave:

Disclosure: I received a viewing party package to facilitate this post. All thoughts remain 100% my own.