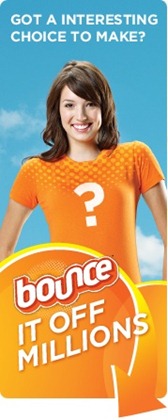 My husband and I have been struggling the past couple of days with a touch decision.  My husband had a truck/deer accident Sunday morning and we are pretty sure the insurance company is going to total it. So now we are struggling with the decision to "buy it back" and fix it ourselves or get a "new to us" car.
If only we had a place to bounce this question off of….
Oh WAIT! There IS a place to Bounce it off of MILLIONS of people.
Bounce launched a fun and exciting new Facebook campaign "Bounce it Off Millions"  on August 22nd. 

Life is full of difficult, but important choices. Need advice on whether to go to Mexico or the Maldives for your honeymoon? Can't decide whether you should live in the suburbs or the city? Bounce Fanatics can help you make these important decisions— kind of like deciding between the Bounce Dryer Bar and Bounce dryer sheets!
So head over to Facebook.com/Bounce , click on the "Bounce it Off Millions" app, and submit a question that you need help making a decision on. Your question will be turned into a poll, and other Bounce fanatics will be able to vote on it so that you can make the right choice!
To celebrate the four weeks of Bounce it Off Millions, four lucky users will be chosen to win a grand prize—the chance to turn their life's great questions into a Facebook-wide advertisement, inviting Facebook's 150+ million users to help you decide between your two options!
Also on the Bounce Facebook page during this time, fans can enter a special sweepstakes for the chance to win two Bounce Dryer Bars—one to keep, and one for a friend. 5,000 winners will be chosen (rules can be read here).
Bounce it Off Millions ends on September 17th. 
This post brought to you by Bounce. All opinions are 100% my own.