BOB Revolution SE Stroller
Sample received for review purposes. All opinions are my own.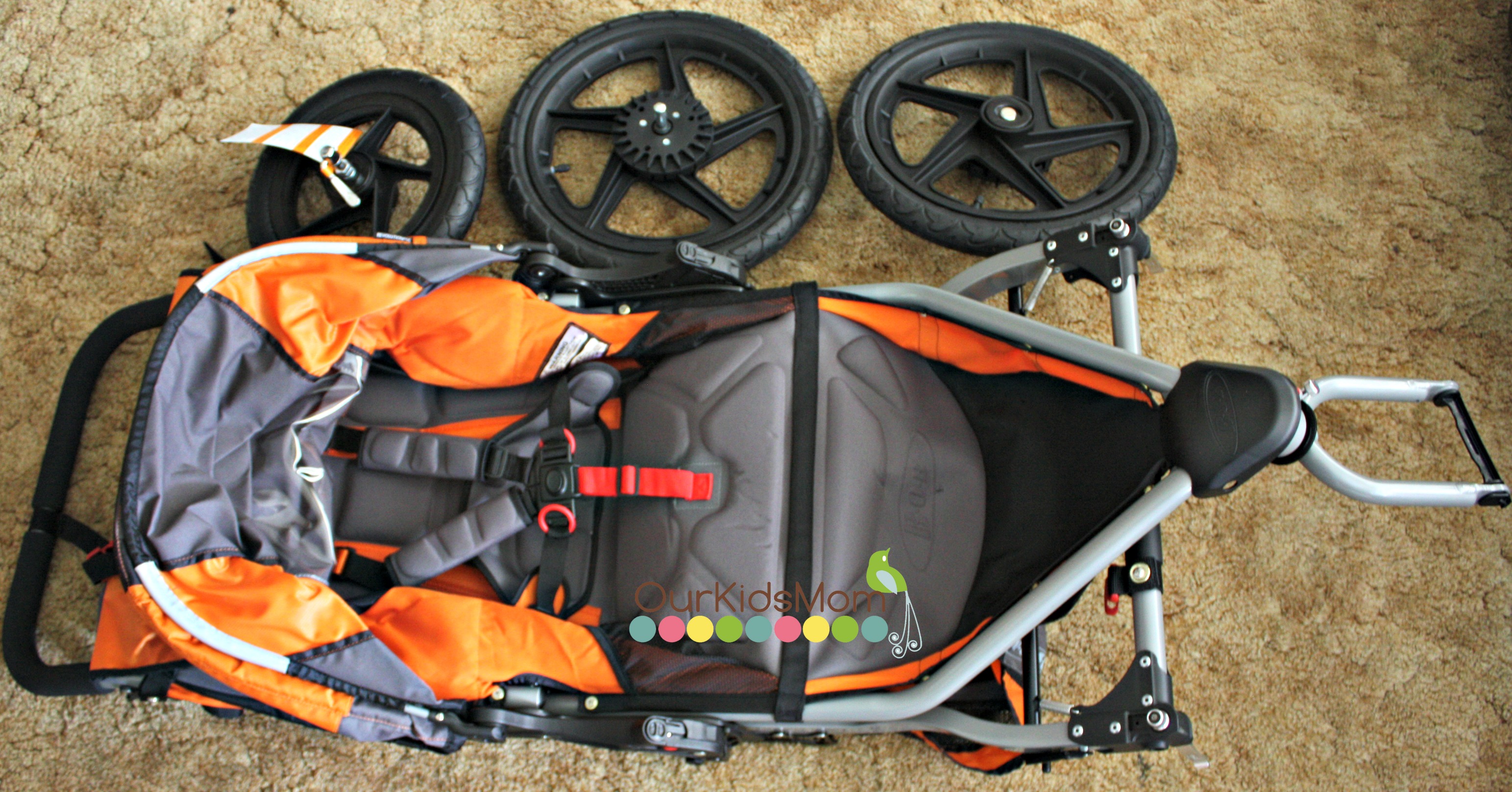 I have been in love with BOB Strollers for a long time. They are so modern looking and come in some great fun colors as well. I was beyond ecstatic to receive a BOB Revolution SE in orange to review.
Out of the box there is some assembly required which took me about 5 minutes to put together, then I was ready to go.
The stroller is rated for use from 8 weeks (with the use of an infant car seat adapter & compatible infant car seat) to a max of 70 lbs (occupant plus luggage weight) and a max occupant height of 44 inches.
The stroller has a little weight to it but for an all terrain it's not that bad to pack around… it weighs 25 lbs.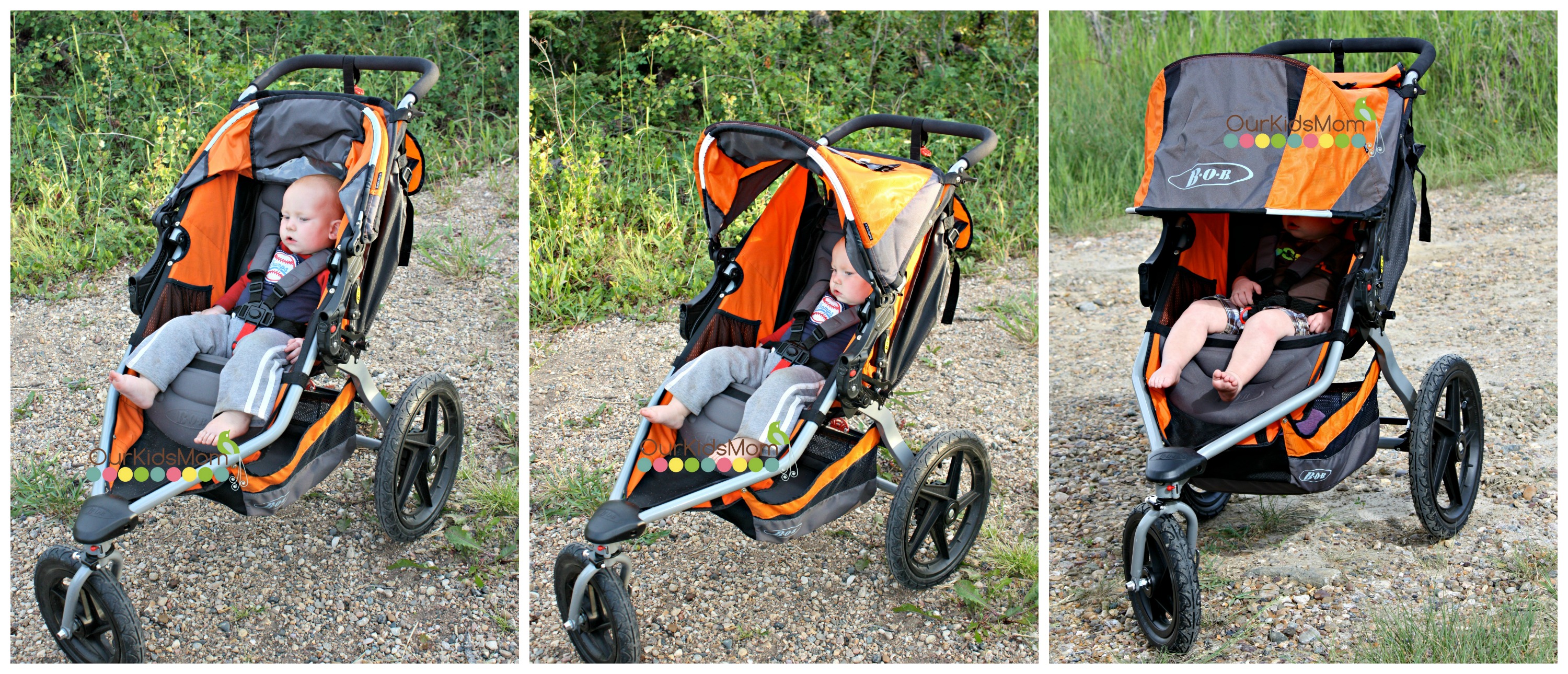 The canopy on the BOB is absolutely HUGE. There are 2 large canopy sections giving you the multi-position adjustments to protect your child from the weather.


On the top of the canopy is a HUGE peek a boo window. The window is located in the second section of the canopy, so you will need to have the canopy fully open to see in the window. The cover of the peekaboo window is velcro closure and there is a pocket above the window for you to tuck the cover into when opened for constant viewing.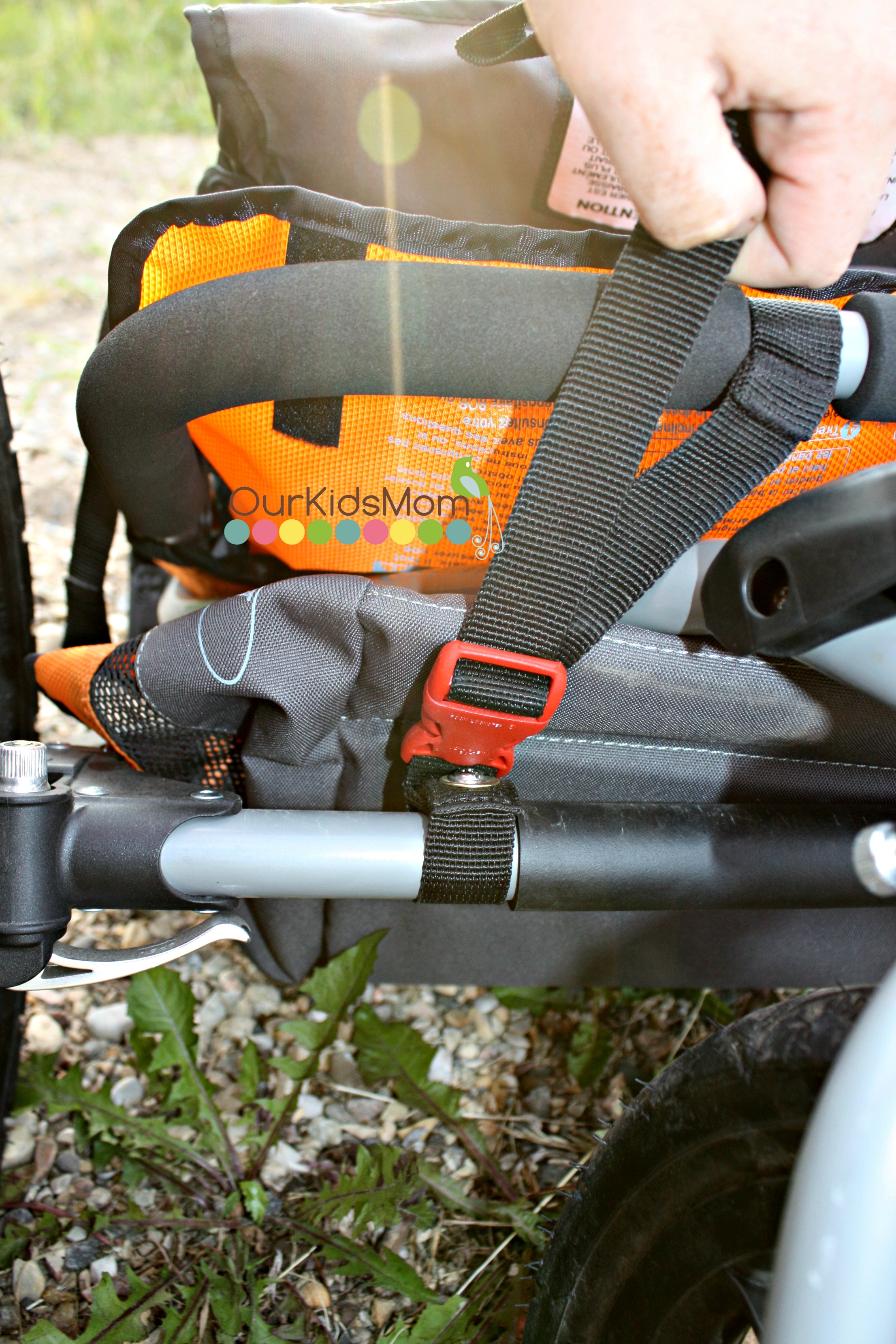 The handle is in a stationary position at a decent height. I found that it was set at the perfect hight for me.
Attached to the handle bar is a wrist strap to keep the stroller from getting away from you, and it also doubles for securing your stroller while folded.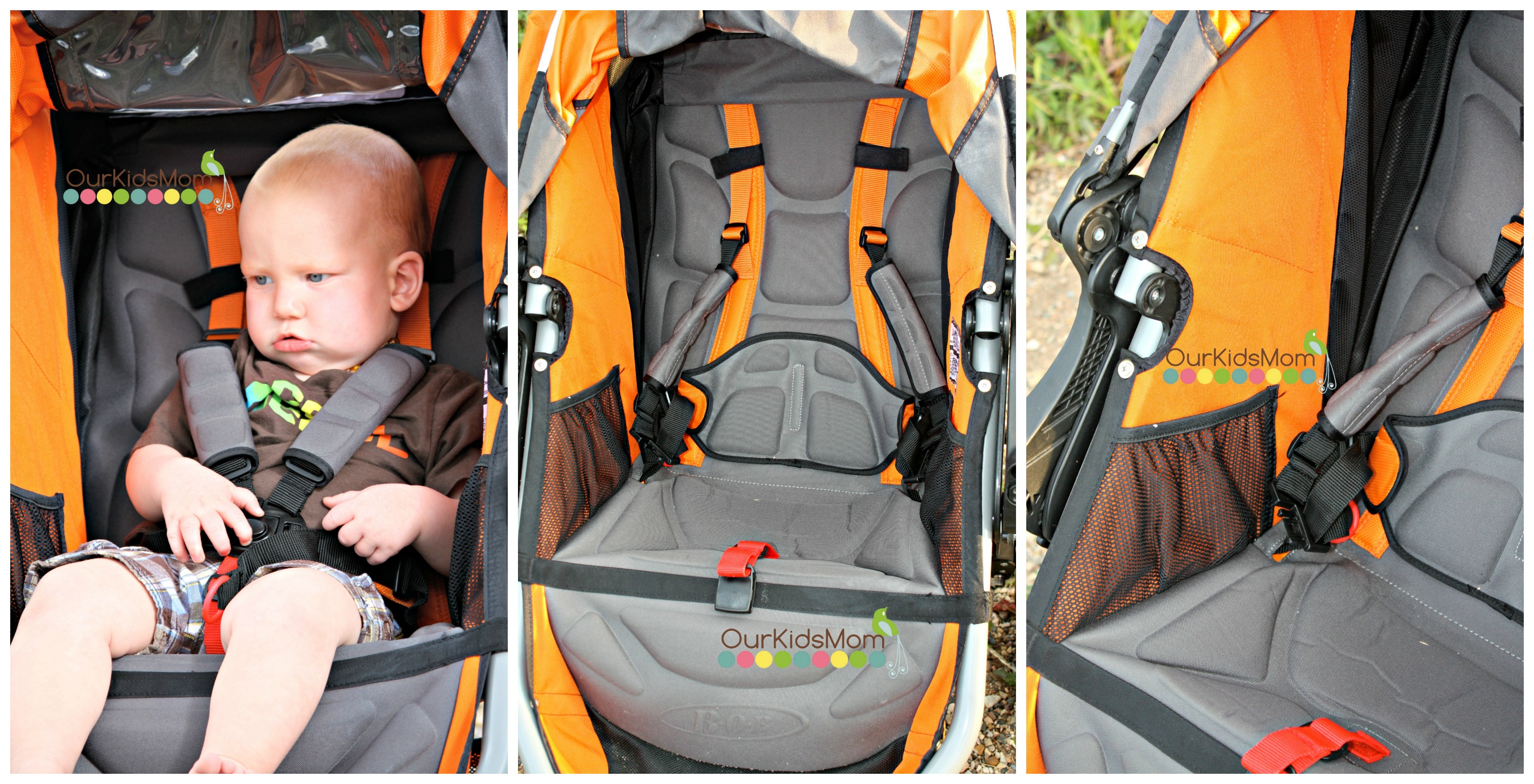 I find the seat in the BOB Revolution SE is larger than a normal stroller seat. This is a BIG plus! It is wider and taller giving you the option to seat older children very comfortably.
The stroller has a 5 point harness with padded harness straps for comfort. The seat is made out of "Poly and Dobby weave fabrics with water repellent coating and open cell foam padding". It's so wonderful to be able to see that BOB has thought not only of the safety of my child but also their comfort.
Inside on either side of the seat are mesh pockets for you child's sippy cups, toys, or soothers… whatever is needed to be close at hand.


The seat has a infinity recline down to 70º. To recline the seat you adjust each side, one at a time. This can be a bit awkward when my child falls asleep as I have to recline one side at a time, but it's not a deal breaker for me. The seat in full upright position seems to be at a slight recline for your little to sit back and enjoy the ride.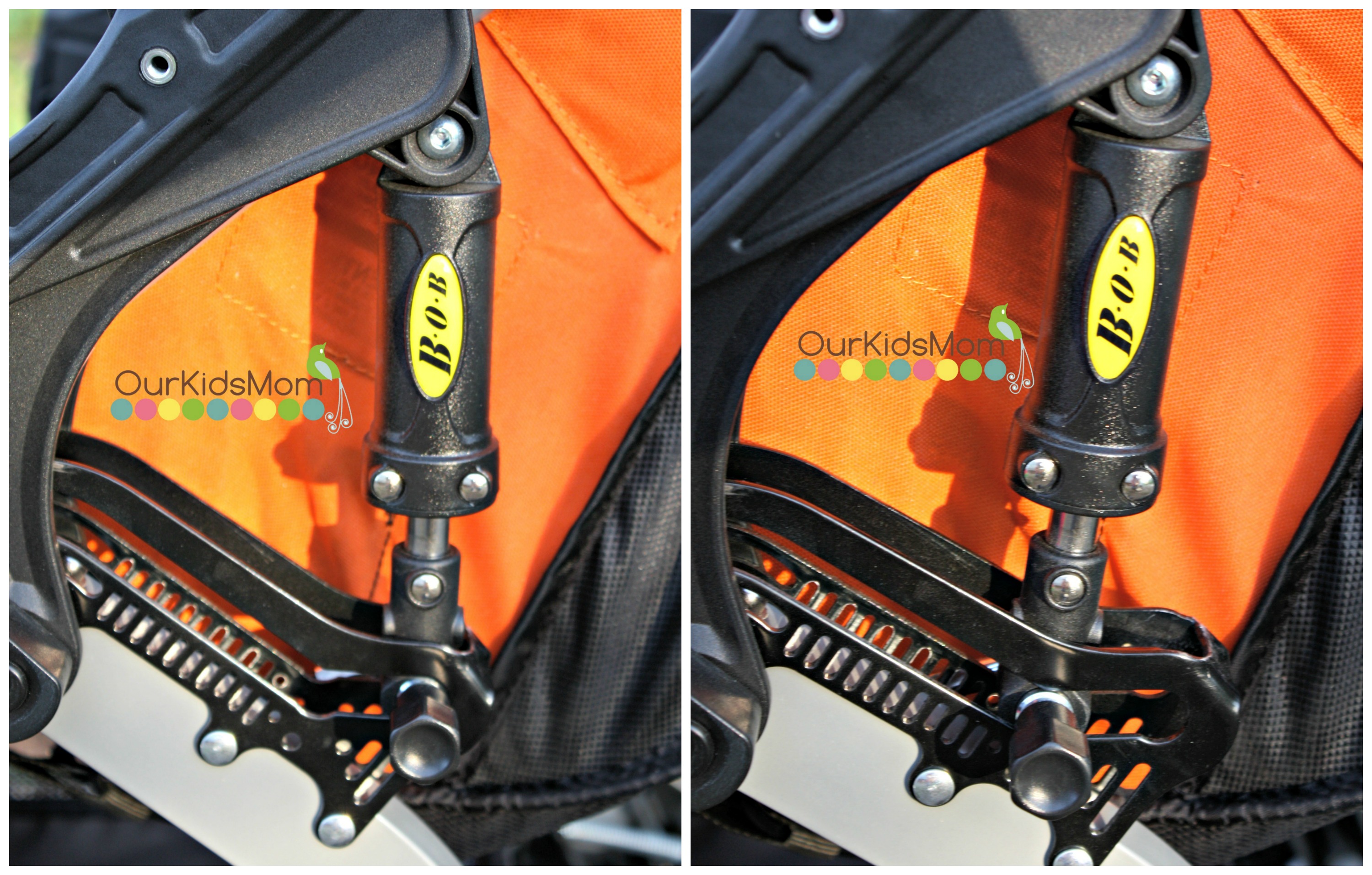 The suspension on this stroller is unreal. I haven't experienced suspension on a stroller like the BOB has. The "coil sprain and elastomer core shock absorbers provide three inches of wheel travel."
There are 2 positions for the suspension to adjust to depending on your rider's weight. Position 1: 0-40lbs Position 2: 41-70lbs.
I love that you can fine tune even the suspension for varying occupants and cargo. To adjust the suspension you push the knobs on the side and pull back into position 2. When the stroller is folded back up the suspension defaults back to position 1, so if your child is older you will have to adjust the position each time it's unfolded.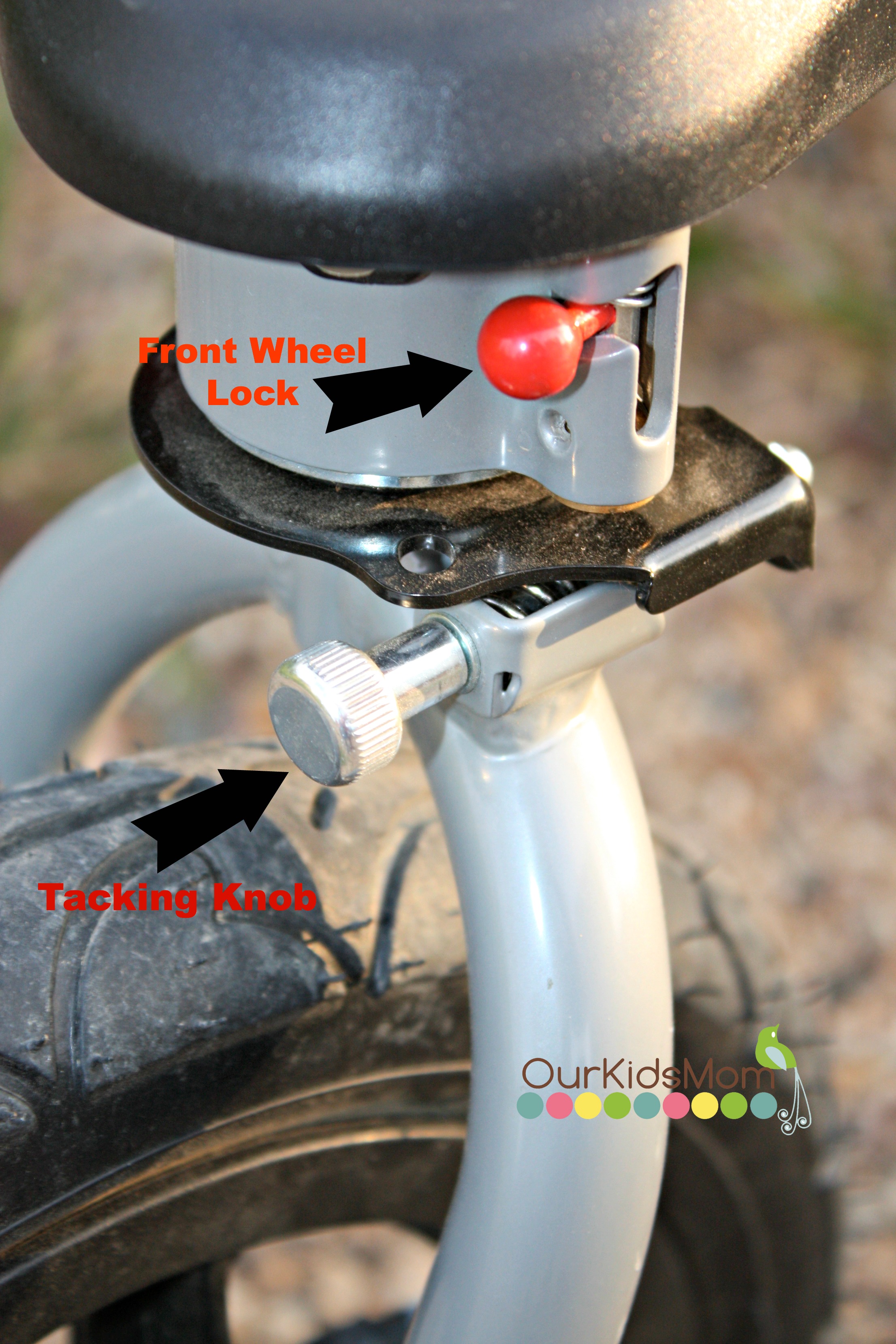 The back tires are 16″ Pneumatic tires, and the front is a 12.5″. The front tire has the option to swivel in "walk" mode or with the switch of the pin you can lock the tire into "jog" mode. I'm not a jogger but I do love this option when you are trying to push through sand and gravel.
The back tires have a quick release for easy storage or for traveling. A feature that I find unique on the BOB is the tracking knob. If the stroller is pulling to the left or to the right you can fine tune the tracking and adjust it… you don't have to just "deal with it".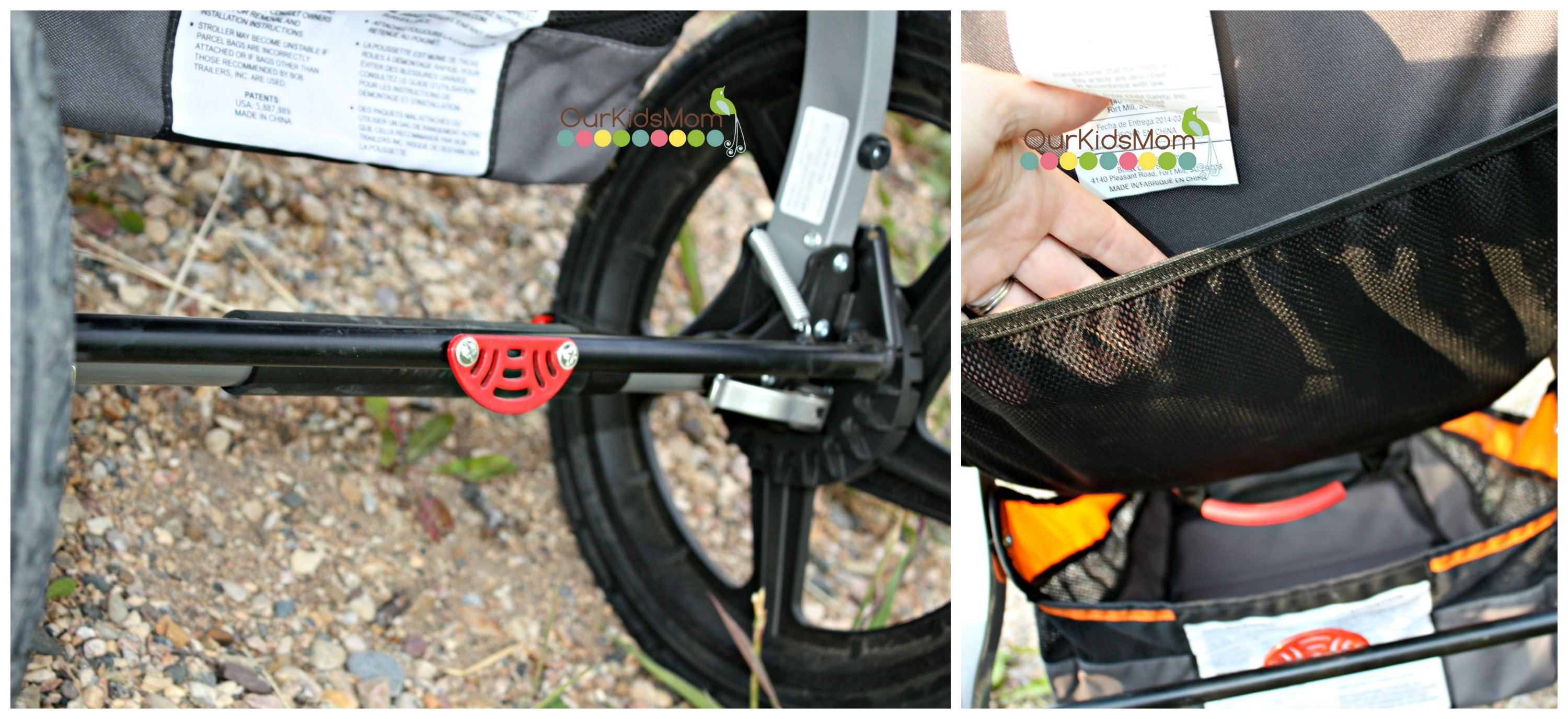 The rear brake is a foot-activated parking brake. Let me tell you when that break is on your stroller isn't going anywhere.
The back of the seat has a large storage pocket to throw your cell, keys, or even a water bottle. You can purchase a mommy organizer separately for the handle bar that has cup holders and a storage pocket.


Under the stroller is a storage basket. This cargo area has limited space. There seems to be enough room for a smaller diaper bag as my camera bag did fit underneath in the basket. I usually tend to grab diapers and some wipes and throw them under there. For an all terrain stroller then you have a decent amount of space underneath.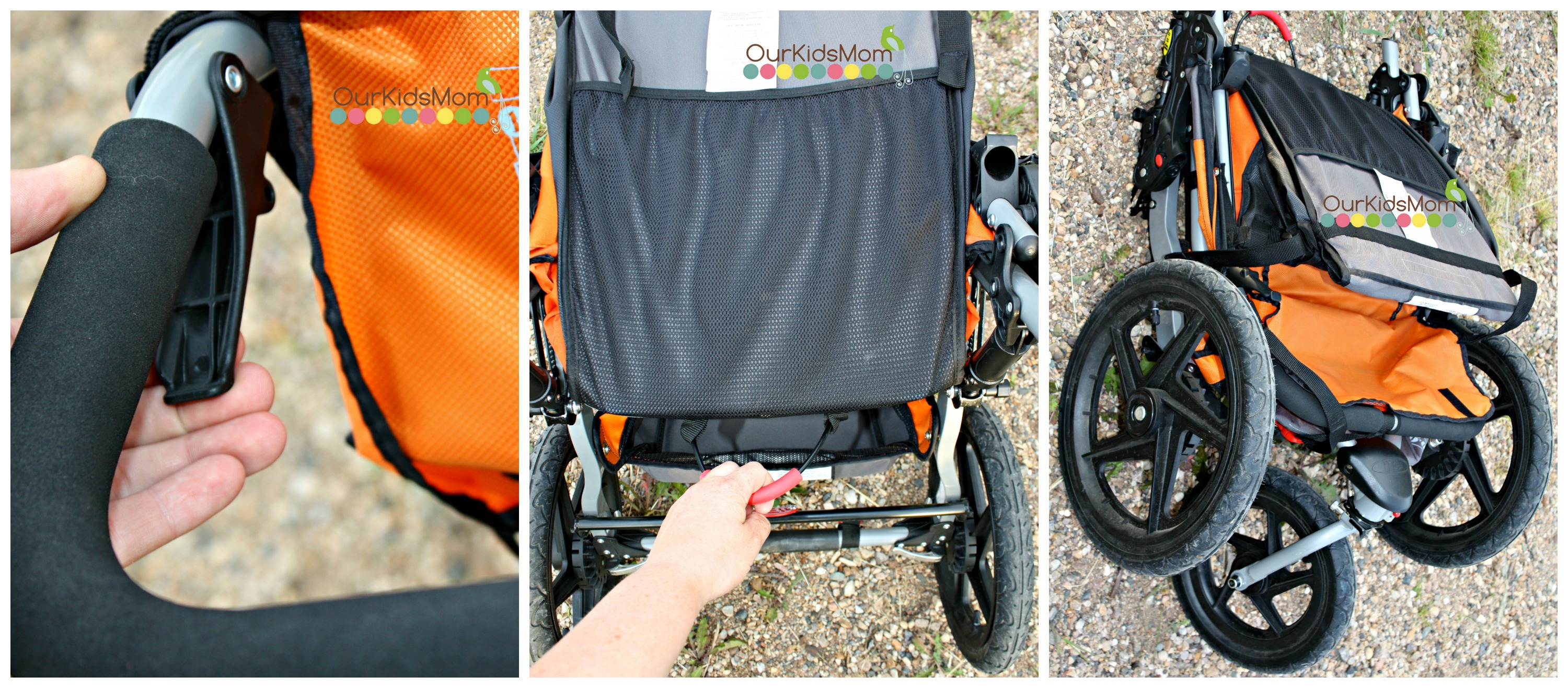 Folding the BOB for travel or storage is as easy as a couple simple steps. On both sides of the handle bar are hand squeeze triggers. When squeezed you can fold the top of the stroller forward. Then you will see a cable with a red handle. Pulling up on that your stroller folds completely up and is ready to go. Using the wrist strap you can slip the stroller closed for moving.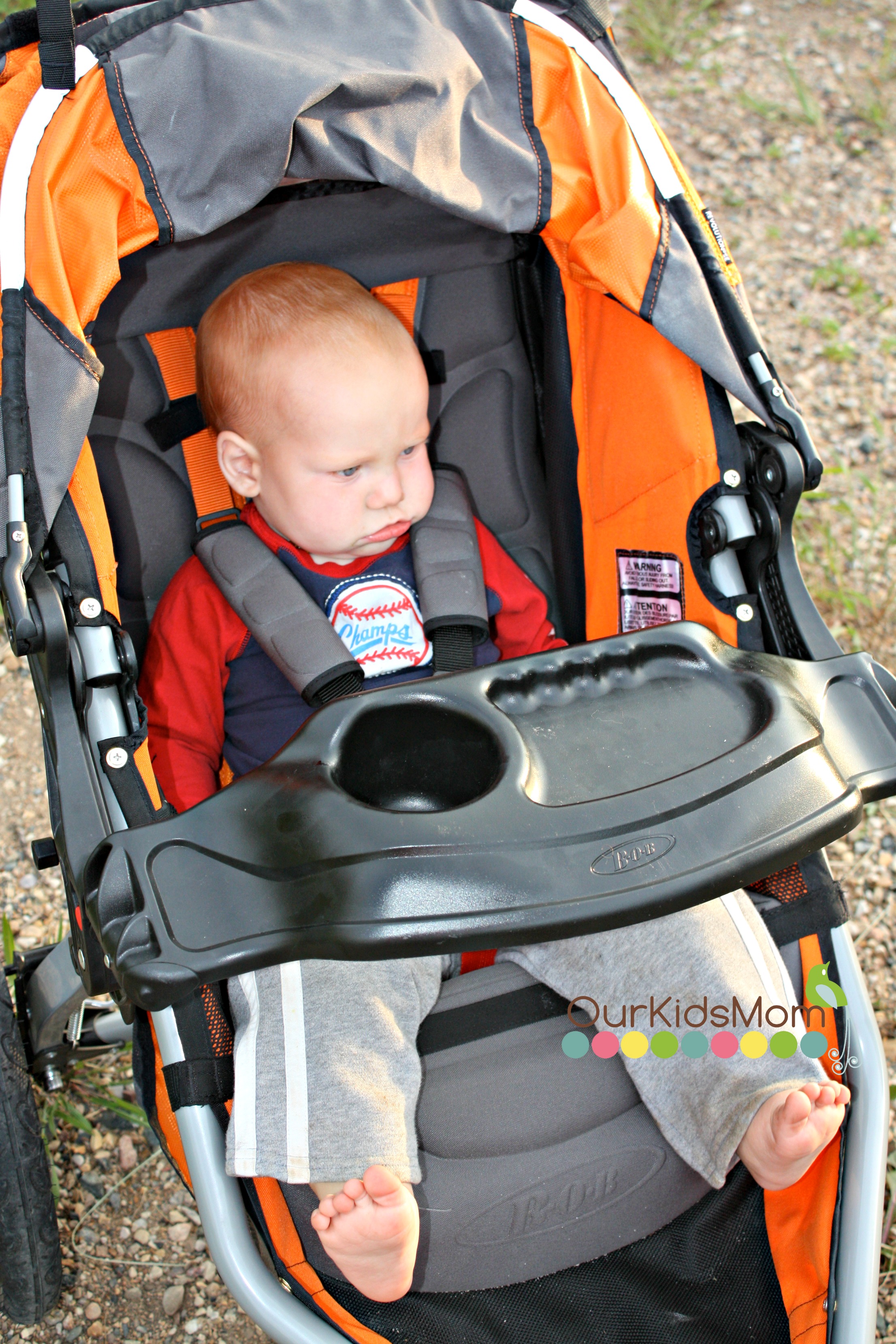 Overall I think the BOB Revolution SE has moved to my top favorite stroller that I have used.
This is the easiest and smoothest stroller I've ever pushed. It's literally effortless. Even my husband commented after pushing it about how smooth and nice was to push.
I would have to say this is the Cadillac of strollers. Head over to www.bobgear.com and you can compare strollers and find the perfect BOB stroller for you.
There are accessories you can purchase for your BOB including the snack tray that I have been using for my baby. The snack tray is sold separately and in my opinion worth the purchase.
Connect with BOBgear:
BUY IT:
You can purchase the BOB Revolution SE at Amazon.com (MSRP $459.99)
WIN IT:
ONE OurKidsMom reader is going to win a BOB Revolution SE stroller (winner's choice of color based on availability)!

This giveaway ended at 11:59 PM EST on August 22, 2014.