This post brought to you by BMO Harris Bank N.A. Member FDIC. All opinions are 100% mine.
BMO Harris Bank Scavenger Hunt Sweepstakes Week 4
Our oldest has been in college for several years now. Unfortunately we did not have a college fund set up for her. We were very young (and poor) when we had her and it was all we could do to make it pay check to pay check. We spent many years just paying off our own college debt.
She managed to get through her first few years debt free by living at home, working part time and paying cash as she attended community college. She had a good thrifty financial foundation/background that prepared her for how tight this stage of her life was going to be.
The cost of a college education can be out of this world if not planned for properly. Fortunately we are able to help in some ways to keep her debt from reaching an astronomical amount. As much as I'd love to pay for it completely, we still have three children at home that need our resources.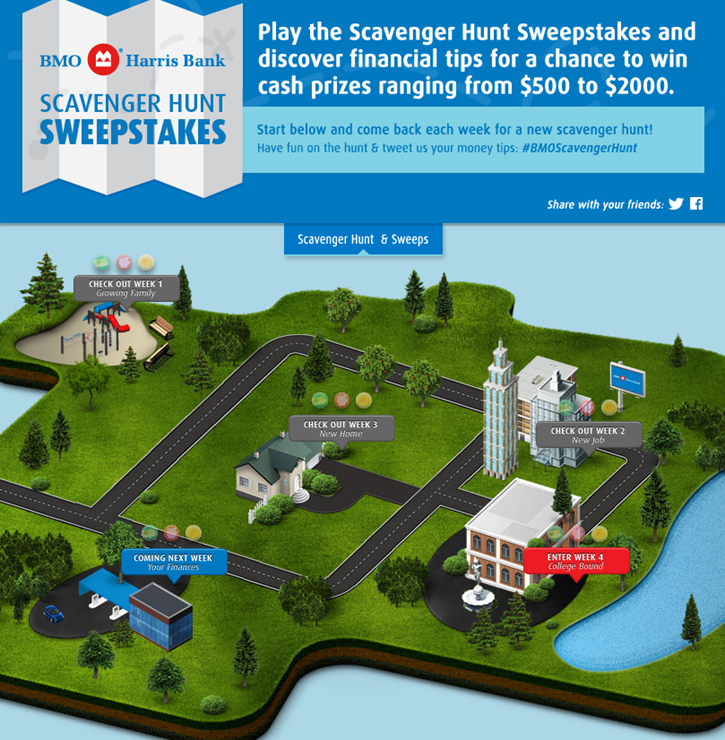 The BMO Harris Bank Scavenger Hunt Sweepstakes is a five-week long interactive game experience that offers financial tips and the chance to win cash prizes by entering a weekly sweepstakes! The game takes you through a town-like environment, highlighting key milestones in the journey of life… this week's topic being "getting ready for college".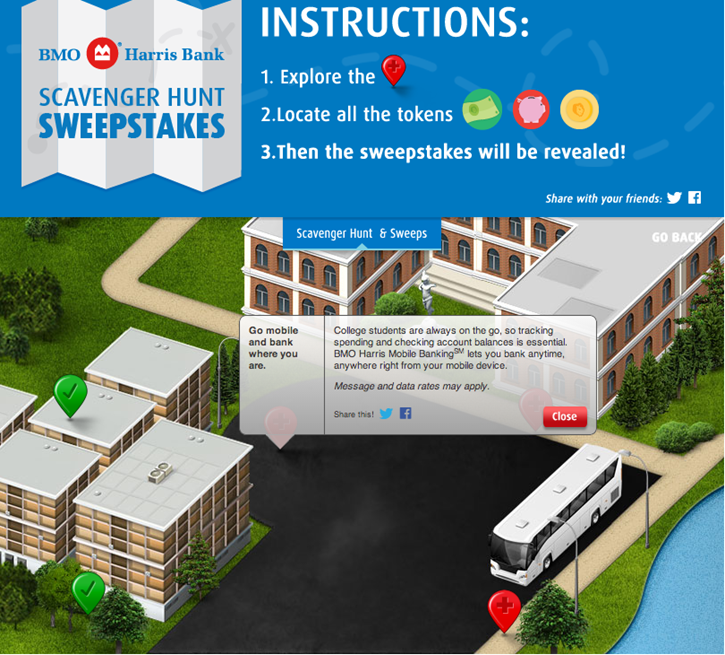 Each week opens a new environment that focuses on a life stage moment, where you can discover relevant financial information and collect tokens for a chance to win anywhere from $500-$2,000. I just finished playing this week's game and it was simple, informative and fun. Click on each red marker for a multiple choice question, financial tip or a short video from BMO Harris. It's that simple to collect the tokens to enter for a chance to win the BMO Harris Bank Scavenger Hunt Sweepstakes.
WEEK FOUR
Start Date/Time: 12:00:00 pm CT on 3/10/14
End Date/Time: 11:59:59 am CT on 3/17/14
Drawing Date: 3/20/14
Prize: $500.00
Start by heading to Facebook and like the BMO Harris on Facebook. The sweepstakes can be found in the navigation bar.
Have you started saving for your children's college education?