This post brought to you by BMO Harris Bank N.A. Member FDIC. All opinions are 100% mine.
BMO Harris Bank Scavenger Hunt Sweepstakes Week 3
Purchasing our first home was sort of a fluke. We hadn't been saving, but decided it was time to start. Just to get an idea of what the market was like we spent the day with a realtor. During our tour we found bits and pieces of homes we liked, but mostly we found run down houses that we couldn't see ourselves living in. We had almost decided that we needed to bump up our spending range when we walked into "the" house. It was move in ready, had a fabulous kitchen, three bedrooms (we only had one child at the time)… and we freaked out. We had to have it. Monthly payments were in the range we were already paying for rent, but unfortunately we had very little down payment money. Fortunately we had a great bank (and a fabulous grandma that "gifted" us what we needed). The process was a little stressful, but the end result was blissful.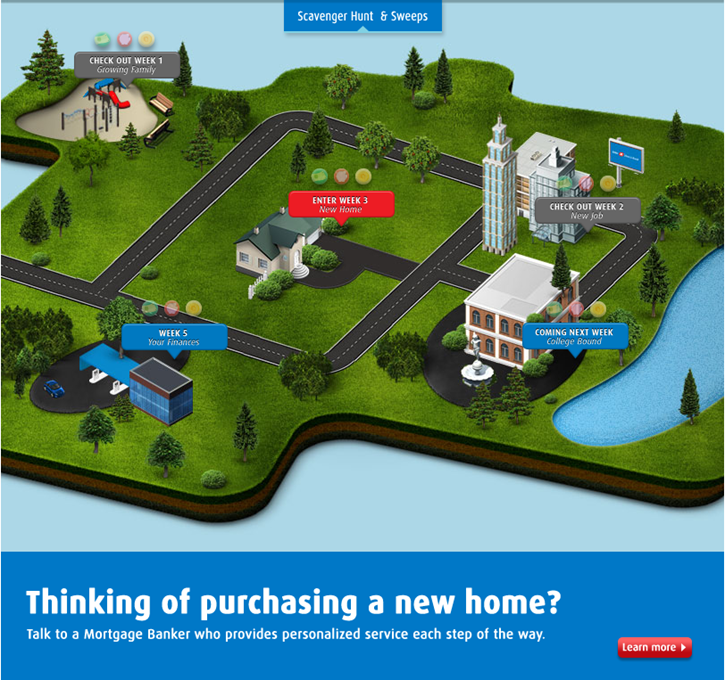 The BMO Harris Bank Scavenger Hunt Sweepstakes is a five-week long interactive game experience that offers financial tips and the chance to win cash prizes by entering a weekly sweepstakes! The game takes you through a town-like environment, highlighting key milestones in the journey of life… this week's topic being "purchasing a new home".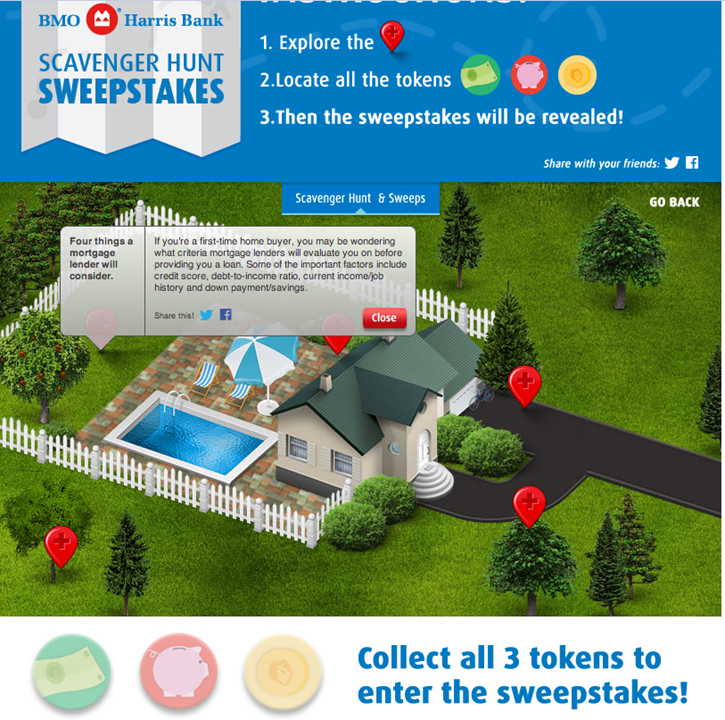 Each week opens a new environment that focuses on a life stage moment, where you can discover relevant financial information and collect tokens for a chance to win anywhere from $500-$2,000. I just finished playing this week's game and it was simple, informative and fun. Click on each red marker for a multiple choice question, financial tip or a short video from BMO Harris. It's that simple to collect the tokens to enter for a chance to win the BMO Harris Bank Scavenger Hunt Sweepstakes.
WEEK THREE
Start Date/Time: 12:00:00 pm CT on 3/3/14
End Date/Time: 11:59:59 am CT on 3/10/14
Drawing Date: 3/13/14
Prize: $950.00
Start by heading to Facebook and like the BMO Harris on Facebook. The sweepstakes can be found in the navigation bar.
How was your home buying experience?