This post brought to you by BMO Harris Bank N.A. Member FDIC. All opinions are 100% mine.
Starting a new job can be an intimidating experience. One of my most memorable new job experiences was when I was 16. I received a phone call regarding my recent application at a fast food joint at the local mall. To my surprise the manager asked if I would mind having my interview over phone. I was more than willing… I didn't have a car, the mall was a 10-15 drive and I didn't think I could get a neighbor to take me and my mom had a hectic work schedule.
I was extactic that he hired me over the phone! My first day on the job scared the jeepers out of me. I was walking into a situation that was completely foreign to me. At most other interviews I had been to I was given a short tour of the store. I took a deep breath, opened the back door and hoped for the best. The manager was in his offer and I was greeted with a huge smile and an relieved "Oh! I did good!" from him as he offered his hand for a hand shake. It was a job worth taking, because a month later the cute cook that had been teasing me for a month asked me out on a date. We've now been married for 25 years!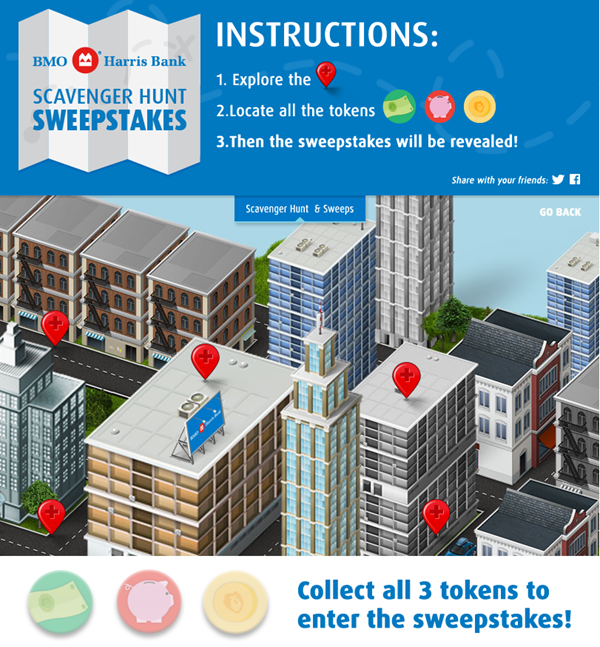 The BMO Harris Bank Scavenger Hunt Sweepstakes is a five-week long interactive game experience that offers financial tips and the chance to win cash prizes by entering a weekly sweepstakes! The game takes you through a town-like environment, highlighting key milestones in the journey of life… this week's topic being "getting a new job".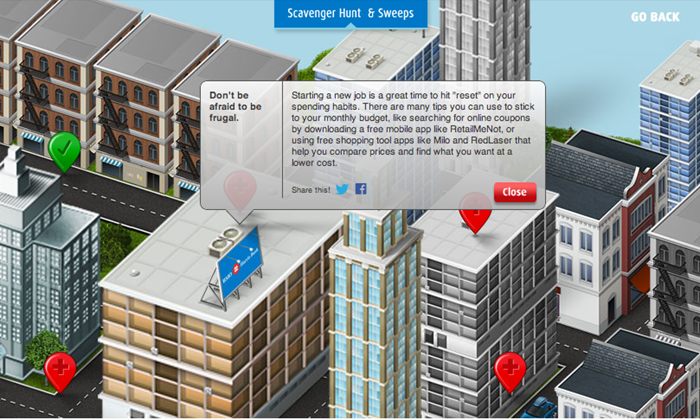 Each week opens a new environment that focuses on a life stage moment, where you can discover relevant financial information and collect tokens for a chance to win anywhere from $500-$2,000. I just finished playing this week's game and it was simple, informative and fun. Click on each red marker for a multiple choice question, financial tip or a short video from BMO Harris. It's that simple to collect the tokens to enter for a chance to win the BMO Harris Bank Scavenger Hunt Sweepstakes.
WEEK TWO Start Date/Time: 12:00:00 pm CT on 2/24/14
End Date/Time: 11:59:59 am CT on 3/3/14
Drawing Date: 3/6/14 Prize: $1000.00
Start by heading to Facebook and like the BMO Harris on Facebook. The sweepstakes can be found in the navigation bar.
What was your most memorable moment when getting a new job?