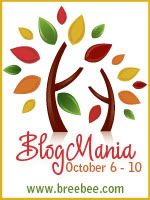 Blog Mania is coming this Thursday October 6th. There are going to be tons of prizes to win. 
Including these from OurKidsMom's blog…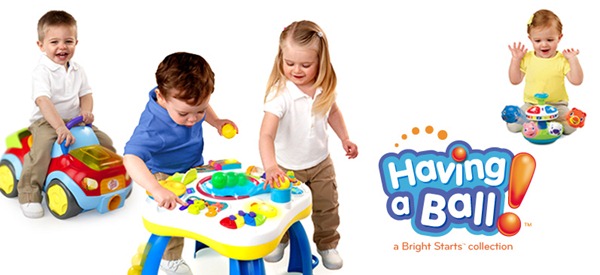 Bright Starts Having a Ball Collection is Laugh out loud fun!
Get your toddler rolling with this unique collection of toddler toys that will have them laughing out loud while learning colors, shapes, numbers and more! Each toy will surprise and delight them as balls pop, roll and wobble triggering lights, music and funny sounds.  Learning has never been so much fun!
One lucky readers is going to win all seven of the Bright Starts Having a Ball toys!
| | | | |
| --- | --- | --- | --- |
| | Your toddler will never run out of new things to do and learn with the Get Rollin' Activity Table™!  From the ball ramp to the peek-a-boo gator and the caterpillar piano, this activity table provides hours of entertainment and learning!  It even fosters bilingual language learning by teaching shapes, colors, numbers, and more in both English and Spanish. | | The Roll & Chase Bumble Bee™ brings learning and fun to life with its unpredictable bumbling and catchy melodies that begin with the touch of a button.  With two modes of play, toddlers also learn colors, shapes, and numbers! |
| | Delight toddler with these cute, animal themed balls that make silly sounds as they wobble and roll across the floor!  With 6 different characters to choose from, your toddler is sure to laugh out loud! | | Get your toddler rollin' and laughing with the Pop & Roll Roadster™!  Silly sounds are activated as balls are dropped into the steering wheel and roll into the hood of the car.  For extra fun, pull the gear shift and the balls are launched from the hood.  Fun horn and engine sounds play each time toddler pushes the buttons to ensure a fun ride every time! |
| | The Cluck & Learn Barn™ brings animal learning and ball drop surprise together to spark laugh out loud fun!  Toddler can drop balls into the chicken to activate fun barnyard sounds, and to see which barn door they'll pop out of!  Pressing the buttons teaches animal names and sounds while ball dropping fosters counting and playing all at the same time! | | Toddlers will have a ball with the Alphabet Pop Top™! Just push the plunger and watch the top spin with dancing lights, sounds, and melodies.  For an extra surprise, after the third push, the cute character balls pop out to delight toddlers!  The light-up buttons teach ABC's, colors, and objects. |
| | |
| --- | --- |
| | Keep playtime truckin' with endless fun from the Swirl & Roll Truck™! Toddler can drop balls into the truck's stacker opening, see them swirl around, and then pop out the back of the truck as it's rolled along.  Fun sounds and phrases and light up buttons accompany the ball popping, making this truck a total entertainment experience! |
Connect with Bright Starts:
Blogmania starts on Thursday October 6, 2011. Be sure to drop in for a chance to win!