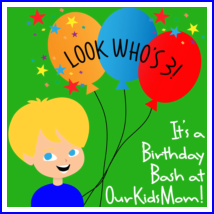 Welcome to the "Look Who's 3!" Birthday Bash

It was time to move Ethan to a bigger car seat… but I wasn't ready to give up the extra safety of a 5-point harness. After some research, I found Sunshine Kids.
Their new RadianXTSL car seat offers the first NCAP tested (at almost two times the force of a standard crash test), high capacity LATCH system up to 80 pounds without the use of a seat belt (please consult your cars manufacturer guidelines as some older vehicles latch hooks allow to 40)!
80 lbs! That will be years from now… yippee!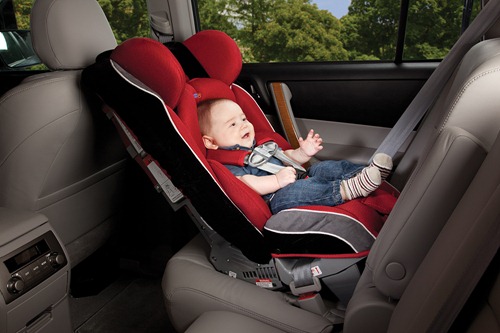 Here's another amazing fact. The RadianXTSL is convertible for a rear facing child 5-45 lbs. Seriously… 45 lbs rear facing! That means that both Emma and Ethan could still be rear facing

.  It's a little late for us, as I'm sure I would be greeted with great resistance… but for those mommas out there that want to keep their child rear facing as long as possible, this is fantastic.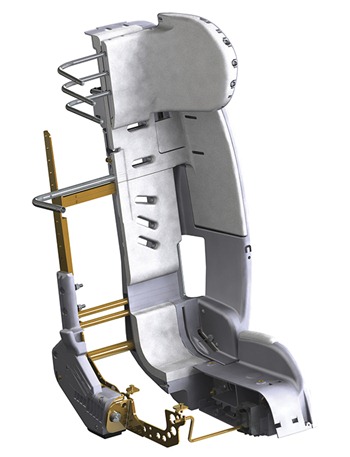 Like I mentioned before, forward facing children can use the 5-point harness from 20-80 lbs. The aluminum-reinforced head support is height adjustable to grow with your child… and get this. The frame… steel alloy. Yes, I said steel! Not plastic like most car seats on the market.
Let's face it… we are purchasing something to protect the most precious thing in our lives. Would you want plastic or steel to protect your child from an oncoming car?
 If your toddler is like my Ethan, they want to do everything they can for themselves. It was torturous waiting for Ethan to climb into his old car seat because it was just so high up and he is still a bit clumsy. The RadianXTSL has a low profile making it amazingly easy for your child to seat themselves.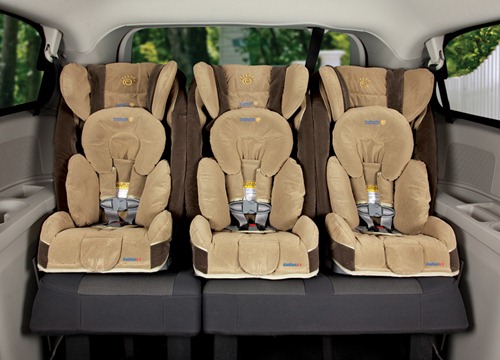 For parents with multiple car seats in one vehicle, this is a super amazing feature for you. The RadianXTSL has a unique patented design that allows car seats to fit three-across in a mid-sized car while still providing more shoulder room for the child occupant.
The seat is also padded with memory foam and comes with infant support pillows for extra comfort. The RadianXTSL car seat also folds flat for easy travel and storage. Imagine tossing the car seat on your back in the airport instead of juggling it and still trying to maintain control of your luggage and child. 
Overview of the Main Features:
Forward-facing: 20 – 80 lbs (and up to 53″) in a 5-point harness

Steel alloy frame and aluminum reinforced sides

SuperLATCH™ installation up to 80 lbs – no seat belt required

Easy-Tite™ adjuster for quick and easy tightening, installs in 1 minute

Adjustable head support, reinforced for complete side-impact safety

Energy-absorbing EPS foam panels on all sides

Safestop® energy-absorbing harness system

Rubber bottom grips for no-slip installation

5 shoulder and 3 buckle positions for proper harness fit

Fits 3-across in a mid-size vehicle and offers more shoulder space

3-in-1 infant/toddler full body support cushions

Memory foam padding for superior comfort

Folds flat for travel and storage, includes convenient carry strap

Sits low on vehicle seat for easy child boarding

Forward and rear facing tether system

2 recline positions in forward-facing mode
*~*~*~*~*~*~*~*~*~*~*
Our Take:
After all of the research and finding out about everything I wrote above, I was sold on the Sunshine Kids RadianXTSL. I love the use of LATCH, and to be able to use it up to 80 lbs. was impressive for me.
I am loving the newer LATCH, simply press the red button, slide the LATCH in place and release. Our older car seats were so difficult if you didn't have enough hand strength. When your child has outgrown the 80 lbs. limit for LATCH, there is a place in the back of the headrest to store them. The slot to the left is for the tether when not in use.
I also loved that everything important is labeled with a sticker on this seat. Sometimes you just don't have access to the instruction booklet and just about everything you want or need to know is written on the car seat on a sticker.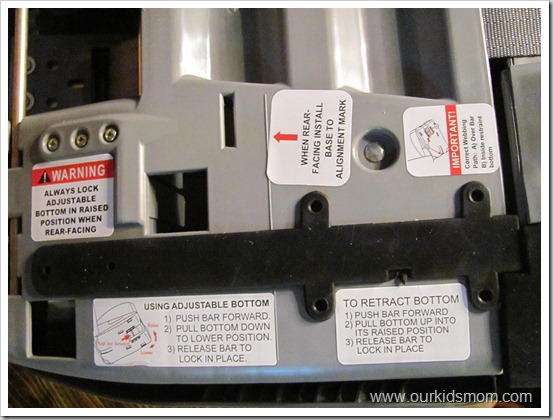 Installation was a breeze. The LATCH clipped on quickly (and easily) on both side and then a quick tighten (I always stick my knee in the middle of the seat and put my body weight in while tightening… makes the car seat almost unmovable) and we were ready to go!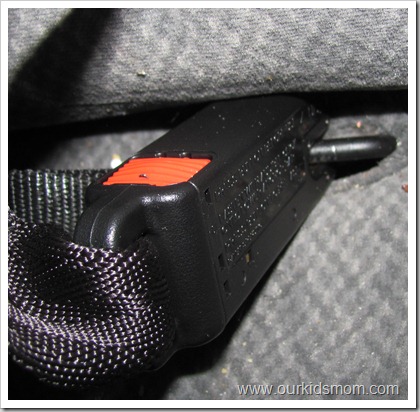 Once installed I started to play with the shoulder straps/adjustments. The photo below shows the silver lever you lift to loosen the straps on your child's shoulders and the strap hanging out is what you pull on to tighten. This is a new method to me, as our old seat had dials on the side to turn.
I think there are pros and cons with this method. You can get an exact/perfect adjustment with this method, but oftentimes it can be a little difficult to pull/tug on. I just make sure to check the adjustment on Ethan before moving on to Emma, if he needs a little adjustment (he always needs at least one) then it's another tug and we're done (rarely is it too tight after the first adjustment).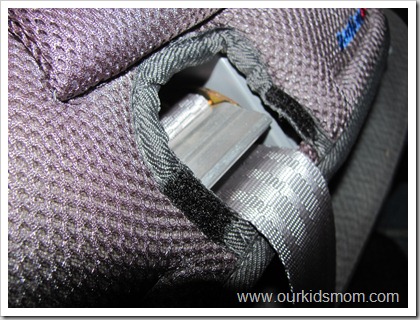 The shoulder straps are adjustable to grow with your child, just like the headrest. The padded straps keep your child from getting dig/red marks on their neck… a nice touch. The locking latch on the chest is a nice thick plastic that opens and closes easily (for the adult). Ethan has tried a couple of times but has yet to figure out how to unlock it.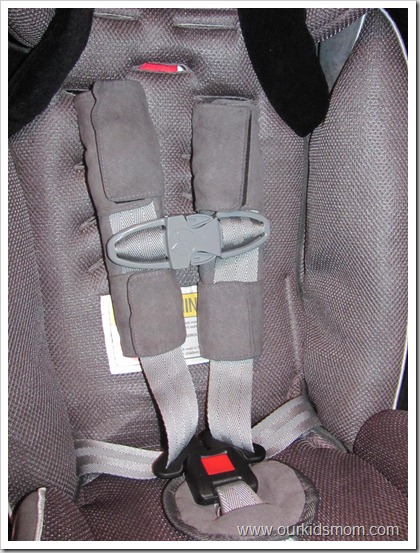 Finally, I love the design on this car seat. It is nice and slim so my older children can easily manipulate themselves into the backseat without knocking the car seat crooked and loosening it. We have been using it for nearly a month now and it's as snug now as the day I installed it.
Ethan's comfort is almost as important as all of the safety issues I've brought up. Not once has he complained about being uncomfortable and we've gone on a few longer trips without so much as a whimper. The memory foam is soft and giving to the touch and I can imagine it's nice and supportive on the tushy and back.
Sunshine Kids offers this model in several prints and fabric choices. We decided to go with Eclipse – grey polyester air mesh & black velour trim – because of our hot summers here in Missouri. I hoped that the mesh would allow air to flow through and reduce or eliminate a sweaty back. I am happy to report that Ethan has remained cool and sweat free.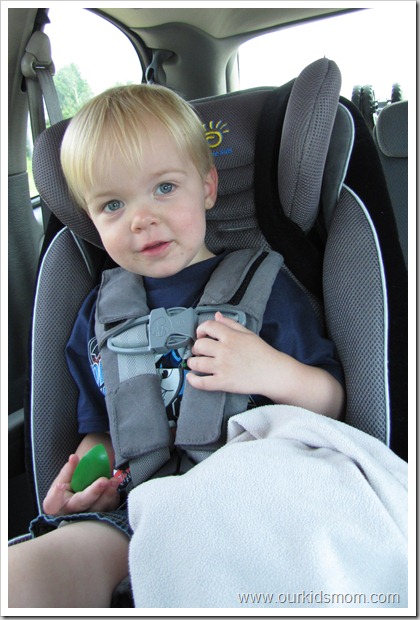 The only comment I would like to make about the mesh is that the very first time I allowed Ethan to eat a snack in his car seat we had crumbs stuck down in the mesh. I'm not sure if they finally sifted through or came out after repeated in and out sessions, but my fear of the holes filling with crumbs were eased. I also wish that this seat had a cup holder option. Ethan has been looking for a place to put his drink and eventually it just ends up on the floor rolling around.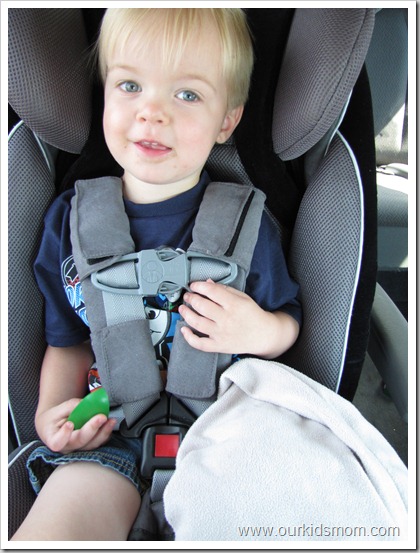 I would highly recommend a Sunshine Kids RadianXTSL to any of my family &/or friends that were in the market for a car seat. This particular model functions from birth (5 lbs.) through school age (80 lbs.). Yes, it's a little pricey… but it is the only car seat your child will ever need! That will save you money!
BUY IT:
You can purchase a Sunshine Kids RadianXTSL for $239.99 (RV $299.99) at Sunshine Kids Baby
or for $239.00 at Amazon.com
WIN IT:
ONE OurKidsMom reader is going to win a Sunshine Kids RadianXTSL RV $299.99!
(pattern choice not limited to pictures below)
HERE'S HOW TO WIN!
MANDATORY entry (1 entry):
This entry is required before any others will count.
* Visit Sunshine Kids website and tell me something you like, learned or want.
Additional Entries! You may do any or all of these in any order after the mandatory entry above has been completed. If you have already completed these actions let me know you did! If I allow 2 entries for a particular action, please leave 2 separate comments.
1 entry- Follow OurKidsMom via Google Friend Connect (right hand column)

1 entry – Enter any of my current giveaways : 1 entry per giveaway entered

1 entries- Grab my button and leave the direct link to where I can find it

1 entry each- Share this on Facebook, Digg, Stumble, or Google Buzz (you can find the buttons at the bottom of this post)

1 entry each- Share this giveaway on a blog hosted giveaway linky and leave the direct link to the post below. Please double check that you are not double posting. (This can be done 1x a day for 1 bonus entry per day).
Daily Entries:
3 daily entries- Follow @ourkidsmom and @SunshineKidsUSA on Twitter and tweet the following (up to 3x per day at least 1 hour apart) leaving a direct link in your comment:

[tweetbox width=500 height=50 label=Retweet! content ="#WIN Sunshine Kids RadianXTSL Car/Booster Seat RV $299.99 from @SunShineKidsUSA @ourkidsmom ends 8/5 %u #giveaway"]
If you enjoy my blog and my giveaways I would love a vote on Top Mommy Blogs. It only takes 1 click and you're done! (allowed once per 24 hours)
Rules:

You do not have to be a blogger to enter/win. An email address is required to enter. The winner will be chosen via the WordPress plugin "and the winner is…" and contacted via email. A reply to the winning email is required within 48 hours before a new winner is chosen. One person entering per household please. U.S. only.

This giveaway ends at 11:59 PM EST on August 5, 2011.

Disclosure of Material Connection: I received one or more of the products or services mentioned above for free in the hope that I would mention/review it on my blog. I only recommend products or services I use personally and believe will be good for my readers. I am disclosing this in accordance with the Federal Trade Commission's 16 CFR, Part 255: "Guides Concerning the Use of Endorsements and Testimonials in Advertising." The opinions expressed in this post are entirely my own. Your experience with the product may differ from mine. The sponsor is responsible for prize fulfillment and will be shipping the winner(s) their prize(s). For more information read my disclosure policy.