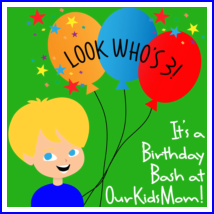 Welcome to the "Look Who's 3!" Birthday Bash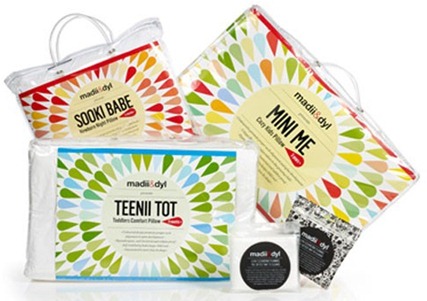 Madii & Dyl is a company that produces natural children's products that promote safe and healthy growth and are designed for the modern nursery or child's bedroom. Their luxe 100% pure latex, chemical-free pillow collection is designed to resist the substances and bacteria which can severely harm young children. Designed to meet the age specific needs of kids from infants to school-aged children, these pillows are made to support healthy neck and spine alignment and even prevent things like flat heads in newborns. Pillows include the "Sooki Babe" newborn nod booster (3 months+), the "Teeni Tot" comfort pillow (18 months+) and the "Mini Me" cozy kids pillow (4 years+).
Emma & Ethan have not been the best sleepers lately. When Madii & Dyl contacted me about their contoured pillows for children, I thought maybe making Emma & Ethan more comfortable in their beds might be a solution.
We were sent two Mini Me pillows (one for each child) to review. These cozy kids pillows are geared for children ages 4 years and up. Although Ethan is really only 3 (in a few weeks), he is the size of his 4 year old sister… so I went by size instead of age for his pillow choice.
The Mini Me pillow features an exclusive flip-wave design that is tailored to the growing child. One side of the pillow is slightly higher than the other. For the younger child, you start on the lower side and as they grow you flip the pillow over for a better fit. The goal is to conform the pillow to the child's head to give proper & vital support to the neck and spine.
No need to worry about the pillow over-heating your child. The micro-ventilating cores prevent moisture and heat build-up. These pillows are actually perfect for allergy sufferers, too… wash after wash they retain their shape for up to 5+ years!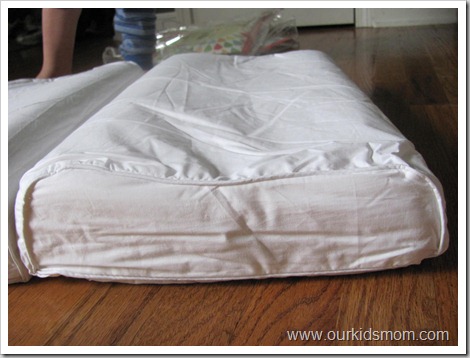 Emma & Ethan were overly excited to give their new pillows a try. As you can see… they camped out on the living room floor with them (and were comfortable doing so!). I liked the "squish" the pillows had, but yet they shape to their necks and spine. I'm all for support, but personally I need  a little softer pillow so I was hoping their new pillows weren't "bricks". They definitely are soft!
When it came time for bed they were both a little resistant to trading out their "old" pillows for the new Mini Me. Emma tends to prop herself up with 2-3 pillows and I wondered if the "lump" from the contour was bothering her. I showed her how to lower the slope of her "pillow princess tower" and she agreed to give the pillow a try.
Ethan just doesn't like anything new in his room at bedtime. He even freaked out when I put a new baby monitor in his room… it's that bad. It took a few nights for him to accept the Mini Me as the pillow in the "top" position (yes, he layers pillows too).
I haven't really noticed a difference in how long they both sleep, but I have noticed that they are in a better mood in the morning. I also have personal experience with the pillow. One of the first nights Ethan had the pillow, I was asked to lay with him and sing. I was allowed to use the Mini Me pillow… which I found very comfortable and tempting (I seriously thought about sneaking it out into my bed).
My final thoughts… If you are looking for a magic pillow to make you kids sleep longer, this is probably not it. BUT, the quality of their sleep will probably be better! The pillows are supportive with give. I like that they are hypoallergenic and they resist dust mites and bacteria. The best part… after investing a little money you have a pillow that can be washed that bounces back time and again and is labeled to last 5+ years.
BUY IT:
You can purchase the Mini Me pillows for $59 each at Madii & Dyl online
Connect with Madii & Dyl:
[tweetbox width=500 height=50 label=Retweet! content ="Madii & Dyl Mini Me Cozy Contoured Kids Pillow Review @kidsdayout @CastCoverz @ourkidsmom %u"]
Disclosure of Material Connection: I received one or more of the products or services mentioned above for free in the hope that I would mention/review it on my blog. I only recommend products or services I use personally and believe will be good for my readers. I am disclosing this in accordance with the Federal Trade Commission's 16 CFR, Part 255: "Guides Concerning the Use of Endorsements and Testimonials in Advertising." The opinions expressed in this post are entirely my own. Your experience with the product may differ from mine. For more information read my
disclosure policy
.