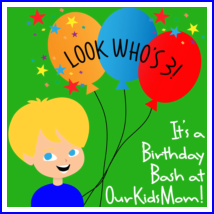 Welcome to the "Look Who's 3!" Birthday Bash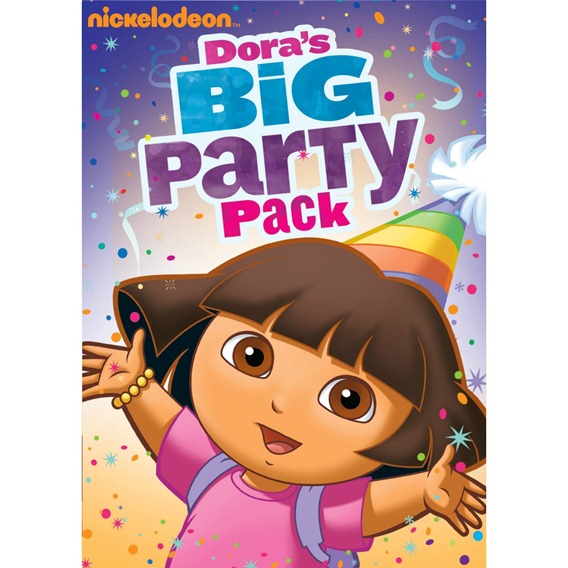 Coming to DVD July 12, 2011
What's a Birthday Bash without Dora, right?
Yes… this is Ethan's birthday party, but he loves his sister enough that he watches Dora with her, too

.
*~*~*~*~*~*~*~*~*~*~*~*~*~*~*
Dora the Explorer: Dora's Big Party Pack is packed with 3 super fun DVD's:
Dora the Explorer: Dora's Big Birthday Adventure
Episodes include:
Dora's Big Birthday Adventure
A twisting wind has blown Dora and Boots into Wizzle World, a land located in the Magic Storybook.  Dora and Boots can't jump out of the Magic Storybook without first taking Dora's crystal to the Wishing Wizzle so he can wish them back home in time for Dora's birthday party with all her family and friends. The episode guest stars Rosie Perez, John Leguizamo and Hector Elizondo.  
Dora Helps the Birthday Wizzle 
Dora is reading a storybook about a Birthday Wizzle who  could make birthday wishes come true with his magic wand.  Today was his birthday so it was his turn to make a wish, but a wind came in and blew the wand out of the book.  Dora must jump into the book and bring the wand back to the Wizzle so he can make his wish.
Wizzle Wishes
Dora and Boots meet a cute little Wizzle who lost his bag of wishes and can't get home.  Our heroes set off in search of the lost wishes, but their friends keep finding the wishes first and their wishes get everyone into trouble.
*~*~*~*~*~*~*~*~*~*~*~*~*~*~*
Dora the Explorer: Super Silly Fiesta
Episodes include:
Super Silly Fiesta
Dora and Boots are invited to the Big Silly Chicken's Super Silly Fiesta.  The Big Red Chicken loses the cake for his party so Dora and Boots set off to save the fiesta.
Boots' Special Day
Today, Boots gets to do anything he wants because it's his special day!
Stuck Truck
When Ice Cream Truck gets stuck in the muck at Play Park, Dora and Boots are off to the rescue.
The Big Potato
Benny the Bull finds a magic wand and turns himself into a potato by mistake.  It's up to Dora and Boots to bring their potato friend back to the Young Wizard so that he can change Benny back into a bull.
*~*~*~*~*~*~*~*~*~*~*~*~*~*~*
Dora the Explorer: It's A Party!
Episodes include:
Daisy, la Quinceañera
It's Dora's cousin Daisy's quinceañera!  The party can't start until Dora and Boots teach everybody the mambo.   Page 2 of 3
The Big Piñata
Dora and Boots are trying to win the Big Piñata.  They need to collect ten yellow tickets by playing carnival games.
Surprise!
It's Boots' birthday, but Benny the Bull is stuck on a hot air balloon that's leaking and floating toward Crocodile Lake. Dora and Boots rush off to rescue their friend.
The Fix It Machine
Boots has a hole in his boot but Dora knows what to do.  The Super Duper Fix-It Machine can fix it right up!
*~*~*~*~*~*~*~*~*~*~*~*~*~*~*
Emma was introduced to Dora one fateful day when we watched her cousin for the afternoon. We do not have extended cable, so she had lived a sheltered life of only watching PBS Kids up to that point. Dora has been #1 in her books since and we have been slowly collecting DVDs for variety!
This boxed set is packed with Emma's favorite titles. If Super Silly Fiesta were on video tape, I'm sure it would have split from extended over use. Dora's Big Birthday Adventure was a gift from her big sister for her 4th birthday. It's a Party is a new title for the house and is getting the same love and attention all of the other titles have gotten upon arrival. Ethan loves the Wizzles and even gets up to dance with Dora. You can hear both of the screaming at Swiper and telling Dora what's next on the map from clear across the house. I am loving how all 3 titles have a party theme, how Dora, Boots and Swiper get the children involved in the story, how they teach the children to read a map… I especially like to see them off the couch dancing with the characters.
BUY IT:
You can pre-order Dora's BIG Party Pack for $17.99 at Amazon.com (RV $24.99)
WIN IT:
TWO OurKidsMom readers are going to win Dora's BIG Party Pack 3 DVD set!
TO ENTER:
Simply follow the directions in the widget below. It's that simple.
COMMENTS DO NOT COUNT AS ENTRIES…
but they are still very much appreciated and adored :O)
<
Rules:
You do not have to be a blogger to enter/win. An email address is required to enter. The winner will be chosen randomly through Rafflecopter and contacted via email. A reply to the winning email is required within 48 hours before a new winner is chosen. One person entering per household please. U.S. only.
This giveaway ends at 12:01 AM EST on July 18, 2011.
Disclosure of Material Connection: I received one or more of the products or services mentioned above for free in the hope that I would mention/review it on my blog. I only recommend products or services I use personally and believe will be good for my readers. I am disclosing this in accordance with the Federal Trade Commission's 16 CFR, Part 255: "Guides Concerning the Use of Endorsements and Testimonials in Advertising." The opinions expressed in this post are entirely my own. Your experience with the product may differ from mine. The sponsor is responsible for prize fulfillment and will be shipping the winner(s) their prize(s). For more information read my disclosure policy.