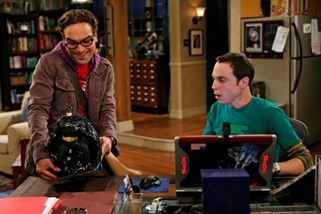 In episode 13 from season one of The Big Bang Theory, "The Bat Jar Conjecture," which airs Wednesday October 10th, Sheldon's arrogance ostracizes him from the group which leads to him competing directly against his friends after forming his own group.
I haven't competed against a friend before, but I love how in this episode Leonard has a heart and gives Sheldon a chance at redemption. He asks Sheldon if he'd rather lose by himself or win as part of a team. I laughed out loud literally when Sheldon honestly replied "I don't understand the question.". Sheldon is so incredibly smart, but so socially inadequate sometimes. Gotta love that guy…
The Big Bang Theory is now on 5 Nights a Week. Check www.bigbangweeknights.com for local listings.
I have been hired by Warner Bros. WBWord division to promote The Big Bang Theory in Syndication.