Cruise courtesy of Royal Caribbean as part of Brandcation. All opinions are my own.
When planning my spending budget for our recent Royal Caribbean cruise on Liberty of the Seas, I went on a mission to understand the beverage packages available. It was a bit confusing, but I was soon able to make a decision that was right for me.
Included with the cruise:
Some beverages are included in the cost of the cruise. These include Iced Tea, Lemonade, Water, and sugar-free kiwi-strawberry drink. At breakfast I noticed an orange drink (not juice) offered as well as a sugar free strawberry-kiwi drink at lunch and dinner.
What you can bring on:
Unfortunately beer, hard liquor and non-alcoholic beverages are not allowed. You may bring personal wine and champagne onboard only on boarding day, limited to two (2) 750 ml bottles per stateroom.
Please be advised, though, that if you choose to consume the wine/champane you brought on board in any public area, each bottle will be subject to a corkage fee of $25.00.
Drink Packages for a cost:
The drink packages can be found on Royal Caribbean's site. Unfortunately you cannot purchase a drink package "for just a day"… they must be purchased for the entire cruise.
I will try my best to summarize them for you here.
* If you are a pop drinker, the Royal Refreshment Package may be an option for you. On top of the included drinks, you will receive a souvenir cup and unlimited refills on fountain Coca-Cola products ship wide. I purchased this option and paid around $6.50 a day.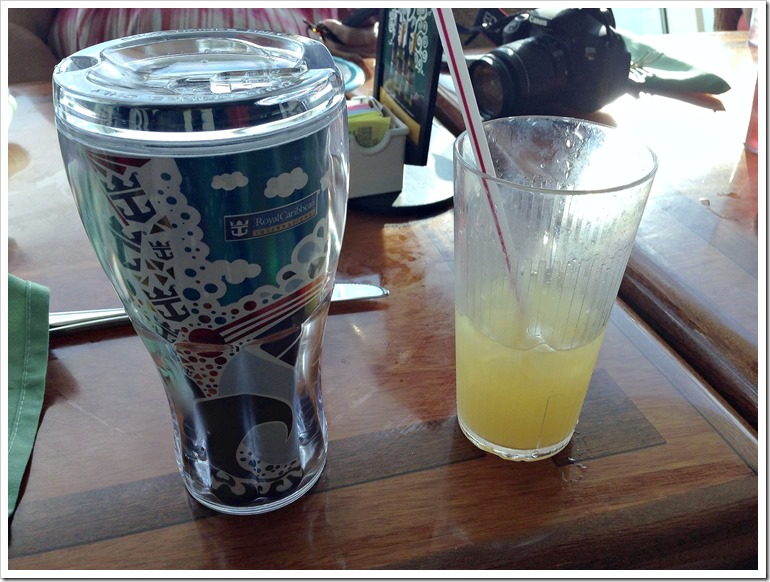 photos courtesy of Kat from Generations of Savings
* If you like pop but also would like juice, bottled water, frozen non-alcoholic drinks &/or premium coffees the Royal Replenish is for you. You will receive unlimited premium coffee (hot, cold or frozen), premium tea, bottled water (sparkling or still), fresh squeezed orange juice, non-alcoholic cocktails as well as unlimited fountain soda with the Coca-Cola souvenir cup. My room mate paid around $20 a day for this package.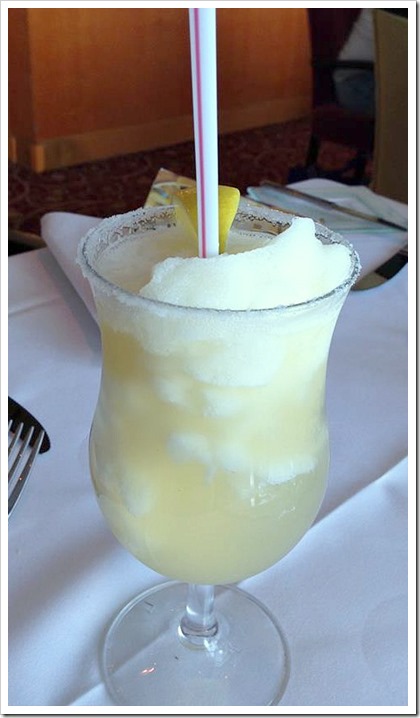 Here is where it gets a little complicated.
* If you would like unlimited beer, wine by the glass (up to $8 value each), non-alcoholic cocktails, fountain soda with souvenir cup the Select Package is for you. This will run you around $40 a day.
* If you'd prefer premium cocktails (up to $10 each), frozen cocktails, beer, premium wines by the glass (up to $12 value each, bottled water, and fountain soda with souvenir cup the Premium Package if your guy. This runs around $55 a day.
* If you prefer to have no limits on what you drink… the Ultimate Package offers virtually unlimited options by combining the benefits of the Premium and Royal Replenish packages. This runs around $65 a day.
Last but not least, if you know you will only want bottled water or juice, you can order them before you embark to be delivered to your stateroom at around 25% off the cost of a single bottle on board.
*** TIP *** Be sure to pick up a bottle of two of water before heading off the ship for port days. If you have a package that includes this, you can have a waiter bring them to you at breakfast at no charge. I did not purchase a package that included water, but there were tables set up on the way out of the ship where you can purchase (charge to your room) before you disembark.
So there you have most of the selections that should offer something for everyone.
Planning your cruise?
Be sure to check out my Food Options post and the Ocean View with Balcony State Room review!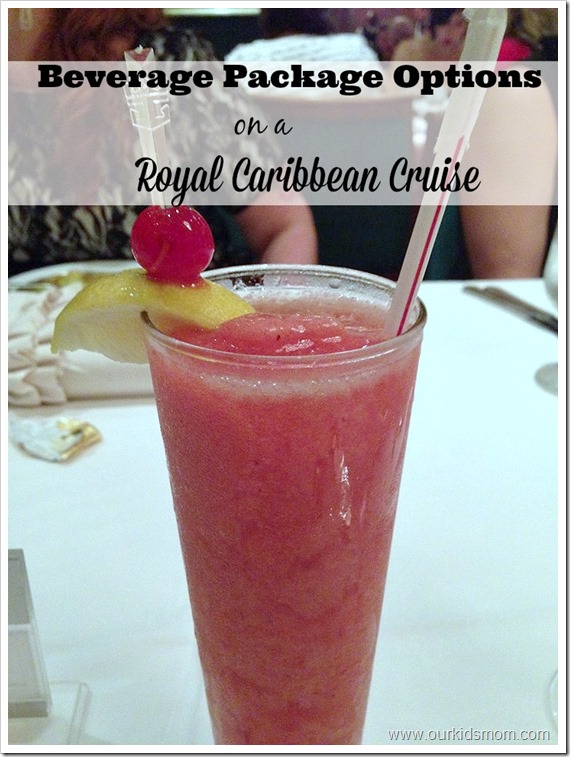 What sounds good to you?