Ben 10 Omniverse for Nintendo Wii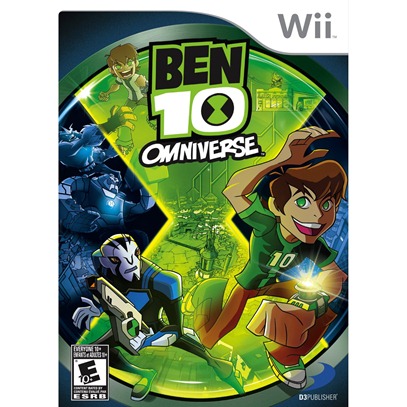 PRODUCT DESCRIPTION:
Ben 10: Omniverse™ is the only video game based on the highly-anticipated, Cartoon Network TV series, Ben 10: Omniverse.  The brand-new show spans two time periods between Young and Teen Ben Tennyson, and introduces a hero sidekick, Rook.
In the new action game, players can play as both Young and Teen Ben, switch forms between 13 playable alien heroes, including new aliens like Bloxx and Gravattack, and fight in an assortment of action-packed levels throughout the subterranean alien city of Undertown and other show-inspired locales.  In Ben: 10 Omniverse, Rook will also star in the game come equipped with a Proto-Tool, a swiss army knife of the future, that can transform into a variety of weapons that will bring a whole new dimension to combat.
KEY FEATURES:
Play as Ben of the Past and Present – For the first time ever, players will battle as both Young Ben and Teen Ben and work with Rook to defeat the evil plans of a destructive villain who will stop at nothing to defeat the world.
Introducing: Rook! – A brand new character to the series, Rook is a skilled but inexperienced Plumber graduate ready to fight alongside Ben with his awesome weapon, the Proto-Tool, a high tech multi-functional weapon that turns into a Blaster, Power Sword, Quantum Staff, or Grappler.
First Video Game Based on the Brand New Ben 10 Series – Brawl your way through an assortment of action-packed levels set in show-inspired settings like the subterranean alien city of Undertown and the new Plumber base in Max's shop!
Enjoy Fast-Paced Gameplay – Ben 10: Omniverse offers players an exciting action experience featuring characters and a new storyline from the brand new Ben 10 Omniverse TV series!  Switch between 13 playable alien forms including exciting new heroes like Bloxx and Gravattack.
Multiple Ways to Enjoy the Fun! – Engage in an epic single-player campaign or journey with a friend or family member in two player co-op mode, where one player controls Ben and the other controls Rook.
***********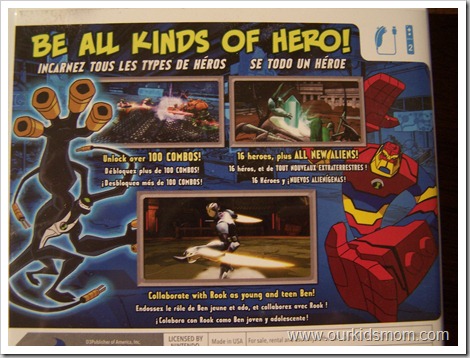 I've got a typical 12 year old who likes sports, video games, eating and sleeping so I knew Micah would enjoy reviewing the Ben 10 Omniverse Wii game.  He used to watch Ben 10 all the time, but has somewhat lost touch with the show in the last couple years.  When I showed him the game to review, it brought back great memories and he was excited to give it a try.
Micah played for about an hour before I had to peel him away.  His first comments were that he really likes the game.  He likes that he has the option to play in 2-player mode so he and his friend can both play.  Micah's favorite thing about the game is that he can change into different characters that are stronger.  He didn't like that he had to unlock them first, but didn't feel like it ruined the game.  He just would have preferred to be able to change into any character at any time in the game.
Overall, Micah gives this game a 2 thumbs up!  It is rated "E 10+" meaning for everyone ages 10 and up because of animated blood and cartoon violence.  The "blood" isn't gory and the violence isn't more than what you would find on the show.  I think it's rated about right.

You can get Ben 10 Omniverse for the Wii, Wii U, Nintendo 3DS, Nintendo DS, Xbox 360, & PlayStation 3 systems.
BUY IT:
You can purchase Ben 10 Omniverse at Amazon.com
Disclosure of Material Connection: I received one or more of the products or services mentioned above for free in the hope that I would mention it on my blog. I only recommend products or services I use personally and believe will be good for my readers. I am disclosing this in accordance with the Federal Trade Commission's 16 CFR, Part 255: "Guides Concerning the Use of Endorsements and Testimonials in Advertising." The opinions expressed in this post are entirely my own. Your experience with the product may differ from mine. The sponsor is responsible for prize fulfillment and will be shipping the winner(s) their prize(s). For more information read my disclosure policy.