Life can be a whirlwind. Between juggling a hectic lifestyle, errands and other commitments, keeping your bedroom organized can easily slip down the list of priorities. And when you do have the time—where do you even start?
Striking the perfect balance between functionality and relaxation is key to transforming your bedroom into a true escape, and the good news is it doesn't take a lot to get there.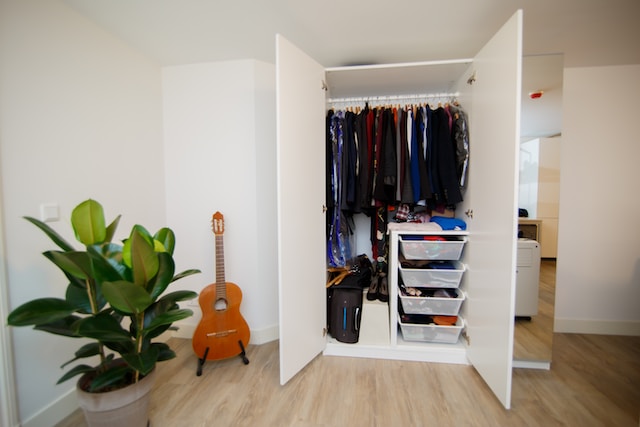 Not only can a clutter-free bedroom help make your daily routines easier, but it can also play a role in getting a more restful night's sleep. Read on to discover some easy tips for bedroom organization – a serene and stylish sanctuary is well within your reach!
1. Utilise smart storage solutions
The secret to creating an organized bedroom is ensuring everything has its designated place: sheets in the closet, books in the nightstand, pens and other items tucked neatly away and out of sight.
A great way to get this additional storage space is through your furniture. Multi-purpose pieces like bed frames with storage underneath or added drawers can be a great way to keep clutter to a minimum. 
Dressers or bedside tables with drawers can also help keep your space tidy, providing extra room for personal items. Other pieces like blanket boxes can be a great option for added storage for bigger items like extra bedding (like that winter quilt), while also doubling as comfortable seating.
And let's not forget the potential of the area under your bed. 
Under-bed storage solutions, such as rolling storage bins or vacuum-sealed bags, provide valuable space to store seasonal clothing or extra bedding. This clever option allows you to keep your belongings organized and out of sight, while freeing up precious floor space and creating a more open and inviting atmosphere. And when your space is tidy, it helps to clear the mind—allowing for a more restful sleep.
2. Master the art of wardrobe organization
It's easy to plonk that load of dry laundry on the bed or bedroom chair without giving it a second thought. Often it can sit there, moving from bed to chair, to bed and back to the chair… but putting that laundry away into its dedicated wardrobe space is a quick way to free up some space. But how do you organisz your wardrobe? 
The first tip is to group your garments into categories, such as workwear, casual wear, and special-occasion outfits. This simple organization tactic ensures that you can easily locate what you need when getting ready each day. You can also sort your clothes by color, making it easy to spot what you want when you want it—minimizing the need to rummage. 
Another trick is to use smart storage options like cubes or even trays, keeping everything folded and neat. Storage cubes are a great way to store seasonal items like your big winter jackets and scarves, until you need them again. 
3. Declutter your surfaces
"A place for everything, and everything in its place" is a great mantra for minimizing clutter. Storing less-used items out of sight and keeping surfaces clear is one easy way to make your space look neat and tidy.
Start with the bedside table. This vital part of your bedroom can often turn into a clutter magnet with your everyday items (think books, journals, pens, jewelery, teacups and the like). If your bedside table has drawers, use dividers to organize items like books, lotions, and electronic devices. Incorporating small trays can also help keep loose items together and prevent them from getting tangled or creating a mess. 
There are a few handy rules that can help make decluttering a breeze. The 20/20 rule and the 90/90 rule are excellent decluttering guidelines to follow: 
The 20/20 rule asks whether an item can be replaced for less than $20 in less than 20 minutes; if so, consider letting it go. 

The 90/90 rule prompts you to ask whether you've used an item in the last 90 days and if you plan to use it in the next 90 days. 
These questions help you let go of items that may no longer serve you.
4. Put aside 5 minutes a day for a quick blitz
A great tip for overcoming hurdles such as being unmotivated to start, is to do your decluttering in short 5-minute bursts. Putting aside these few minutes to start the task can often see you finishing up 20 or so minutes later, without you even realiszng! Doing this every few days can help prevent things from piling up, keeping your space nice, clear and clutter-free.
5. Embrace a weekly reset
A bedroom reset helps you tackle those slightly larger tasks that the 5-minute blitz doesn't cover, bringing it back to a clean and tidy baseline. Things such as stripping the sheets and applying fresh sheets, fluffing your pillows, emptying any rubbish, taking dirty clothes to the laundry, will all help make your room feel fresh and new. 
Dedicating a little bit of time each week to declutter, deep clean, and refresh your space not only cleans your surroundings but also clears your mind, enhancing productivity and helping set you up for a peaceful and productive week ahead. Coupled with your quick daily blitzes, you'll be surprised how clutter-free your space remains. 
Create a sleep space that is ready for you to unwind in
Creating a sleep space that promotes relaxation and sleep is all about finding what works best for you. From keeping your bedroom clear of clutter, to choosing different color palettes and even how you display your decor—it all helps make your bedroom become a space you want to unwind in. 
So there you have it!  Bedroom organization tips to help you take charge of your space and transform it into a sanctuary that reflects your style and personality. Remember, it's all about making small but meaningful changes to create a haven that nurtures your well-being. Happy organizing!