Creating and decorating your kids' playroom, in a way that they will love can seem more daunting than a job interview, driving exam and public speaking engagement rolled into one! While you want your kids to be beyond delighted at the space you've created, you also need it to be that tricky combination of both fun and functional. You'd like to strike that perfect balance of play and learning – without anyone realizing it… In an ideal world, the kids' playroom will be the most awesome space in the house.
So, even if you're on a budget, there are some terrific ways you can easily create a great playroom that will put a giant smile on young ones' faces:
Mini climbing wall
Do you have a large redundant space? Perhaps the side of a bunk bed? If so, why not turn it into a mini climbing wall? You only need up to a dozen foot and hand holders to turn a plain wall into a brilliant, surprising challenge, which will also help your kids develop their hand to eye co-ordination.
Bean bags everywhere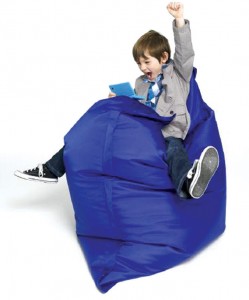 Kids can be fickle. The big sofa that they pleaded for you to buy and is their Favourite Thing one day can be forgotten about the next. Large, fixed furnishings can really restrict how you decorate a room and the space you have to work with – so why not opt for several bean bags from a retailer such as Tesco? They're flexible, fun and functional – and they cover a variety of uses e.g. watching TV, eating snacks, or playing computer games.  And if you're having a party, you can easily add more of them at little extra cost. And because bean bags don't have any hard edges, they're great for kids of all ages.
Chalkboard paint
You can encourage your kids' creativity by painting one wall with chalkboard paint. It's a safe and liberating way to allow children to express themselves, without getting ink or paint all over the furnishings! Plus a chalkboard wall is easy to clean and start all over…
Ladder shelf and interactive mural
It's important to make sure you maximize ways for your kids to interact with their surroundings – which helps develop physical skills. A ladder shelf is a simple, great feature to achieve this. You could also consider painting a wall mural and building interactive elements into it – children will really enjoy all the grasping, pushing, pulling and climbing…
Indoor tepee
While some playrooms include an inbuilt playhouse or elevated hideout, a lot of rooms can't accommodate these constructions. However, kids still love hiding in a den! So why not buy an indoor canvas tepee? They're easy to assemble, location-flexible, and allow for hours of fun!
Image by Insert Magazine used under the Creative Commons license