Barbie Collector | 2013 Barbie Birthday Wishes Doll
This post brought to you by LunchBox PR. All opinions are 100% my own.
My Emma will be turning 7 this fall and when I heard about the new 2013 Birthday Wishes Barbie… let's just say I might have squealed just a little bit. I remember receiving a birthday Barbie when I was younger. I was so in 

with her, from her pretty party dress to her pretty long hair. I wanted to bring that kind of memory to my own daughter.
My first impression when I opened the box… well, I wasn't disappointed. From her beautiful, soft, loosely curled blond hair that is held off her face by a matching headband to her dress that looks like a cloud of pink tulle and satin with lace trim with touches of pin-dot accents… she was perfect.
The 2013 Barbie Birthday Wishes Doll makes the perfect birthday gift for little girls and collectors alike. She comes with a stand for display as well as a certificate of authenticity for the Barbie lover's collection.
The Barbie Birthday Wishes Doll comes impeccably packaged with Happy Birthday wishes and two wrapped "presents" for the lucky birthday girl to enjoy. Be sure to grab yours now for upcoming birthdays… she is only available for a limited time!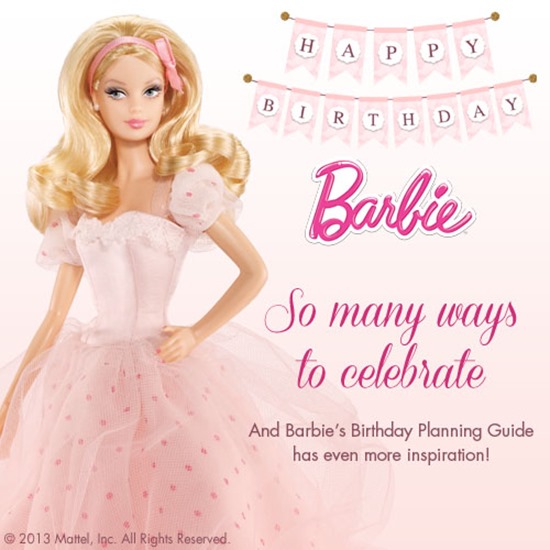 Why not throw the ultimate Barbie-themed birthday party this summer with the Barbie Birthday Planning Guide?! This exclusive party-planning guide includes birthday-themed activities, decorations and recipes, all with the flair of Barbie. Make sure to complete your ultimate Barbie birthday party with the Barbie Birthday Wishes Doll for the birthday girl, and get all of your party needs at Walmart for an everyday low price!
BUY IT:
You can purchase Birthday Wishes Barbie at your local Wal-Mart or walmart.com
This post brought to you by LunchBox PR. All opinions are 100% my own.