Back to School with Gordmans | Something Unexpected
I have been and always will be a deal hunter when it comes to purchasing anything. I have been shopping at Gordmans for years now. I love that Gordmans offers a huge selection of brand name fashions at incredible savings. You can always find name brand apparel for all ages, footwear, handbags, fragrances, accessories, wall art, accent furniture, tabletop décor, floral and garden, candles, toys and more, at big savings every day! Their mission is "to delight our guests with big savings, big selection and fun, friendly associates".
We were sent on a Back to School shopping mission with a $25 gift card. My goal was the leave the store with a quality backpack that Emma loved, and I figured I had just enough. I knew this trip would get Emma excited about heading back to school.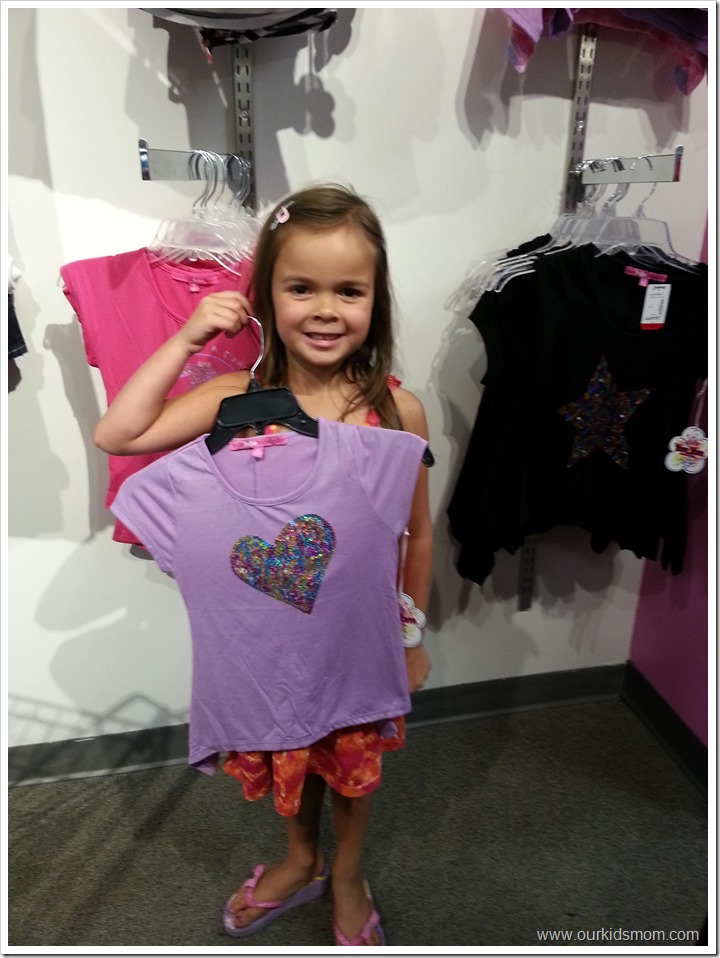 Our first stop was in the apparel department. Although Emma has a good amount of BTS clothes, I can never resist drifting through the clothing department "just in case" I run across a "must have" item. Fortunately for Ethan Gordmans has a "Gordmans Giggles"section: a children's theatre with fun, colorful seating where kids may view children's programming on a large-screen tv. He rested for a few minutes and avoided the girl clothes while Emma browsed and had a great time. Emma quickly spotted this sparkly top and was in love. Unfortunately they were sold out of her size. No worries, though, as we knew there would be something else in the store she would have to have.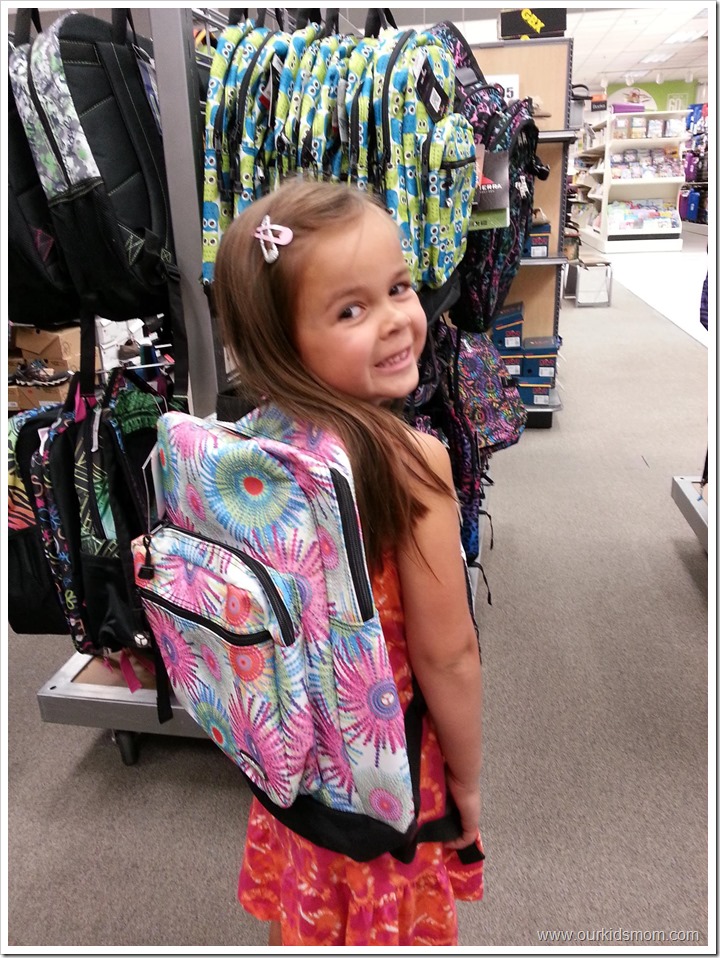 I then aimed her attention towards the back packs. I loved that they had a nicer range of choices than the typical "character" ones she had been gravitating towards at the local "marts". Above was one of her favorites.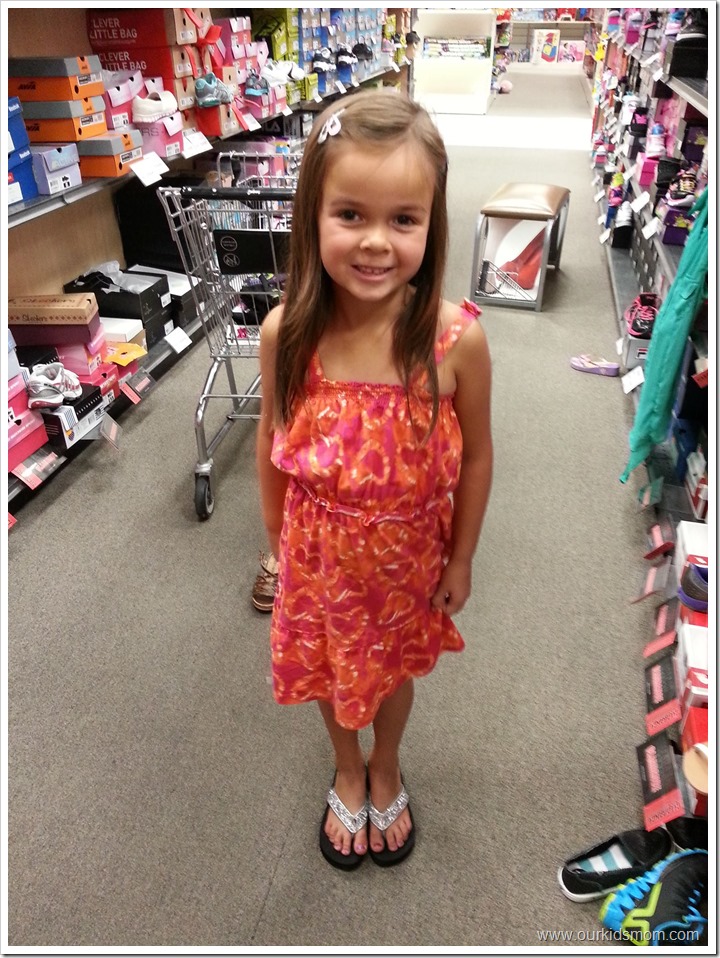 I knew the shoe section would be Emma's paradise, so after we chose her backpack we headed there. Emma's Daddy likes to tease her that her closet looks like it belongs to Imelda Marcos. I will just say that Emma reallllly likes shoes. These sparky flip flops were right up her alley and were just the right size. We had a small discussion as to what clothing items she had that would look good with them and decided they were a good purchase.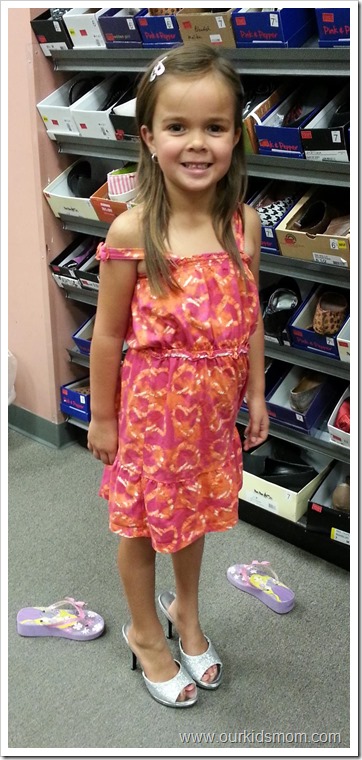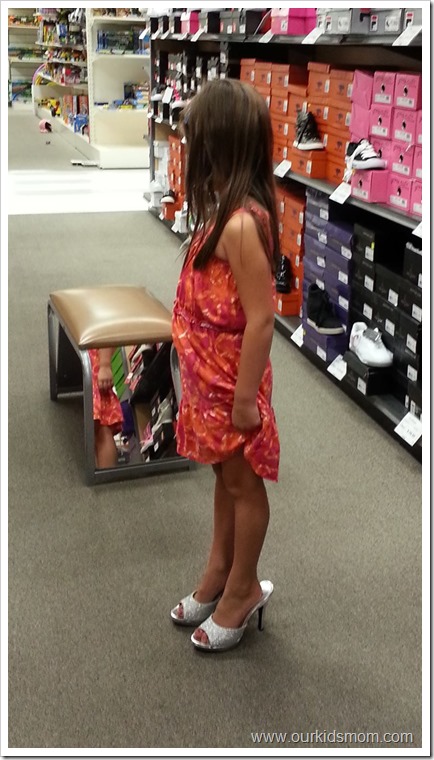 While trying to herd Emma out of the shoe section her eyes spotted a sparkly pair of shoes in the womens section. As you can see above, she modeled them for me and tried to convince me that they "almost fit" and that I should buy them for her because they will "fit me real soon". I let her have her little dream for a minute and then popped her bubble while reminding her that she is only 6 1/2 and even if they did fit they wouldn't be appropriate for elementary school. She reluctantly agreed and silently put them back on the shelf.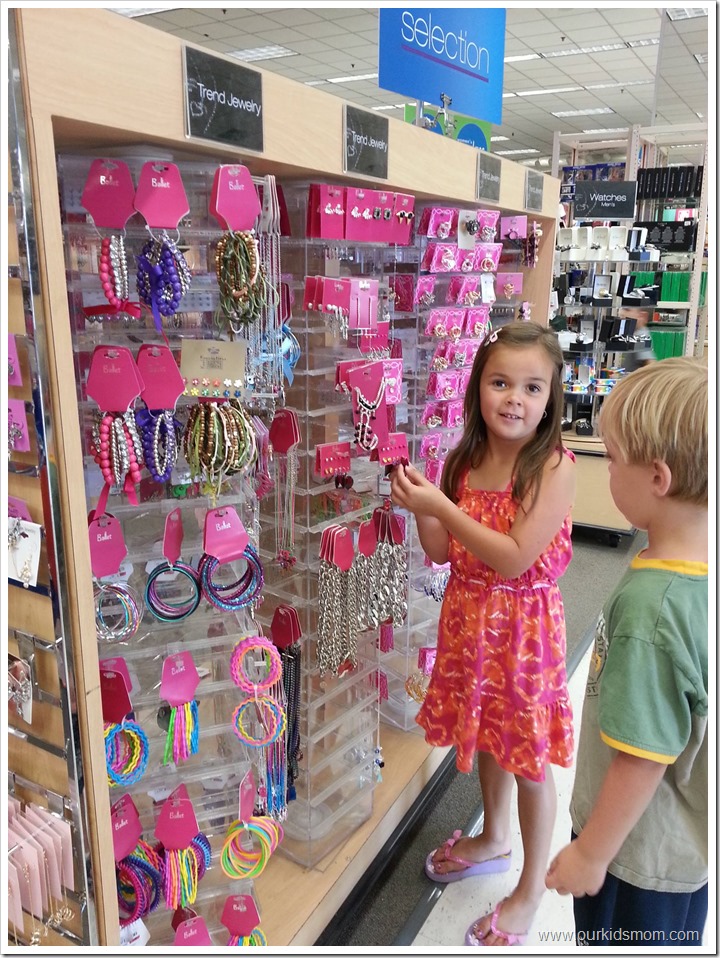 Emma's mood wasn't sullen for long because she found the jewelry section. Can you see the "Mommy… please?" look in her eyes? Emma loves everything that sparkles and gleams so we both had fun browsing the large selection of little girl jewelry.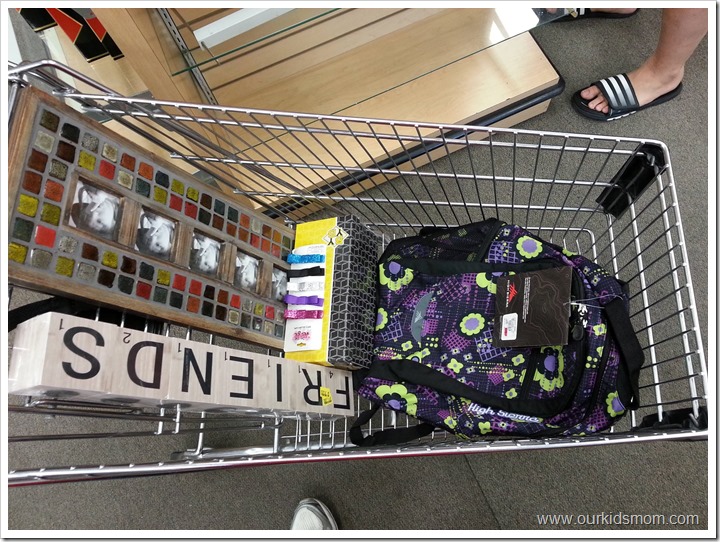 After spending a good deal of time in the store we had more than just a backpack in the cart. Big sister picked a couple of items for her home away from home at college and Emma was able to make her $25 stretch. She picked a backpack, the black sparkly flip flops and the glittery hair clips in the basket. I never leave disappointed when shopping Gordmans because they carry only top quality, current-season department and specialty store merchandise at savings of up to 60% off the competitions ticketed prices every day.
While you are at Gordmans be sure to check out their new gRewards loyalty program, a free and easy way for guests to shop, earn and redeem! This is not a credit card, but a way to earn points on purchases for future rewards!
gRewards program benefits:
Earn one point for every dollar you spend
Receive a $10 reward for every 200 points you earn
Special birthday discount of an additional 10% off your entire purchase
Earn points faster as a Gordmans credit card holder
Spend $300+ to reach Platinum Status
We know how expensive Back to School shopping can be and I know you'd LOVE to win a shopping spree… right?! Tell us how you get your kids excited about for Back to School Shopping for a chance to win $1,000 plus $100 to Gordmans!
This is a sponsored conversation written by me on behalf of Gordmans. The opinions and text are all mine.