A gift card was received to shop for makeover items. All opinions are my own.
Emma's room changes almost as often as her mind does. Either by necessity (things wear out) or by choice it seems like we are always on the hunt for something a little different.
The set above was our latest look. As cute as it was, Emma never really clicked with the comforter and after a few upset tummy accidents last fall/winter, it really needed to be replaced. I allowed Emma to choose what she wanted, but instructed her that I would like to stay in that color pallet to avoid the extra cost of accessories.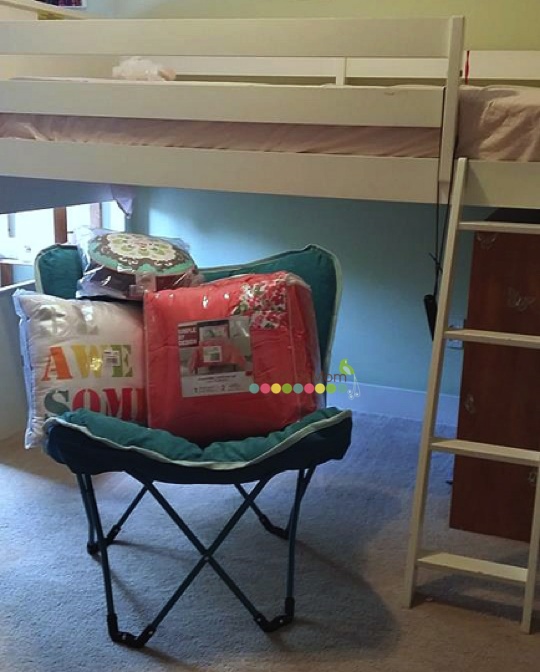 We headed to Kohl's to shop for a new comforter set to update her room. Because of the fabulous sales and coupons, we actually came home with Simple by Design Technique Bedding Coordinates (we bought the comforter and two pillows) and a Memory Foam Butterfly Chair that she claimed her bottom was glued to and she couldn't leave it behind.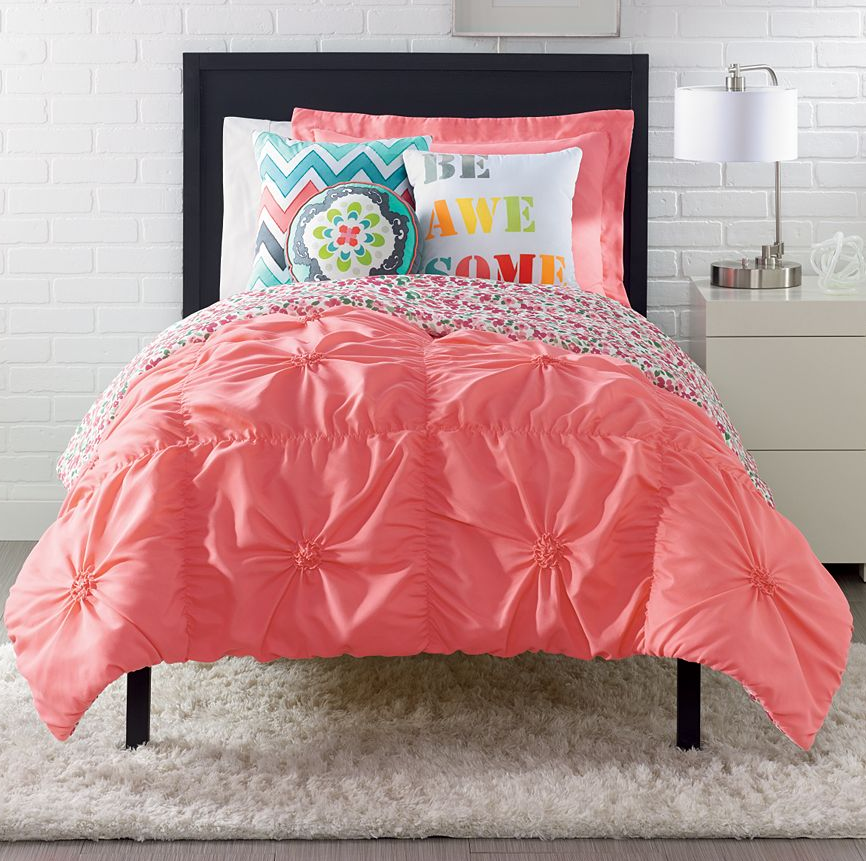 I loved the look the stock photo depicted and hoped that it would hopefully have a similar effect on Emma's loft.
During this room transformation, we made a snap decision and actually turned our house upside down for the weekend. Three of our children would be swapping out rooms… and so the room rotation began.
Emma got the better end of the deal and ended up in a room twice the size of her old room.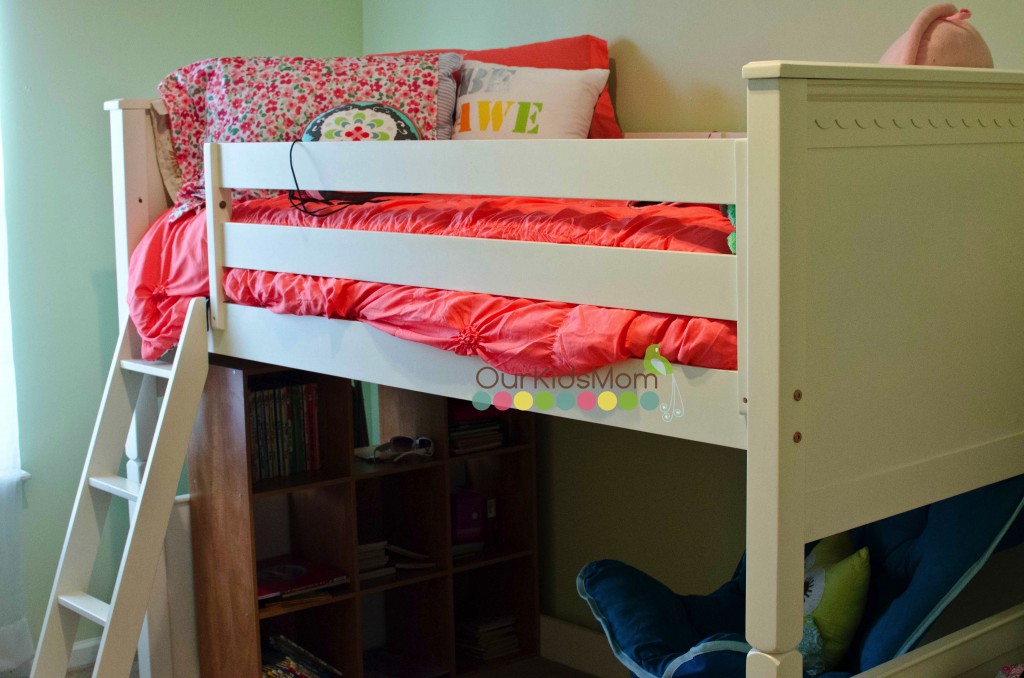 We purchased the bedding in a full/queen even though she is in a twin. Our thoughts (and hopes) were that it will hold up long enough to make it to the next stage in Emma's life when she moves out of her loft.
I like that because it's a little big there is plenty to tuck under the mattress to keep things snug. Yes, there are days that she can't get it all tucked in perfectly (like in the photo above) but it's adorable.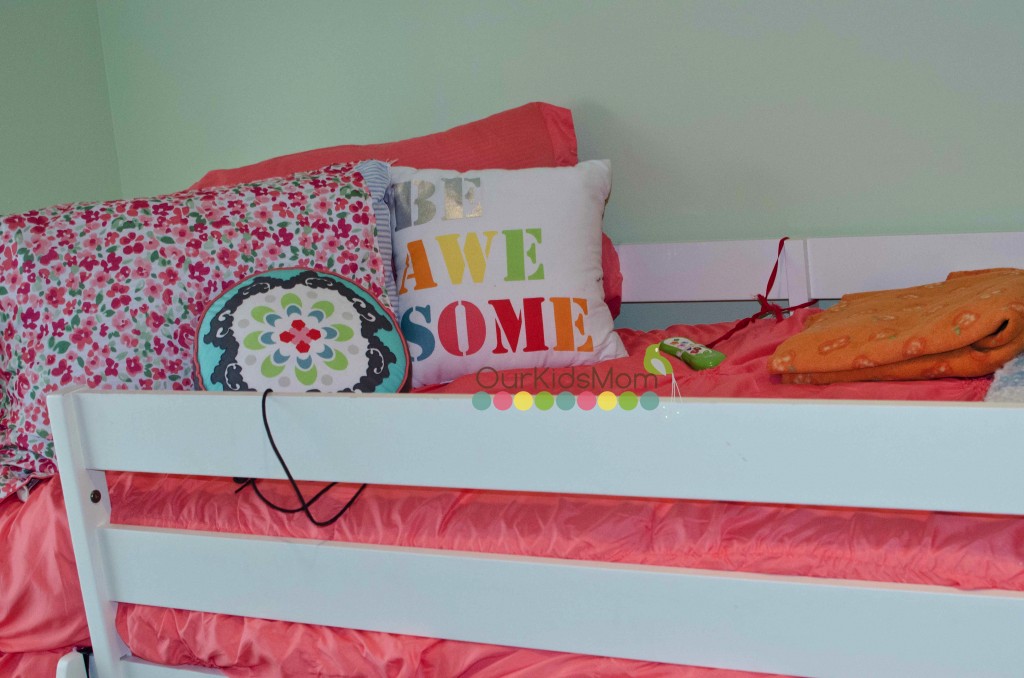 The new set fits her older girl mentality with a hint of feminine with the floral pillowcase. It's hard to see because of the railing, but the gathers are indeed like the photo and because it's a "messier look" it gives Emma a little leeway when making her bed.
Although the chair was not a planned purchase, it made the perfect addition to her reading nook under her loft. The memory foam gives it the little extra squoosh it needs to be comfy for longer periods of time. This is great because Emma has moved on to chapter books and will often binge read.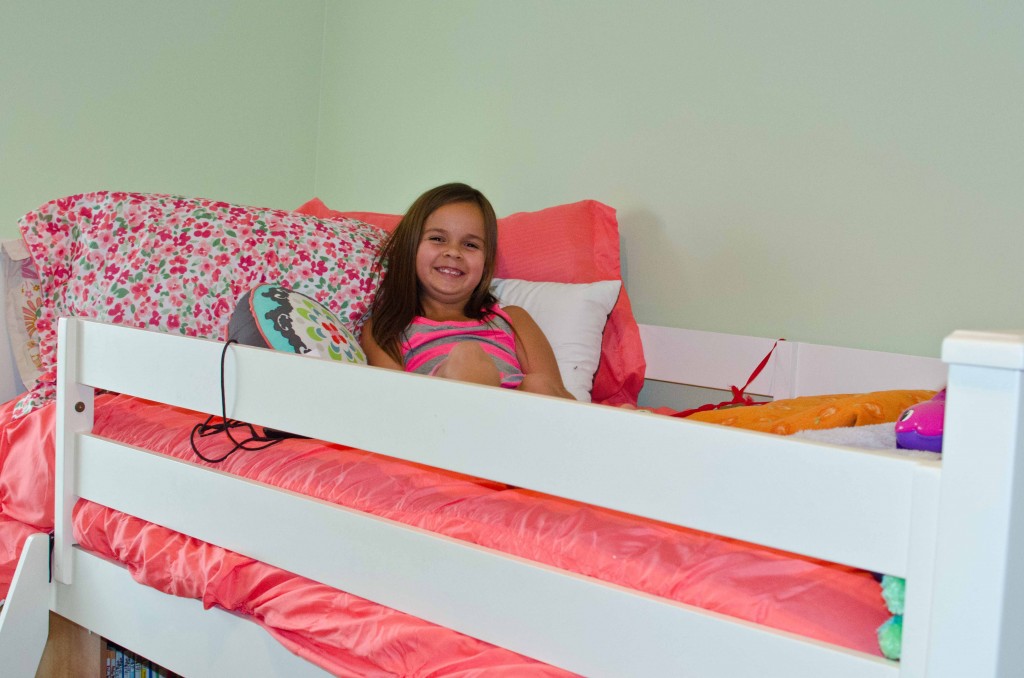 As you can see, Emma is pleased as punch with her new look. It's bright and cheery with a hint of attitude and femininity.
These would also look fabulous on a dorm bed or loft… perfect for Back to College and perfect for my little firecracker.
BUY IT:
You can purchase all of these items at great prices at your local Kohl's store or online at Kohls.com