Every child knows that some things are right, and some things are wrong. But helping children develop good character is more challenging than teaching right from wrong. With Funny Bone Readers: Developing Character in your classroom or home, children will learn from funny stories and silly characters while making connections to their own actions

.
My Take:
Red Chair Press generously sent me a Parent 6 pack of Funny Bones Readers to review with Emma. Emma loves books, and when she was told she could choose a new one to read that night she was giddy.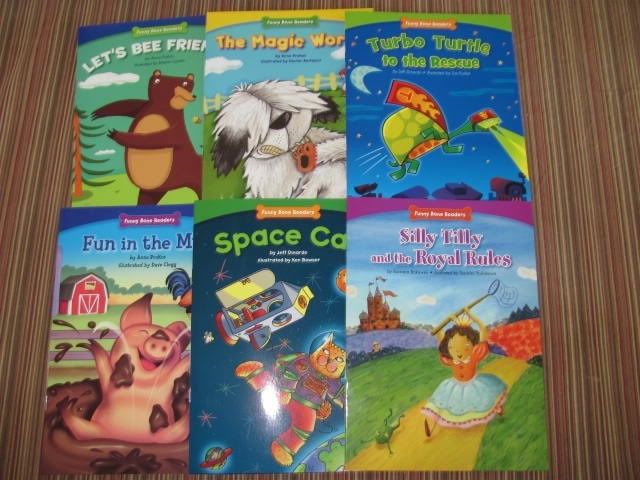 My husband and Emma snuggled in to read Silly Tilly and the Royal Rules. Before we knew it, Emma has requested (and was granted) that the book be re-read to her 4 times! The books are short and sweet, have such cute illustrations and the phrases are catchy. Emma learned that even though rules might seem dumb or silly, they are there to keep us safe and happy. 
I love the simpleness of these books. Even though these are geared for a 5 to 8 year old reading level, at 3 1/2 Emma can understand and enjoy having the book read to her over and over. In the Parent 6 pack she will learn about fairness, trustworthiness, respect, responsibility, caring and citizenship. 
I would definitely recommend these books to family, friends and even strangers! They are affordable, well made and keep a child's attention… meanwhile they are learning while enjoying snuggle time.
Buy It:
R
ed Chair Press offers several options for purchase. They offer a classroom set (72 books, 6 of each of the 12 titles), a complete 12 pack (1 of each title) for $48.00 and Parent 6 packs for $23.70. 
This post was written by me and was not edited by anyone. The opinions expressed in this post are entirely my own and have not been influenced in any way. Your experience with the product may differ from mine.  I was not compensated for writing this review. The sponsor of this review is responsible for prize fulfillment and will be shipping the winner(s) their prize(s). For more information please read my 
disclosure policy
.