The reviewer has been compensated in the form of a Best Buy Gift Card and/or received the product/service at a reduced price or for free.

I've recently learned how enjoyable streaming music on the go (and at home) can be. Up until then, my days without the kids were fairly silent. Since incorporating music into my day my mood has changed for the better.
Then, I was introduced to streaming music on quality portable speakers. O. M. Heavens.
After my introduction, I quickly obtained a few portable blue tooth speakers for use around the house. I use them for streaming music, but we also like to hook up our projection television to my laptop and connect the sound via blue tooth to create a theater-like experience. It heightens the experience when the sound is rich, full and has great bass.
Audio can make or break an experience… finding fabulous audio equipment is easy. It's all at Best Buy.
Audio Fest is happening at Best Buy stores from 3/2/14 – 4/4/14
Best Buy helps you enhance your home entertainment experience and upgrade your sound with additional components, speakers and headphones.

Beginning 3/2/14 through 4/4/14 Best Buy will feature one month of sweet sounding deals audio specials, events & more.

Best Buy is gathering the best offers on the best audio products throughout the entire month of March.

Visit a Best Buy store to test & try the latest & greatest in audio – from home theater solutions, to car audio, portable speakers and headphones.

Best Buy has the best selection of audio products – come in and let Best Buy teach you how to upgrade your sound; Hear the difference – Bring the noise.
Special offers will be available each week: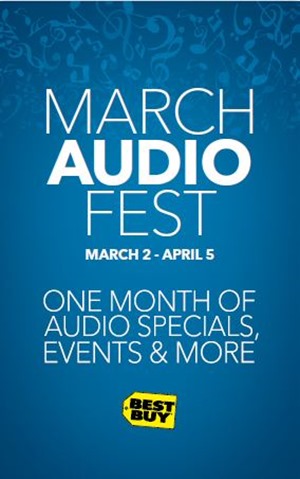 Week of 3/2:
o   2x-4x points on all headphones
o   25% off Select Pioneer Speakers
o   $500 savings on Pioneer Elite Pass-Through Home Theater Receiver
o   $100 Savings on Beatbox Portable Speaker
Week of 3/9:
o   2x points on Sonos Home Theater
o   All AVRs on Sale
o   All iPod touch on sale
o   Save $80 on Samsung Blu-ray/Soundbar Bundle
Week of 3/16:
o   2x points on all speakers
o   BDi Furniture (3/7 – 3/23) Save $200 on any Home Theater Cabinet
o   All-on-sale Car Audio Speakers + 50% off speaker installation
o   $50 Savings on Sony MDR10 Headphones
Week of 3/23:
o   $30 savings on BEATS SOLO™ HD ON EAR HEADPHONE – DRENCHED COLORS
o   Save 25% on all Sennheiser HD 500 Series Headphones
o   All Logitech Computer Headsets on Sale
o   Save $50 – $150 on Select Energy audio products (3/9-4/5)
Week of 3/30:
o   All Insignia Computer Speakers on Sale
o   Save $100-$200 on select Definitive Technology Floor Speakers (3/23-4/5)
o   Save $50 – $150 on Select Energy audio products (3/9-4/5)
o   Save $150 – $300 on Select Jamo Speakers
Visit your local Best Buy store to check these Audio products and more such as the JBL Flip Portable Stereo Speaker for Most Bluetooth-Enabled Devices. This JBL streams music wirelessly from your phone/tablet/laptop, its portable and has a speaker-phone, built-in microphone and call-answer button  that lets you easily take phone calls.
Do you have a favorite audio device or accessory? Please share!