ARM & HAMMER® Ultra Last™ Clumping Cat Litter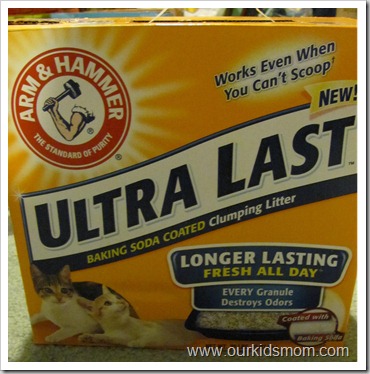 I have two big fur babies. I love them bunches, but I can live without the smell the can make on a daily basis (if you kwim). The smell has been bad enough that I have been embarrassed to have anyone in past the front door. How on earth can something so cute, soft and cuddly make such a foul smell?!
I had to get into the routine of cleaning the cat box every day, but with four kids and now that my Dad is on the other side of the city in the hospital I have other things topping my to-do list besides scooping the cat box. Our new automatic litter box has helped, but even with that you have a collection of smelly matter to deal with when the drawer opens every couple of days.
A premium clumping litter that takes care of the odors is a must in my house.
I was given the opportunity to try Arm & Hammer Ultra Last. This has been specifically formulated for long-lasting odor control… and they claim it works even when you can't scoop.
ARM & HAMMER® Ultra Last™ Clumping Cat Litter features a highly effective formula in which each granule is coated with ARM & HAMMER® Baking Soda. It also has powerful odor destroyers to provide extended odor control.
Pouring it out of the box I could immediately smell the baking soda. My kitties were intrigued by the new smell as well and were trying to get into the cat box before I was done refilling it. It smelled great fresh from the box… but the real test was just around the corner.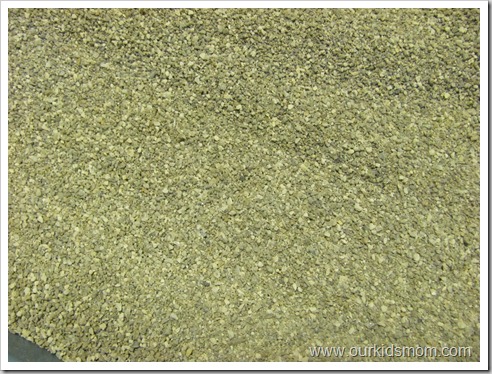 Long Lasting Odor Elimination and Control
•    Baking Soda coated granules combined with powerful odor destroyers provide long-lasting odor control even when you can't scoop every day.
•    ARM & HAMMER® Ultra Last™ Clumping Cat Litter creates rock solid clumps, allowing cat owners to easily remove the source of odors.
•    Moisture activated fresh scent helps deodorize each time your cat uses the litter box.
•    Among ARM & HAMMER® cat litter products available, ARM & HAMMER® Ultra Last™ provides the longest lasting odor control that will keep your home Fresh All Day™.
 
For more information about ARM & HAMMER® Ultra Last™ Clumping Cat Litter, visit www.UltraLastLitter.com.
Mocha and Jasper did their best to put Ultra Last to shame, but alas they lost the battle. I am happy to report that although I haven't dumped (the automatic box scoops for me) in three days I don't smell any offending odors… even in the same room as the box! I have to admit I was a bit hesitant because I tend to grab the boxes marked "for multiple cats" and the Ultra Last didn't mention multiples, but it is doing a fantastic job of controlling the odors!
You can find Arm & Hammer Ultra Last Clumping Cat Litter at your local Wal-Mart and Target stores.
I wrote this review while participating in a blog tour by Mom Central Consulting on behalf Arm & Hammer and received a product coupon to facilitate my review and a promotional item to thank me for taking the time to participate.