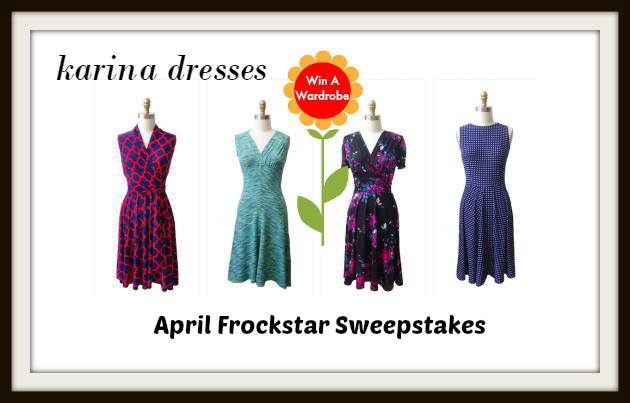 It's that time again! Did you have fun last month?
If you didn't join us, here's the scoop. Every three weeks, a few select bloggers will be showcasing how their body looks fabulous in a Karina dress.
Karina Dresses truly are made for every body!
To get our readers excited about this Frockstar™ Nation Event, we are giving away $1000 in Karina Dresses to one US or Canadian winner.
That's an entire wardrobe!
I was thrilled with my very first Karina Dress, the Audrey. Audrey is a hand made /American made dress that features a v neck, v-back, and full flared skirt at knee-length.
This past month I fell in love with Megan. Megan is a hand made / American made dress that features a surplice bodice v-front, detailed gathers in the back, and full swirl skirt at knee length. 
What I love about Megan is the vintage "feel" you get from the design. The mighty Megan dress recalls a magical time ~ the 1940′s ~ when women accomplished great things. half movie starlet and half Rosie the Riveter, this is everyone's 'go to' dress.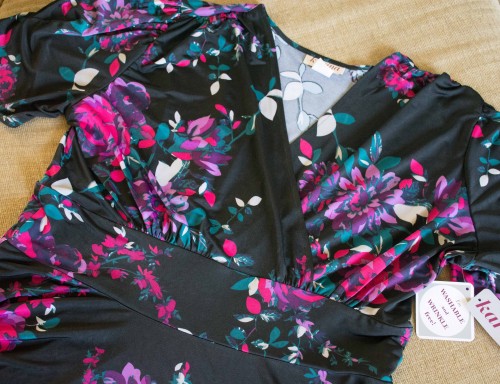 The new spring styles at Karina Dresses will instantly be a must have for you. There are so many prints and styles on my wish list now, and I know I'll love them all!
Want a Karina Dress?
I'm hoping to see one of OurKidsMom's readers sporting her very own Karina Dresses wardrobe!!!!
Giveaway ends April 15, 2015 at 11 am CST.
Newsletter, Sales Info & Bonus Entries…
Karina Dresses has a newsletter you will want to get in your inbox. Each weekly newsletter has a winner of a new dress selected from the email subscribers. You have to open the email to see if it is you!
In addition to giveaways, The Karina Dresses newsletter also has flash sales with the hottest prints at almost 50% off! To make this newsletter even more desirable to join, if you sign up and confirm your subscription (or are already a subscriber and enter this giveaway) you will be entered into the sweepstakes for $1000 in Karina Dresses! Are you ready to join the Karina Nation? Subscribe here! http://bit.ly/KDnews
If you are a blogger and you would like to do a review of a Karina Dress, they choose their reviewers from their affiliates! You can sign up to be an affiliate here: http://bit.ly/KDAffiliate
Are you ready for extra entries?
Use @KarinaDresses and #frockstar to let Karina know your favorite dress from the Frockstar™ Nation Event bloggers. You can also get 100 entries a day by commenting on each of the bloggers posts from the linky below!
Each Frockstar™ is highlighting a dress from Karina Dresses! Hop around to each one and earn extra entries towards the $1000 Karina Dress Sweepstakes!