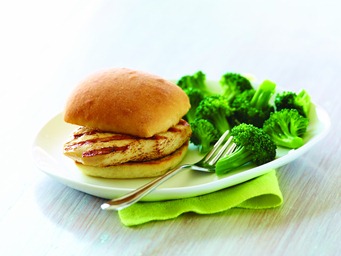 We love to occasionally dine out, but when taking the entire crew… I often cringe when they order off the kids menu. Chicken nuggets, grilled cheese, hot dogs… they are all standard kids meal menu items.
Applebee's has heard our cries and is doing something about it!
Applebee's is expanding its more healthful menu choices to its kids menu so the whole family can dine out and enjoy better-for-you options. The world's largest casual dining chain today announced it joined Kids LiveWell, a program that helps parents and kids make more healthful menu selections when eating out.
 
Applebee's Kids LiveWell-endorsed entrée is a grilled chicken sandwich with steamed broccoli and 1 percent milk or apple juice. Kids also can enjoy orange juice and a side of applesauce. In addition, Applebee's offers kids a nutritious mac-and-cheese option.
 
Kids LiveWell items must meet qualifying nutritional standards from leading health organizations, including the U.S. Department of Agriculture's 2010 Dietary Guidelines for Americans. The program was started by the National Restaurant Association and Healthy Dining.
 
"Applebee's serves nearly 1 million guests a day – including many families with children – at our nearly 1,900 neighborhood locations across the country," said Jessica James, Applebee's executive chef. "Our new grilled chicken sandwich for kids lets the entire family eat out while keeping their calories and portions in check. We're leading the casual dining industry with lower calorie menu options and removing the guilt from dining out."
 
Since 2004, Applebee's has been the only restaurant chain to offer Weight Watchers-endorsed entrées. In addition, Applebee's has offered its Under 550 Calories menu for the past three years.