Applebee's Behind the Menu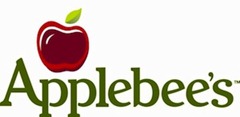 Friday February 18th Applebee's invited a handful of bloggers to their headquarters in Kansas City, MO. for their first Bloggers Summit and a sneak peek behind the menu. We arrived bright and early for a yummy breakfast and a quick meet and greet before our tour of the building. I loved how bright, cheerful and inviting every corner of this building was.
We also learned a little about Applebee's and it's history. DineEquity owns both Applebee's and IHOP… two of my favorite places! It was interesting to learn how quickly Applebee's expanded. They opened their first store in 1980, the franchise rights were purchased in 1984 and their 500th store opened in 1994!  Incredible huh?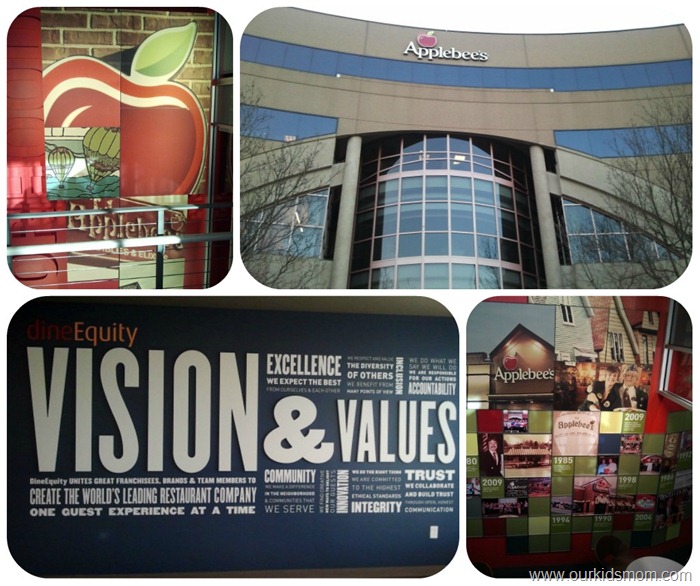 We then had a session with Applebee's Chefs Shannon and Jessica. I learned a lot about how a dish finally makes it to the menu. Did you know it takes 12-18 months for a dish to make it to the table? Who knew… right? I am embarrassed to admit it, but I guess I always thought it was more like tossing the meat on the grill, adding a few spices and veggies and serve.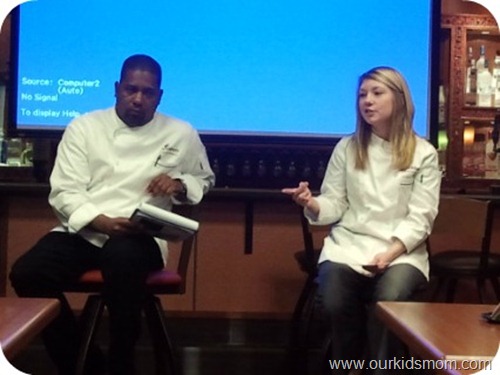 Chef Shannon and Chef Jessica spend countless hours researching and developing new recipes. During the research phase they will "dine around" and try popular menu items in various parts of the country. They told us a story about how one time they visited 15 restaurants in one day. I can only imagine how full they were at the end of that day! They then come back to the test kitchen and create fabulous menu items from this inspiration like wonton tacos!
There is so much more to the process… it was surprising and impressive.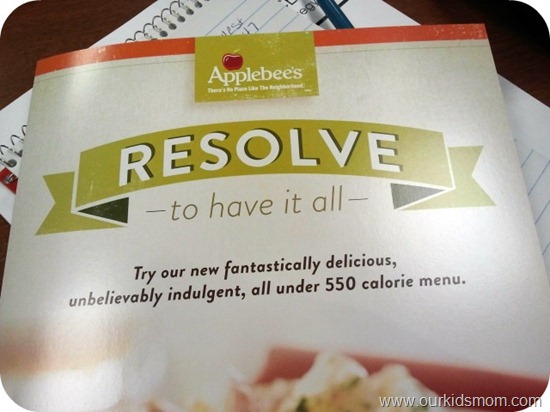 After a morning of tours and chat sessions we given the opportunity to enjoy four of the U550 menu items. We were famished and drooling from the smells coming from the kitchen. I was excited to try these as every item was 550 calories or less!
First on the menu was the Sizzling Chili Lime Chicken. When I say "sizzling"… I mean you could literally hear it sizzling from the other room all the way to the table. The aroma coming from this was amazing. There was just enough lime to not overpower it and the serving size was amazing. If I ordered this at the restaurant I know I would leave the table with leftovers… and the whole plate is under 550 calories!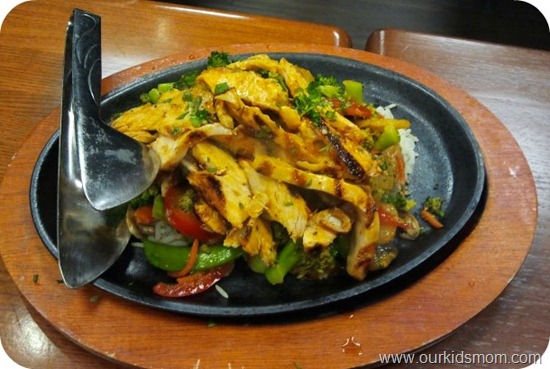 Next was the Signature Sirloin & Garlic Herb Shrimp. I have to say that the house sauce on the steak was beyond amazing… super complimentary. I thought the broccoli/zucchini/carrot mixture was amazing. The overall dish was good enough for me to order at the restaurant… even if I don't eat shrimp. Yep… that good.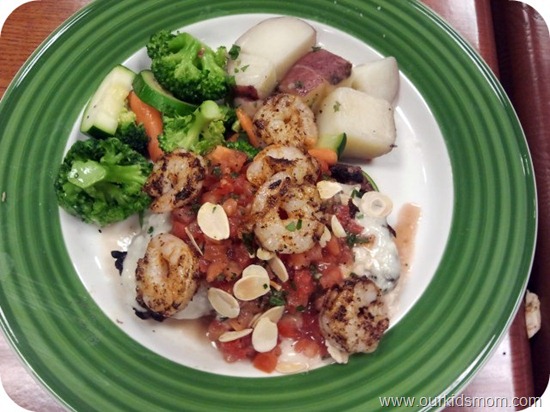 The Sizzling Asian Shrimp & Broccoli was another dish you can hear coming from the other room. I love the anticipation that brings. Anyway… I'm not a shrimp lover but I decided to taste it. I loved the sauce (not the shrimp) and the vegetables were steamed to perfection (not mushy but not raw). This would be a great dish to order if you are a shrimp lover.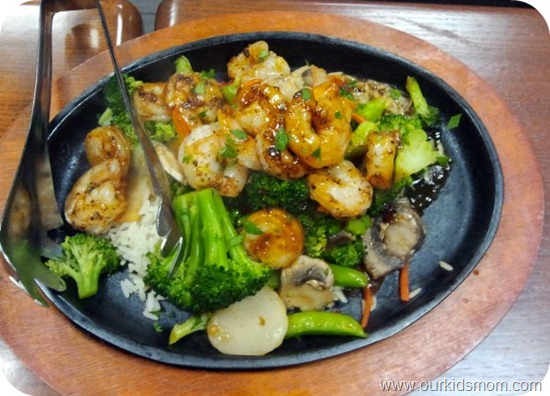 The last dish was the Roasted Garlic Sirloin. I think this was my favorite from the entire selection. Why? Let's start with the stuffed mushroom cap. They turn the mushroom upside down, stuff it with spinach and top it with house sauce and cheese. I heard another blogger say she didn't like mushrooms, but this was to die for! I suggested adding this to the appetizer menu with maybe four of them on the plate. The steak was spot on, once again, and nesting it on a bed of onions is so delicious.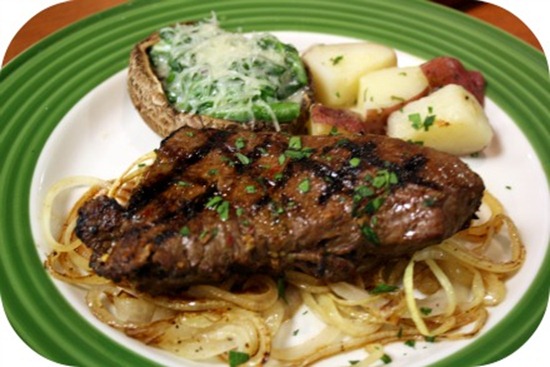 For dessert we were surprised with the new SkinnyBee Margarita. I've never realized how many calories are in alcoholic drinks! Applebee's had this special lower calorie mix developed for their U550 menu. This generously sized glass is around 100 calories and is made of Hornitos 100% Agave tequila. The only way I can think of making this even more fabulous would be to made a frozen version (please Applebee's??).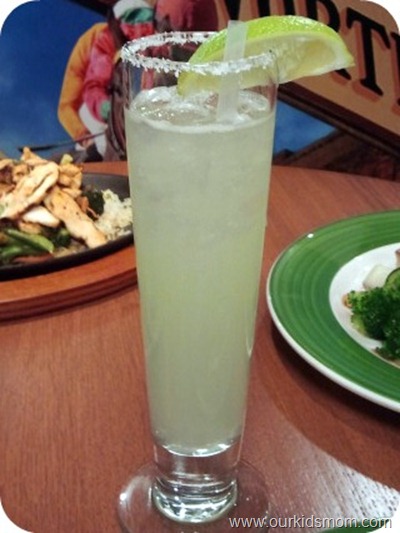 After lunch we had another session with Chef Shannon and Chef Jessica. They helped give us a few ideas on how to make over some family favorite easy recipes to make them a bit more healthy. The traditional tator tot casserole can be revamped easily by skipping the tator tots and replacing them with fresh cubes potatoes. I hadn't really thought about the sodium levels in cream of mushroom soup. Their suggestion was to use fresh mushrooms and some sour cream in place of the soup. If you feel like you can't cut back on the amount of cheese on top, consider using fresh mozzarella instead. A small amount will go a long way… it is ooey gooey goodness once melted!
I also learned that Applebee's is working on healthier children's menu items! They are keeping the mac and cheese and other kids favorites but are adding items like grilled chicken sandwiches. Yeah Applebee's!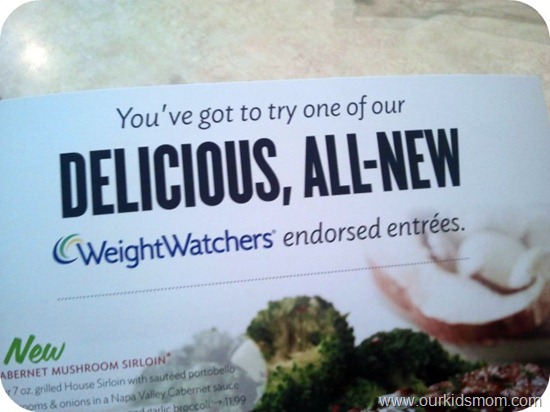 Then we got to do something nobody outside of Applebee's has done before. We went in the TEST KITCHEN! We had a quick tour around the perimeter (I totally wanted to grocery shop in their produce area!) and got to see where the food scientists test the foods before they make it to the menu.
Then we were brought back to the food prep area to sample the three NEW Weight Watcher's meals being introduced to the menu Monday February 20, 2012.  Cameras were not allowed beyond the door, so Applebee's was kind enough to provide photos of the foods we sampled.
The Cabernet Mushroom Sirloin has only 12 PointsPlus and you won't walk away wishing you had been "bad". It is full of flavor, beautifully presented and drool inducing. The serving size was more than ample and the memory of it is making me drool as I type.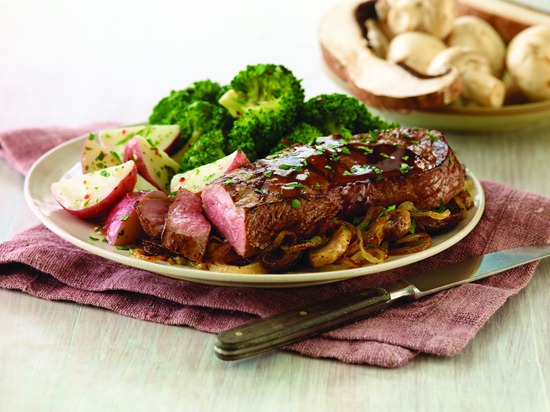 The Creamy Parmesan Chicken was my favorite of the bunch. I would love to purchase a gallon of the house sauce that is used on this dish as well as the Signature Sirloin & Garlic Herb Shrimp and the stuffed mushroom cap. This comes with a side of steamed spinach and mushroom rice pilaf and is only 12 PointsPlus.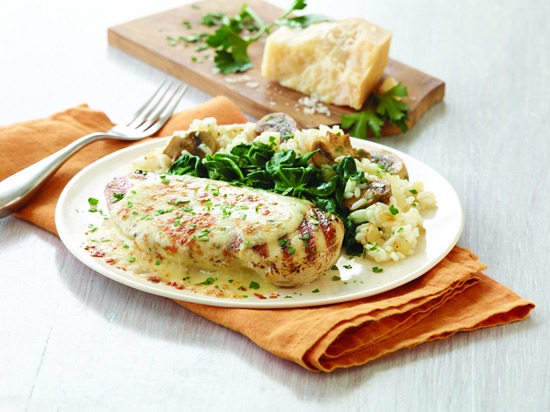 The finale was the Grilled Jalapeno-Lime Shrimp. Grilled chipotle-lime shrimp and black bean corn salsa tossed with lime juice and chopped cilantro served on a mix of zucchini, marinated tomatoes, onions and red peppers with steamed rice. Can you believe it is only 8 PointsPlus?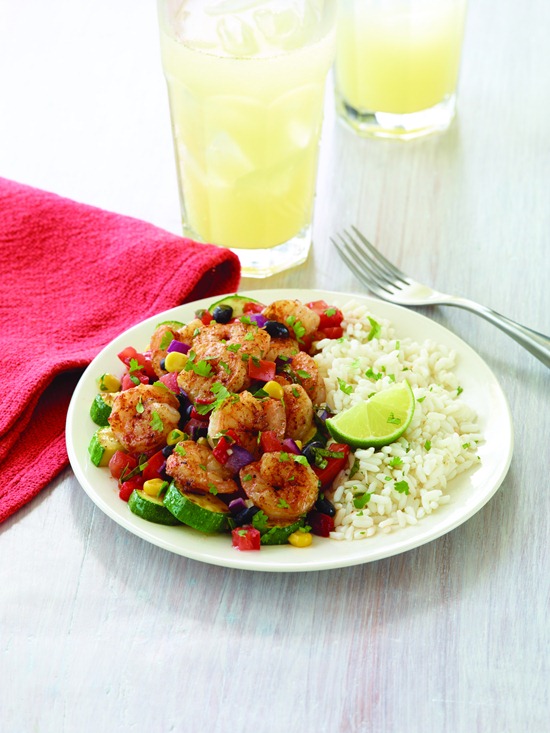 Can you imagine how full I was after sampling 7 meals? It was fantastically unbelievable. The day… the food… the company. I love how Applebee's is working so hard to offer more healthy options for diners on a calorie budget, but still keeping some of the higher calorie items. If you plan your day and make the right choices, even those menu items can fit into your day… maybe with a side of #crackfries? (It was mentioned during the day that the salt mixture used to season the fries made them irresistible, and therefore were nicknamed crackfries.)
Disclosure of Material Connection: My trip to Applebee's headquarters was sponsored in full by Applebee's in hopes of a mention on my blog. I only recommend products or services I use personally and believe will be good for my readers. I am disclosing this in accordance with the Federal Trade Commission's 16 CFR, Part 255: "Guides Concerning the Use of Endorsements and Testimonials in Advertising." The opinions expressed in this post are entirely my own. Your experience with the product may differ from mine. The sponsor is responsible for prize fulfillment and will be shipping the winner(s) their prize(s). For more information read my disclosure policy.